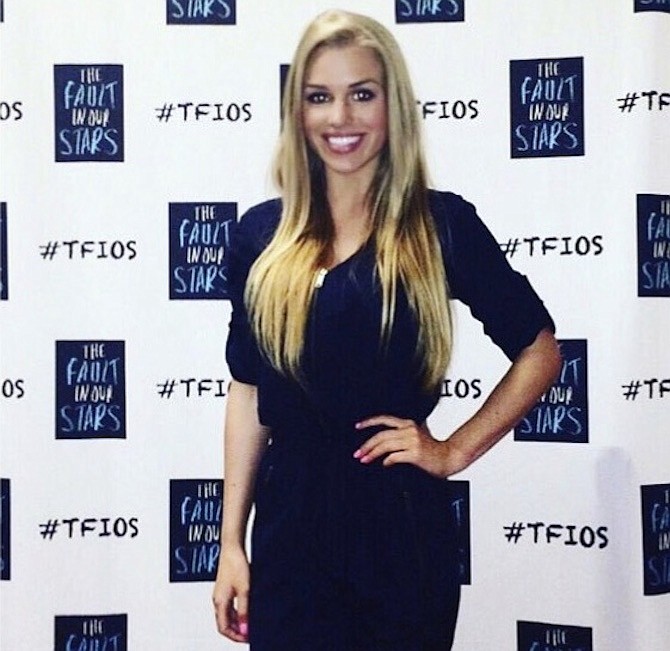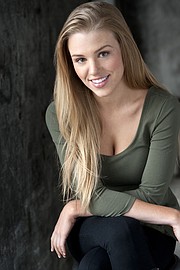 When she's on the Hollywood set, and there comes a shot that requires a glimpse into life as a teenager, Emily Peachey digs down into her past life at Lake Braddock Secondary School, and finds a past experience she can recall to pull it off. Now that she's hit the big time as a movie star, it was her experience at Lake Braddock that started it all.
"I had a great high school experience, that's where it all started for me," Peachey said. Now she's rubbing elbows with Laura Dern, Holly Hunter, Dakota Fanning and Josh Hartnett, who she had a teen crush on in her previous life. "I've gotten to work with a lot of my idols," she said with a giggle. The 29-year-old has accomplished what some just dream of, and she's not turning back.
Peachey was born in Arlington and graduated from Lake Braddock in 2009. She was happy to be a regular high school teenager going to the prom, the homecoming football game and being part of the rowing team at Lake Braddock. She was in drama too through her school years, and credited her middle school teacher for planting the drama seed.
After graduation, and beach week, it was on to Duquesne University in Pittsburgh where she earned a Bachelor's Degree in Marketing and Communications, and did television news as an on-air reporter with local station WPXI in Pittsburgh. In school, she wanted to study law, so her classes took off in that direction. The acting bug was still there though, so she set out to Hollywood, a move that seemed crazy at the time to her parents, but she followed her dream. "Definitely on a whim, the best decision I ever made," she said.
HER FIRST ROLE in a teen drama, "The Fault in Our Stars," would lead to parts in HBO's Emmy Award-winning series "Veep," and MTV's "Awkward," as well as the films "American Pastoral," starring Ewan McGregor and Dakota Fanning, "Strange Weather," where she plays opposite Academy Award winner Holly Hunter, and cult, indie film "Gearheads."
In her most recent move she is taking on the role of Liza Sampson in the southern gothic drama, "Paradise Lost", releasing this spring on the Paramount Network. "Set in the South, the series is a contemporary southern family saga that follows a prodigal son (Josh Hartnett), as he returns to his hometown and struggles to choose between his past and his future," the network description read. She stars as a teen, and this is where she has to dig back into her experiences at Lake Braddock. "Brings up all these old memories," she said, noting that she's in her twenties now but she plays the role of a teenager. "Portraying Liza Sampson, Peachey showed her ability to channel the lightheartedness of youth while maintaining the seriousness of the dark role amid the drama," her agent Barbara Parks said, in a release.
Next up, she was getting ready to star in "Tar," with Timothy Bottoms and Graham Greene, but with the coronavirus impacting everything in the country, that movie is put on hold for now. "It's been a little bit crazy, we're on hold indefinitely," she said. But the movie is a horror film and she likes that genre, so it will be worth the wait.
Sunset Boulevard
Being in Hollywood is an experience in itself. Everybody is into acting, and Peachey is living in an apartment right on Sunset Boulevard in the heart of all the drama. Parts of her life are reminiscent of the movie "Swingers," where would-be actors work behind the counter at Starbucks before their big break. She's familiar with the movie. "The bar where that was filmed is within walking distance to my apartment," she said, "everything is pretty much within walking distance." And in Hollywood, that's important, because the traffic out there is not good.
All the other stars she's worked with have been really nice, she said, even though she described it as a "cutthroat world." With the quarantine in place, many aren't working. When the red carpet was out, she was there on several occasions, watching the paparazzi at work with some of the other big names, but she hasn't been their target yet. "I've seen them targeting other people, photographers lining the red carpet," she said, "very aggressive."
There was another Lake Braddock alumni that starred on Desperate Housewives, and Peachey saw her name on an acting list. "I thought that was so cool," she said. "Paradise Lost" will be available soon on streaming services.