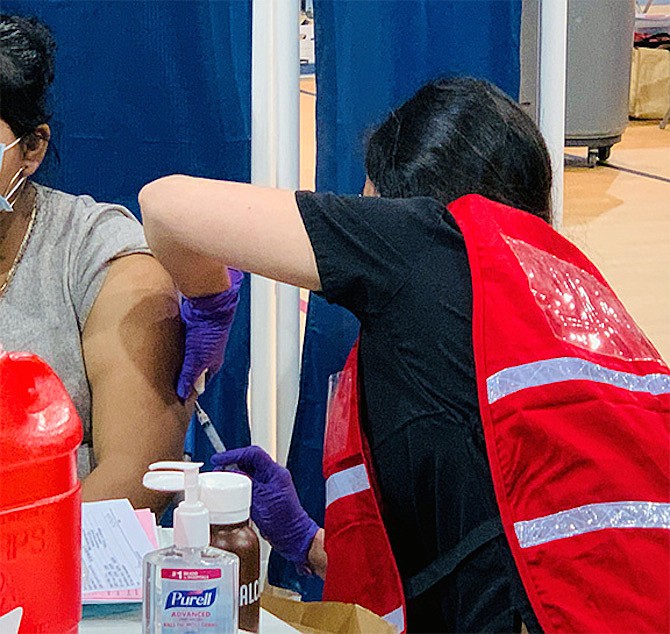 While there's a cloud of uncertainty over what the back-to school season will look like this year, one thing is certain: children still need to be vaccinated. Pandemic-induced online learning might lead some parents to believe that vaccinations are not mandatory; however, the form in which academics are offered this school year won't alter immunization requirements.
"It is important for parents to know that school-required immunizations are mandatory … even if students attend school virtually in the fall," said Shauna Severo, Director of Health Services with the Fairfax County Health Department.
"Vaccinations are required by the Department of Education, a requirement that applies to all school systems in the state, not just Arlington," added Cara O'Donnell, Acting Public Information Officer, Public Health Division, Arlington Department of Human Services. "This vaccinating is critical to preventing outbreaks of common vaccine-preventable illnesses when schools eventually reopen. We are offering appointments for kids who require catch up vaccinations to be in compliance with … vaccination requirements for school entry. "
This requirement also applies to students in the State of Maryland. "At a time when our healthcare system is already overwhelmed with COVID19, it is important that we avoid outbreaks of preventable deadly diseases," said Cindy Edwards, Senior Administrator for Communicable Disease and Epidemiology. "That is why we encourage Montgomery County families to reach out to your doctor and make a plan for staying up to date with recommended vaccines."
Concerns over the COVID-19 pandemic, however, have discouraged some parents from seeking vaccines for their children. "We are offering these community based vaccination clinics and Tdap (tetanus (T), diphtheria (D), and pertussis) clinics in our offices because we've seen a decrease in the number of vaccination appointments this year," said Tina Dale, Communications Specialist, Fairfax County Health Department.
As in years past, Arlington, Alexandria, Fairfax and Montgomery counties are offering free vaccines to families who could not afford them, but this year, appointments are required and counties are taking necessary precautions to ease the minds of parents who fear exposure to COVID. "To minimize exposure risk, the health department will adhere to strict safety protocols, including limiting the number of appointments per site, requiring the wearing of face coverings, and ensuring appropriate social distancing measures are in place," said Dale.
Clinics Offering Free Vaccines
Immunization Records and Appointments are Required
Arlington County
Arlington County Immunization Clinic
2100 Washington Blvd., 2nd floor (Sequoia Plaza)
For more information or to make an appointment: 703-228-1200
Montgomery County
Dennis Avenue Health Center Immunization Clinic
For more information and to schedule an appointment: 240-777-1050
Fairfax County
Aug. 8, 10 a.m. - 2 p.m., St. Mark's Lutheran Church, 5800 Backlick Rd., Springfield
Aug. 15, 10 a.m. - 2 p.m., St. Anthony Catholic, 3305 Glen Carlyn Rd., Bailey's Crossroads
Aug. 17, 2 p.m. - 6 p.m., London Towne Elementary, 6100 Stone Rd. Centreville
Aug. 20, 2 p.m - 6 p.m., Annandale District Office, 7611 Little River Tnpk, #400E, Annandale
Aug. 29, 10 a.m. - 2 p.m., Mt. Vernon District Office, 8350 Richmond Hwy, #233, Alexandria
Sept. 3, 2 p.m. - 6 p.m., First Baptist Church of Springfield, 7300 Gary St., Springfield
Sept. 5, 10 a.m. - 2 p.m., Location to be Determined
For more information and to schedule an appointment: 703-246-6010
City of Alexandria Immunization Services
4480 King Street, Second Floor
For more information or to make an appointment: 703-746-4888