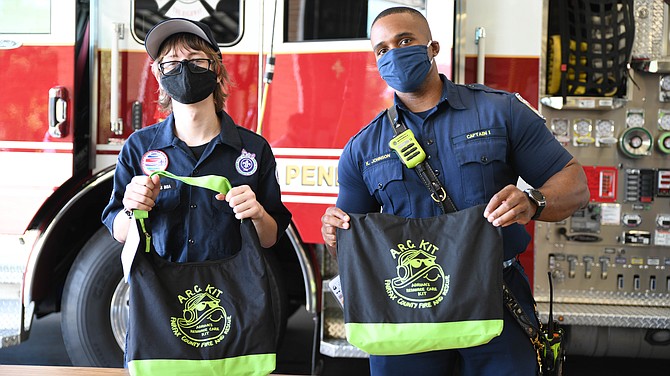 A large part of 17-year-old Adrian Allred's life has been immersing himself in the Boy Scouts, and recently Adrian created "Adrian's Resource Care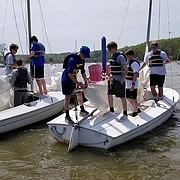 Kits," to earn his Eagle Scout Badge. Adrian's kits are full of materials that are described as anxiety and autism comfort items, and as a part of his eagle badge requirements, Adrian supplied the kit to the Fairfax County Fire and Rescue Department to use as a tool when they are responding to calls that involve autistic people or people in extreme anxiety.
But more than that, it's a way for him, a teen who is high functioning autistic, to help others with all levels of autism. Completing the steps for the badge was another way to work out of his comfort zone, while achieving a goal, helping rescue squads responding to autistic individuals.
"It's been great for him," said his mother Jennifer Allred. "This has helped him work with his communication skills."
The kit contains headphones, sensory balls, fidget spinners, pipe cleaners, stretchy men and flavored tongue depressors, which are Adrian's favorite. These kits are now carried by 42 medic units in Fairfax County, and when they are working with an individual with autism or calls involving mental health crises, the kit might be just the thing they need to help induce calm while the rescue workers tend to the task at hand.
The resource kit, called the "ARC," was used recently when Medic 421 was responding to a situation in the Fair Oaks area where a nonverbal child was found alone near the station. They introduced the ARC kit, and this kept the child's attention while the rescue squad investigated the situation. Officials said this was a success.
There is a video on the Fairfax County Fire and Rescue Department website about ARC, and at the end, letters flash up on the screen, "Thank You Adrian!"
Adrian's pretty humble about all the attention.
"It's interesting," Adrian said.
From Cub Scout to Seascouts
The Boy Scouts of America have been an ideal organization for Adrian, since his days of Cub Scouting in Pack 1509 in Fort Hunt. Although the family now lives in the Virginia Hills area of Alexandria, Adrian is affiliated with the Sea Scout program at Belle Haven Marina off the George Washington Memorial Parkway. There he is part of "Draken 818," a Sea Scout Troop. "He enjoys the Sea Scout program," said Jennifer Allred. "Boy Scouts has been fantastic for him," she said.
Last year, at the jamboree in Summit, West Virginia, Adrian was there for 10 days, interacting with 45,000 scouts from all over the world, and his mother could see this was helping Adrian. "It changes your focus," to be at an event like this, she said.