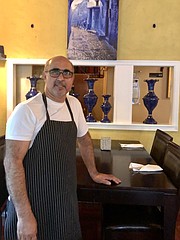 Second in a series on Great Falls restaurants in a pandemic time.
Asked how his business was faring during the pandemic, Dor Niaz, owner of Zamarod Afghan Restaurant, did not mince words: "painful, painful, and painful."
Niaz told The Connection that the restaurant has struggled to get "on the map" since it was established in 2014. But this year, after it finally achieved a higher profile, the pandemic dealt the restaurant a blow that Niaz is not sure Zamarod can withstand.
"We need a spark," he said. "We're not a chain. If we go down, this place is going down, the household goes down, the kids go down, without college or anything else. We have to do whatever it takes to stay afloat."
Niaz immigrated to the U.S. as a teen in 1980, fleeing the Soviet occupation of Afghanistan. His family came to the United States in search of opportunity and stability, "knowing that this is the best there is."
It was after working at Giant Foods for several years that Niaz decided to open his first restaurant in Northern Virginia. Heartened by its success, he opened a second restaurant in Vienna, and another in Herndon, both of which also succeeded, he said. Then, after working as an interpreter for the Department of Defense following the September 11th attacks, he opened Zamarod: its name the Dari word for "emerald."
THE RESTAURANT took a few years to build a high profile, Niaz said, but it had in recent years gained traction and a broad base of loyal customers. He views Zamarod as more than just a restaurant: he also sees himself as an "ambassador of food," healing antagonism between the U.S. and Afghanistan.
"When you put the name of a nation on your restaurant, the load on your shoulders is twice as much," he says. "There's enough negative propaganda on the TV about the nation [of Afghanistan], but in the meantime, I repair damage as I work."
Niaz has invested "everything" in the restaurant, he said.
"I don't have a backup to rest assured, for a rainy day. At the middle of the night, sometimes I wake up, asking myself, 'what if, what if, what if?'...because we don't have it," he said. "We put all our eggs in one basket, hoping this will survive."
These days, Niaz is the lone employee of the restaurant, spending "ten, twelve, fifteen hours a day" working there. He also proofreads and sells real estate to supplement earnings from the restaurant. Niaz does this with his children's education in mind, he said; his daughter is training to become a Physician's Assistant, and his son is studying design.
"I'm afraid, if this goes south, their education will go south," he said. "I'm willing to give up the house, but not the kids' education."
To his customers, Niaz sends a message of genuine appreciation.
"God, when this thing is over one day, if it could come back to normal—hugging, high fiving, low fiving, and all that—I want to thank all of you in a way that words cannot tell," he said. "But right now, it is very hard. It is very, very hard."
ONE ZAMAROD CUSTOMER, Dennis Berg, drove from his home in Maryland to meet a friend for dinner at the Afghan restaurant. Zamarod is not close to either of their homes; but Berg, a self-described "food fan," said that the quality of food makes the long commute worthwhile.
"There are two Afghan restaurants in Northwest D.C., and this kicks their butt." he said. "I want to see it stay around, so I'll keep driving out here...even though I live like thirty miles away!"
At the end of the day, Niaz is resolute in his decision that if the restaurant is not to survive the pandemic, then it will go down fighting.
"We will not let this thing put us down," Niaz said. "If it does, God forbid...you give it everything you have."
WHERE AND WHEN
Zamarod Afghan Restaurant
10123 Colvin Run Rd, Great Falls, VA 22066
Hours: Weekdays 11:30 a.m.-2:30 p.m., 5-10 p.m.; Saturday 5-10 p.m.; Sunday 5-8 p.m.;
703-757-9300; yelp.com