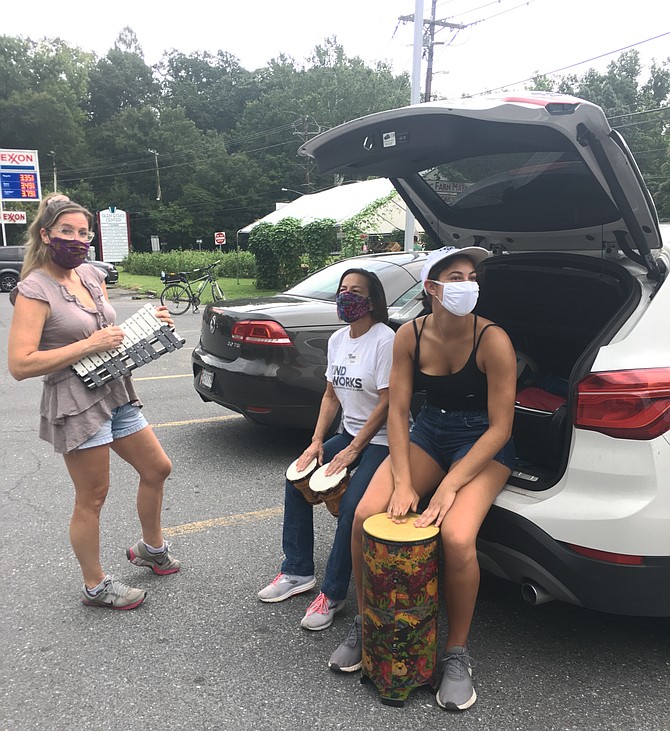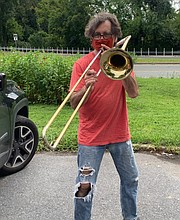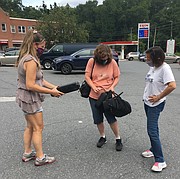 They sat in a parking lot in Glen Echo making music with donated instruments while waiting for more to come in.
They were volunteers on hand to accept donations of instruments and load them into a minivan as neighbors of the Glen Echo community arrived with trombones, clarinets, drums, violins and guitars.
The instrument collection was sponsored by KindWorks, a local nonprofit dedicated to meeting community needs "one act at a time."
The Glen Echo collection was the second of four currently planned by the organization. August eighth they set up in Potomac near the gazebo on the Safeway side of River Road. That day they received 35 instruments.
The collection grew out of KindWorks Harvest Share program which encourages home gardeners to grow a little extra and donate it, according to Deb Lang, KindWorks executive director.
There are food drop off points throughout the County and on different days so community members' "extra produce can become someone else's healthy meals – reducing food insecurity AND food waste," according to KindWorks' website.
"We originated this from a food discussion," said Sunny Trippel, musician and band member.
While discussing the idea of sharing extra food, someone brought up the idea of sharing unused musical instruments and so the collection began.
Along with Lang, who played the bongo drums in the parking lot, Peg Philleo, KindWorks secretary, and volunteers Trippel and Chloe Maciejewski were available to accept the musical instruments and load them into Trippel's minivan.
Donating a musical instrument seems to be an emotional choice, not as easy and cleaning out a closet and donating everything else. Most of those who came with instruments had stories to tell.
"People tell their stories, every instrument has a story," Trippel said.
Tom Squitieri came with a trombone – one given to him by his parents years ago. He has another which he plays.
"He loved the idea that someone who didn't have the opportunity for music would get the trombone," Trippel said.
Judy Brazen arrived with a clarinet, a saxophone, and an empty case she hoped could be used. Her children are now in their 20s and no longer use the instruments.
"It feels good to know you can give," she said.
Carol and Richard Schleiher arrived with a flute "that was never played hardly," according to Carol.
KindWorks is connecting with music teachers to identify students who need instruments – students who would not have an opportunity to learn to play an instrument because of the cost of the instrument itself, Lang said.
KindWorks urges you to look in your closets, basement and attic; come donate your unused musical instruments on Aug. 29 or Sept. 12, and give the gift of music to others who don't have the means to acquire their own instruments to play. KindWorks is especially interested in sharing instruments with Montgomery County students who are offered instrumental music as part of their curriculum, but who can't take advantage because they can't afford an instrument.

On Saturday, Aug. 29, KindWorks volunteers will be at Opus Yoga, 257 Market St. West in Kentlands from 3-5 p.m. to collect instruments.
On Saturday, Sept. 12, KindWorks volunteers will also be on hand from noon to 4 p.m. at the Bannockburn Clubhouse, 6314 Bannockburn Drive, Bethesda.
For more information about the instrument collections or Harvest Share, visit https://www.dokindworks.org or https://www.harvestsharemd.org/