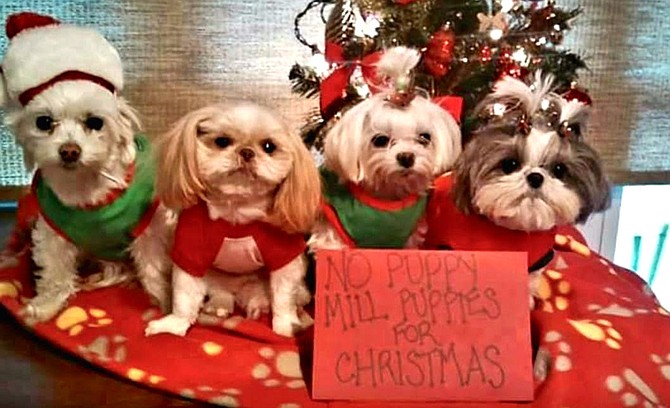 In February, the 2020 General Assembly unanimously designated December as Virginia's Puppy Mill Awareness Month. This December, and each succeeding year thereafter, Virginians are encouraged to observe Puppy Mill Awareness Month by supporting efforts to raise awareness of puppy mills, support rescue organizations, and promote responsible dog breeding and responsible pet adoption. (See Great Falls Connection, July 20, 2020)
What is a puppy mill? No one common definition has been established in law, but puppy mills are generally defined as high-volume commercial breeding operations; factory farming of dogs, with inhumane treatment of adult breeding dogs where profit is put above the welfare of the dogs. These factory farms may have 50 to hundreds of dogs of various breeds held in poor conditions. Many such operations have been repeatedly cited for violations of the federal Animal Welfare Act. And while Virginia's restrictions on commercial breeding have kept such operations out of the Commonwealth, the General Assembly recognized that out-of-state operations regularly transport and ship puppies into Virginia.

The resolution recognized that Virginia consumers face purchase of dogs which are often underdeveloped, sick, or suffer from genetic deformities or behavioral defects as a result of poor socialization and mistreatment, and some may even die only days or weeks after purchase. Many pets purchased as holiday gifts come from puppy mills, by way of Virginia puppy stores or on-line sales, and animal welfare organizations see increased numbers of rejected and unwanted dogs following the holidays.
What can you do to stop puppy mills?
It's simple — don't buy from puppy stores which sell dogs/cats/rabbits! Instead, do your business with pet stores that work cooperatively with local rescues to display animals in need of a home. Don't buy animals on-line. Instead, identify responsible breeders or rescues and work directly with them, insisting on seeing their breeding/housing site and health testing.
Talk with your friends and neighbors about puppy store factory farm sourcing. Encourage others to avoid puppy store and on-line puppy/kitten/rabbit purchases. Also, contact your State legislator to voice your dissatisfaction with loopholes in the law that allow puppy mills to sell through puppy stores in Virginia. Ask your Congressional representative to strengthen federal animal welfare act regulations related to commercial dog breeding; to move and pass the Woof Act and the Puppy Protection Act.
Read more information on Puppy Mill Awareness Month in The Connection during December.