Dec. 1 marked the day that Fairfax County Public Schools students in Group 5, those in Early Head Start, PreK, Kindergarten, and some who receive special education services were to at last transition out of distance learning and walk through school doors to receive two days a week of in-person learning.
But the spike in COVID-19 cases meant Virginia Department of Health data did not support the return to in-person learning. On Nov. 24, FCPS Superintendent Scott Brabrand said in his Thanksgiving Message to families, "As we see COVID-19 infection rates continue to rise in our community, we must continue to pause in-person return for students in Group 5 … Health conditions do not support bringing Group 5 students back to school in person on Dec. 1 as we had hoped."
Dec.1 is 264 days since the release of Brabrand's March 12 Coronavirus Update Message that closed all FCPS schools on Friday, March 13, the last day many students attended in-person. It was then that Brabrand wrote, "This remains a very fast-moving narrative." Those words proved to be one constant in the yet to be fulfilled FCPS Return to School plan.
As FCPS began the last month of 2020, with majority of students learning virtually, analyses of the First Quarter grades showed increased number of Ds and Fs for Students with Disabilities and English learner students.
Key Ups and Downs from March 13–Dec. 1, 2020
The beginning of distance learning did not go smoothly.
When FCPS closed on March 13, it was the tenth-largest school division in the country with a diverse prekindergarten-through-12 student population of 188,000 — 29 percent economically disadvantaged, 14.7 percent with disabilities, and 27 percent English learners.
Technical issues with Blackboard the first week of distance learning beginning April 14 prompted Brabrand to cancel online learning for the rest of the week.
A second issue surfaced, failures to implement and monitor security protocol by FCPS. Sloan Presidio, the school system's assistant superintendent for instructional services, described it as a leadership failure. "We failed to properly train the staff," Presidio said.
School year 2019-2020 ended with no fourth-quarter grades assigned to elementary students to help compensate for equity issues of access to technology. Secondary students received a "no mark" for the fourth quarter, with submitted assignments allowed to influence the overall final year grade positively.
School Board chair Karen Corbett Sanders said, "This Board is committed to working with the Superintendent, staff members, and our families to get through this period."
In the summer, FCPS reshaped distance learning with Schoology, a management system to start fall 2020 as a pilot at 17 schools.
SCHOOL YEAR 2020-2021 began with virtual learning for everyone. The fall student population declined by 8,859 students, with the total dipping to 180,151 compared to data recorded the year before at the same time, according to Assistant Superintendent of Facilities and Transportation Services Jeff Platenberg.
Oct. 5, 19, and 26 saw FCPS begin its Return to School in-person instruction for some small groups of students whose families opted in and facing the greatest challenges with distance learning — high school career prep, preschool autism, early childhood, English learner newcomers, special needs and adapted curriculum.

The school division passed the first quarter (Q1) milestone only to receive the 2020 FCPS Study of Teaching and Learning During the Covid 19 Pandemic, Analyses of Q1 Secondary Marks by the Office of Research and Strategic Improvement.
Learning-disabled students and English-as-a-second-language students fell significantly behind according to the new study, with the trend "especially concerning."
According to the study, "Students who performed well previously primarily performed slightly better than expected during Q1 of this year. In contrast, students who were previously not performing well-performed considerably less well. A greater proportion of low-performing students received failing grades during Q1 than would have been expected based on patterns of marks in prior years...The amount of increase among racial/ethnic, gender, and other student groups was highest among Students with Disabilities (111 percent increase), and English learner (106 percent increase) students and lowest among Black (63 percent increase) and White students (67 percent increase). Nonetheless, all groups showed increases in the percentage of F marks received during Q1 of the current year compared to the prior year, indicating that more students were failing courses during the (primarily) virtual instruction period than had occurred when the instruction was delivered in-person."
Moving toward Thanksgiving week, COVID-19 cases per 100,000 population in the community trended consistently upwards. On Sunday, Nov. 22, FCPS notified parents of students in Group 4 that their children would return to all virtual instruction because health metrics reached a threshold based on guidance from the Centers for Disease Control and Prevention (CDC). "The number of cases per 100,000 must be equal to or less than 200 and the positivity rate must remain at, or equal to, 10 percent. When either one of these metrics exceeds the threshold for seven consecutive days, students will temporarily return to all virtual instruction."
COVID-19 Pandemic Metrics for Core Indicators, Fairfax on Nov. 16, 2020 showed total cases per 100,000 first recorded greater than 200 at 211.2. The indicator remained greater than 200 for seven consecutive days, to Nov. 22, with cases recorded at 264.3.
On Nov. 24, in his thanksgiving message, Brabrand said, "As we see COVID-19 infection rates continue to rise in our community, we must continue to pause in-person return for students in Group 5 (Early Head Start, PreK and Kindergarten). Health conditions do not support bringing Group 5 students back to school in person on Dec. 1 as we had hoped."
Parent and Student Comments
Dave Krauss, parent of twins at Westfield High School:
"We went through the fourth quarter of last year, Sebastian's and Jordan's junior year, like everyone else, online. I think both of them were somewhat of the opinion that it was a bit of a waste... We all felt that Fairfax County was so unprepared to move to that model. (However) they were focused on their AP exams … For those classes specifically, they were on the ball. They were studying with each other. That was one of the benefits of having twins... They both did very well on their AP tests … Heading into the summer, we were asked in a survey by Fairfax County whether we wanted them to be in school or at home remotely. Now, both my wife and I did not feel that it was particularly dangerous to send them into school … After the fourth quarter experience, we felt that a hybrid learning situation where they go into school would probably be for the best. Fairfax County obviously decided to go fully virtual, regardless of everyone else's choice … They (Sebastian and Jordan) had us a little worried. But I think the combination of them focusing on their AP classes for their AP exams, plus, the whole college thing that we're now still in the middle of, they both really understood they needed to focus.
"In the basement, we set up a table. On each side of it, they have both their FCPS laptop and personal laptop, in case the FCPS one has issues, which has happened. Within a week, they were starting to complain to us that their backs were hurting. I suddenly realized; how could I not have realized they needed comfortable chairs. So, we went out to Office Depot, a little bit late, and luckily, we're able to find a couple of decent chairs. Instead of spending money on school supplies this year, I wound up spending money on office chairs.
"[As for metrics used by FCPS to determine when to phase in high school classes] my first reaction would be I agree with Fairfax County using those indicators. On the other hand, I kind of don't care. And the reason why I say I don't care is that we pretty much already made up our minds that they were not going to go back into school … That decision had very little to do with our safety concerns but had everything to do with how we felt they were successful in this online environment. We didn't want to disrupt that now...It turns out they're able to do just fine online."
Jordan Krauss, 17, senior at Westfield HS:
"One positive thing about the FCPS learning and teaching model that came from distance learning, is better organization. Teachers are more inclined to post all of the class work and homework assignments on Schoology because there are no paper copies. Being able to access the material we are taught online is really helpful for me to truly learn the material."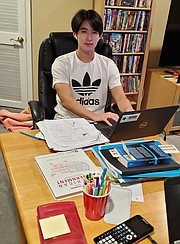 Sebastian Krauss, 17, senior at Westfield HS:
"Because FCPS had outdated and hard to use technology, the 4th quarter of last year was a complete mess.
"The switch to virtual learning has forced FCPS to overhaul their online classroom through applications like Schoology and Blackboard Collaborate. In the past, online resources were confusing, and there were too many places to find your assignments - (Blackboard Learn, Google Classroom, AP Classroom)."
Shaurav Sen of Vienna: Daughter Riyana is in seventh grade at Thoreau Middle School in Vienna and Ritisha is in ninth grade at Oakton High School, both learning virtually.
"The last we heard was Jan. 26, that they were looking at going back to a hybrid model … But now, with the cases rising, I think even that is up in the air. Fairfax County is relooking at their plan, so we don't know honestly ... "I've been setting my children's expectations... Jan. 26 looks highly unlikely … I doubt very much they will go back this year based on the news and information around us. But, you know, I'm keeping my fingers crossed that I'm wrong. I think I would send them back … For me, more than anything else, it's the social connections.
"We moved from Singapore and landed here on June 29. At that time, the expectation was that they would … start school in late August as was originally planned … My wife and I had originally opted for the hybrid as soon as it started, just because I wanted them to interact socially. I don't know what damage this is doing long-term from a social standpoint ... It's more important that they go to school, make one or two friends with whom they can at least connect, even if it's through the phone or socially distant over the weekends. That's something that's been missing, and that's what worries me the most frankly ...They are not enjoying school as much as they used to. In Singapore, they would love to go to school. Not only because it gave them an opportunity to interact with the teachers and really enjoy the learning, but also their friends were there. Here, what is happening is they don't have friends. ...
"The girls always say: 'Wish our teachers would create more opportunities for us to connect with our classmates so we get to know each other better — learning is a lot more fun when we can do it sometimes together with our classmates and friends."
Amy Berman of Vienna, parent of Caitlyn, 5:
"We ended up making a choice in July for Caitlyn to be hybrid because we felt this was her first real school experience … I had some nights that it was difficult falling asleep or staying asleep thinking about it. We made the choice feeling that Fairfax County was taking the right measures to provide a safe environment. We felt that at her age, especially as a single child, it was important that even with masks and all that, she be around other kids.
"Like everything else this year, you make a decision, and then… We were given an option … If we wanted to come to the parking lot, we could meet the teacher in-person with masks and social distance. We did that. I went to ask the teacher another question, and the teacher looked at her phone and basically said, 'Oh no. The decision is reversed.'
"I don't know if it was more upsetting for me, the parent, or my daughter. I think it was just frustrating, and I understand the metrics … I reminded Caitlyn of what we've just been saying since all this happened. We're flexible. We're flexible ... Things keep changing, and we must remain flexible."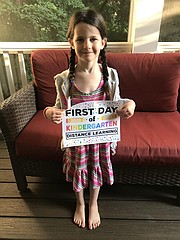 Caitlyn Berman, 5, of Vienna: "My teacher has dark brown hair. She read my favorite book, Bubble Gum Brain...and gave us asynchronous work. There's one that has two apps, one for one day and one for the other...I love Monster Math Squad."
Joshua Dantinne, 18, Chantilly High School:
Q - How was your first week back at school?
A - It was ok. Not what I was expecting, but I liked getting out of the house.

Q - What were you expecting?
A - Chaos, honestly, but they had it together.