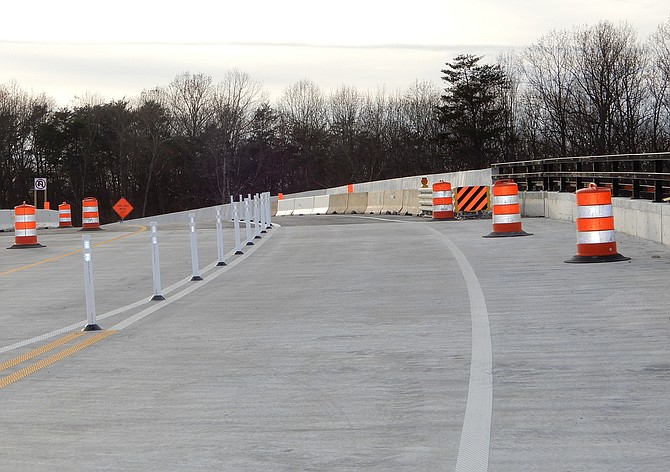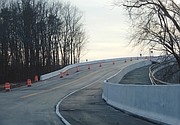 It's been a long time coming – but once again, drivers traveling from the Walney Road/Cabell's Mill Drive intersection in Chantilly will be able to cross Route 28 to reach Braddock Road in Centreville. They used to be able to do it all the time; but after VDOT cut off their access, more than a decade ago, they've been forced to take a detour north and double back south.
But on Nov. 25, the section of Walney Road west of Cabell's Mill Drive was reopened, leading westbound Walney traffic up a ramp to a brand-new overpass above Route 28. That means motorists there may now cross Route 28 to reach Braddock Road directly.
In November 2005, to reduce accidents and congestion on Route 28 – thereby improving safety and traffic flow – VDOT unveiled its plan for a drastic change there. It recommended a partial median closure at the Walney Road intersection and installation of a median island.
Drivers could no longer cross Route 28 between Braddock and Walney, and the traffic signal would only permit northbound left turns and east- and westbound right turns. Walney's left lane would disappear, and traffic could only turn right from Walney onto Route 28 north, through a channelized island.
BOTH LANES coming from Braddock onto Route 28 were only allowed to turn right (south) only. Motorists couldn't turn left (north) onto Route 28 and were instead directed to the Westfields Interchange. Drivers could still turn left onto Braddock from Route 28 north, but Route 28 south traffic was barred from turning left onto Walney. It could only be reached by a right turn from Route 28 north.
Eventually, VDOT implemented its plan – greatly impacting residents of Cabell's Mill and other neighborhoods off Walney Road. With their direct access to Braddock Road closed off, they've had to take a circuitous route to reach Centreville, just across the highway from them.
These residents have had to turn right onto Route 28 and travel north so they could make a U-turn near E.C. Lawrence park, then head south on Route 28 and finally make a right turn onto Braddock – or continue to Route 29 to Centreville's shopping centers, restaurants, grocery stores, schools, churches and businesses.
So the newly opened, Route 28 overpass marks a momentous – and much welcome – change in their lives. It enables them to finally take a direct route to reach all these amenities.
Drivers still aren't allowed to turn left onto the ramps to Route 28 south or I-66 west because of ongoing construction on the new overpass. Instead, they'll continue to use the Route 28/Westfields Boulevard Interchange to do so.
At the top of the new ramp, motorists will be able to turn left onto Braddock Road headed west, or they may take a right onto Walney Road headed east. Eastbound travel on the overpass, as well as additional traffic movements, are set to open in the coming months.
On the other end of the new overpass, drivers traveling east on Braddock won't yet be able to use the new flyover to cross Route 28 to reach Walney Road and Cabell's Mill. Recently opened, permanent ramps from eastbound Braddock to Route 28 south and I-66 west remain open.
THE NEW, permanent ramp from Route 28 north to the new Braddock Road/Walney Road overpass over Route 28 is part of the I-66 Outside the Beltway Project's Route 28 Interchange improvements. To access this ramp, motorists on northbound Route 28 will stay to the left over I-66.
In addition, there's more good news for local motorists. According to VDOT, early this Saturday, Dec. 12, the new, permanent ramp from I-66 west to the Braddock/Walney overpass over Route 28 will open. Drivers will reach this new ramp by taking the exit from I-66 west to Route 28 north and then staying to the left for the ramp leading to Braddock/Walney roads.