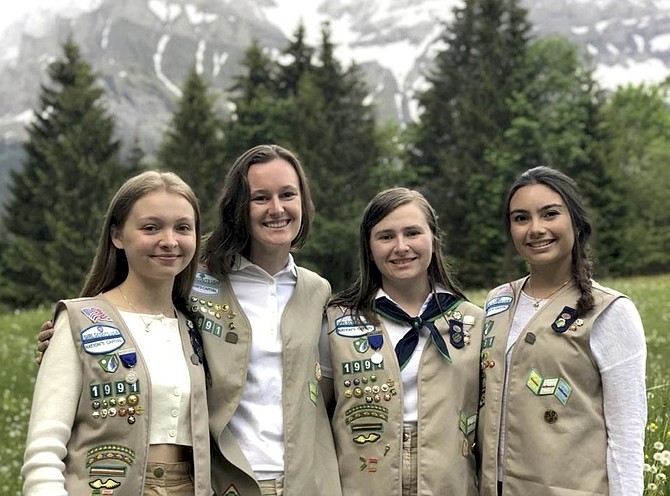 The Girl Scouts of the Nation's Capital recently acknowledged the power and dedication shared by an elite group of young women who earned the Girl Scout Gold Award in the 2020 Annual Yearbook. Five members of the Great Falls Service Unit Troop 1991 — Maya Alexander Van Scoyoc, Jacqueline Grimson, Julianna Grimson, Eliza Pastore, and Stuthi Iyer — were among those acknowledged for this prestigious accomplishment. Due to COVID-19, the in-person ceremony recognizing Gold Award recipients in the Nation's Capital from 2020 was postponed.
The Gold Award represents the highest achievement in Girl Scouting, recognizing girls who demonstrate extraordinary leadership through remarkable Take Action projects that have sustainable impact in their communities and beyond. The Gold Award is earned by Senior and Ambassador Girl Scouts and only 5.4 percent of eligible Girl Scouts successfully earn the Gold Award. Approximately 200 girls out of more than 60,000 scouts from 25 counties in Maryland, Virginia, West Virginia, and D.C. earned the Gold Award. Gold Award Girl Scouts spend between one and two years on their projects, building on many prior years of Girl Scout participation.
GREAT FALLS TROOP 1991 was formed when the girls were in Kindergarten and continued through high school. Over 12 years, the troop completed hundreds of hours of service, sold thousands of boxes of cookies, enjoyed many camping trips and high adventure activities, visited the birthplace of Girl Scouts in Savannah, Georgia, and traveled to the GS Chalet in Switzerland to complete a week of hiking, whitewater rafting, and activities with other Girl Scouts from around the world.
Maya Alexandra Van Scoyoc Zepda: For her Gold Award, Maya Alexandra taught health care workers and new mothers in rural Guatemala how to use inexpensive tape on cleft lip babies to prepare them for reconstructive surgery. After traveling to Guatemala with Partners for Surgery, she noticed that during post-operation of cleft lip and palate surgeries, many times the reconstructed lip split, especially in babies. She discovered that taping the babies' lips well before surgery many times prevented lips from splitting and therefore additional surgeries. When she returned home, Maya Alexandra worked with Georgetown University surgeons to select an appropriate tape that was both effective and safe for young babies. She returned to Guatemala and trained locals and mothers on the proper use of the tape and secured a supply of tape to provide to Guatemala health care workers to distribute.

Maya Alexandra was a Girl Scout for 13 years and earned the highest awards at each level of scouting. She graduated from Langley High School and attends University of Miami.
Jacqueline Grimson: After hearing about a shooting at a local pizza restaurant near her high school where the shooter was motivated by "fake news," Jacqueline wanted to help prevent this from happening again. "Fake news," or media misinformation, was a hot topic in the 2016 Presidential election and it has become increasingly more challenging for consumers of information to identify truth from fiction.
After much research, she realized that middle schoolers were the best target audience for her project, since many were just becoming "plugged in" to social media and didn't have the tools or experience to recognize false information and clickbait. Her goal was to give middle school students the tools to become savvy consumers of information. She researched, tested, and developed a curriculum for middle schoolers and presented it to Higher Achievement, a non-profit that works with underserved middle and high school students to prepare them for college. Higher Achievement asked Jacqueline to teach her curriculum, "Media Matters," in a summer school . She led a month-long session for three different classes of students and then provided her curriculum to Higher Achievement to be used throughout the school year. Jacqueline continues to volunteer as a mentor to High Achievement students.
Jacqueline was a Girl Scout for 13 years and earned the highest awards at each level of scouting and the Silver Trefoil Service Award (300 hours). She also served the Teen Advisory Board for the GS of the Nation's Capital, GS Congressional Aide, and as a Delegate at the GS National Convention in Ohio. Jacqueline graduated from Sidwell Friends High School and attends NYU.
Julianna Grimson: As a new driver, Julianna noticed that there were many poles or trees that were placed extremely close to the road, making it dangerous as a driver at night or in fog when the visibility is low. She has lived in Great Falls her entire life and was aware of several fatal accidents on the rural roads. After one Sunday morning when she saw that a driver hit a utility pole on a road close to her house and was hospitalized with life-threatening injuries, she decided to take action against this issue in her community.
Julianna, a Girl Scout for 13 years, focused on making roads in Great Falls safer for drivers for her Gold Award Project. She set out to identify all the precarious poles or trees in Great Falls that are close to the roads and work with Virginia Department of Transportation (VDOT) to install reflectors or signage on them. Not only are these poles dangerous to Great Falls drivers, but they are especially dangerous to out-of-town drivers who are unfamiliar with our roads. Julianna worked with the Great Falls Transportation Committee, VDOT, law enforcement/first responders, and County Supervisor's Office to identify and mark hazardous obstacles near the side of rural roads. Julianna led her community and partnered with the state government to install 20 new signs on dangerous utility poles and obstacles to improve safety on Great Falls roads.
Julianna also earned the highest awards, the Bronze and Silver Award and the Silver Trefoil Service Award (more than 300 hours of service). She served on the Board of Directors for the GS of the Nation's Capital representing more than 60,000 girls from three states and D.C. in the largest GS Council in the US and also served as a GS Congressional Aide. Julianna graduated from Sidwell Friends High School and attends Vanderbilt University.
Eliza Pastore: After visiting the Our Chalet (an international Girl Guide/Girl Scout center) in Adelboden, Switzerland and observing insect boxes while hiking, Eliza decided to focus her Gold Award project on Virginia native insect sustainability and native insect pollinators to raise community awareness on methods to encourage the population of beneficial native insects.
Northern Virginia is rapidly losing its green space to development. Building a bug box is a way to foster and protect pollinators in the area. She began her project researching and speaking with master gardeners and farmers-in-residence about bug boxes for farming, municipal and personal use and learned how to target certain insects specifically. She worked with Fairfax County park rangers at Riverbend Park to build and place a bug box in the park, targeting bees, beetles, and spiders. The insects build nests inside hollowed bamboo and drilled branches arranged in a wooden box in late fall and lay eggs that will safely hatch by spring.
Eliza led an educational program at Riverbend Park with a dozen children in attendance to learn about native insect sustainability and to build their boxes to put in their backyard. Eliza also developed a curriculum and lesson plan so that volunteers at Riverbend Park may host similar programs in the future.
Eliza was a Girl Scout for 13 years and earned the highest awards at each level of scouting. Eliza graduated from Langley High School and attends Vanderbilt University.
Stuthi Iyer: Stuthi has been a Girl Scout for 12 years. For her Gold Award, Stuthi conducted a series of Science Technology Engineering Arts and Math (STEAM) Workshops for a group of students at a Title 1 elementary school in Herndon, Virginia. She wanted to provide students with a novel research opportunity that the Fairfax County curriculum doesn't typically provide, instill an interest in STEAM at an early age, and provide resources for these students so that they may achieve their goals without financial constraint. The workshops culminated in a Science Fair where she helped students make and present novel research.

Stuthi earned the Silver and Gold Awards and the Silver Trefoil Service Award and was a Congressional Aid. Stuthi graduated from Thomas Jefferson and attends University of Pittsburgh.