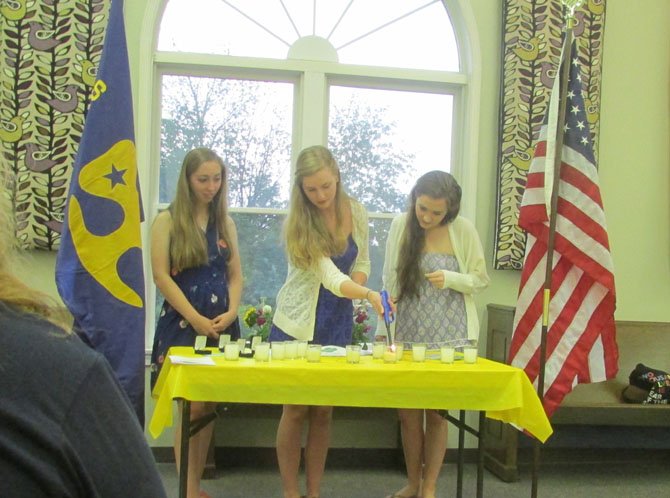 Caitlin Dalrymple, Maddie Navin and Rachel Zmuda, all of Girl Scout Troop 1057 in Great Falls recently celebrated the completion of their Gold Awards, the Girl Scouts' highest honor. Bonded through Daisies, Brownies and Senior Girl Scouts, these girls all developed their Girl Scout values under the leadership of Deb Smith, Leader of Troop 1057. As Ambassador Girl Scouts, they built upon the foundation assembled through years of girl scouting, and under the leadership of Sharon Cantrall, Girl Scout Advisor, pursued and completed their individual Gold Awards, which spanned approximately 10- 12 months.
The Gold Award allows each girl to use her own values and skills to identify a community issue she is passionate about and then determine a topic and audience for her project. Before proceeding, each girl submits a project proposal to the Gold Award Panel. All of the projects completed this year must have by design a lasting and positive impact on our region and community.

Caitlin set up an educational program to help students at Forestville Elementary School learn geography. It included interactive games and creation of a large map of the United States on Forestville Elementary school playground's blacktop. Her project extended beyond the direct benefits, beautifying the playground, to include facilitating the ongoing connections between students and learning which will hopefully last a lifetime. Caitlin is a senior at Langley High school and plans to study Chemistry at the University of Virginia this fall.
Maddie researched, identified and painted flower portraits to bring comfort and serenity to patients during their treatment sessions in the Outpatient Infusion Center at Reston Hospital. As part of her plan to help alleviate depression and lift the spirits of cancer patients, part of this visual therapy included adding the meanings of the flowers to help the cognitive healing process for patients. Her project inspired her team and increased awareness in the community of those trying to defeat cancer. Maddie is a senior at Oakcrest School and plans to study Nursing at the University of Delaware this fall.
Rachel built a flower and vegetable garden for the teachers at King's Kids Preschool to use to teach about nature, food sources, and healthy eating. Over the course of each school year the children will determine what to grow and have the responsibility for planting and caring for flowers and vegetables. As the year progresses they will see the different stages of the plants and vegetable life and the importance of growing their own food and the importance of natural food and its nutritional value. Rachel is a senior at Langley High school and plans to study Early Childhood Education at Denison University this fall.
This award is earned by a select group of Girl Scouts who have demonstrated a higher commitment to improving their communities, and advocating for lasting change. This past year, from March 16, 2013 to March 15, 2014, 194 Girl Scouts from 25 counties in Maryland, Virginia, West Virginia and the District of Columbia earned the Gold Award, all apart of the Girl Scout Council of the Nation's Capital. Nationally, approximately 3,000 Girl Scouts complete the Gold Award each year. Approximately 5 percent of all young women who join Scouts earn a Gold Award.