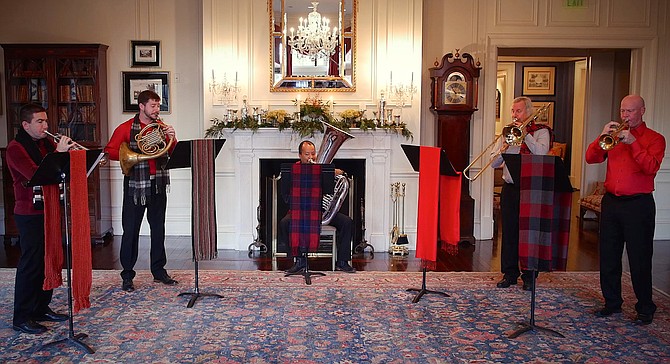 The Alexandria Symphony Orchestra (ASO) in collaboration with the Alexandria Choral Society (ACS) has released its virtual winter concert featuring ASO musicians and a guest appearance by Alexandria Choral Society singers. The 34-minute video Sure on This Shining Night: A Musical Message of Hope will be available on YouTube until the end of December.
"The question for the Alexandria Symphony has been how music can contribute at this fraught moment to finding a more accepting and empathetic, less partisan, common ground," says ASO Music Director James Ross. "What can bring us together, even if apart? This project is our answer to that question."
Program highlights include harp melodies near the hearth, a Swedish holiday song with voice and guitar, Prokokiev's Troika (Sleigh Ride) with brass quintet, and the "Pastorale" from Handel's Messiah. The centerpiece is an appeal for kindness and healing: Morten Lauridsen's Sure on This Shining Night for chorus and strings produced with the Alexandria Choral Society.
"At a time when so many of us will not be with family and friends over the holidays, the ASO's musical message of hope is a poignant and meaningful alternative to a greeting card or stocking stuffer," says ASO Board President Melynda Wilcox.
Corporate and individual sponsors covered the production costs of the project and allowed them early access to the virtual concert. Through sharing with friends, family and clients, the virtual concert already has had over 1,000 views. ASO offers a special thank you to the presenting sponsor Harriett G. McCune, a member of the ASO Board of Trustees, and to Donnie Wintermute, the event chair.
From a viewer who received early access to the video from a sponsor, "I was overwhelmed by the beauty, the spirit and the message of the music. I dropped everything and listened to the end. This has to be my biggest blessing of the season."
"Music has the power to uplift and inspire both listeners and performers," says ASO Executive Director George Hanson. "We hope to bring this shared musical experience of hope and togetherness to the widest possible audience. The ASO board, staff and musicians consider this our holiday gift to the community."
To access the video, visit: https://youtu.be/nYpqzIg_5UU through December 31. More information about the program is posted on the ASO's dedicated webpage: http://alexsym.org/sure-on-this-shining-night/