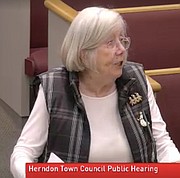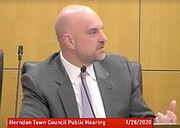 The Herndon Town Council met in public session on Tues., Jan. 28, 2020. Vice Mayor Sheila Olem presided with five councilmembers present. The agenda showed twelve proposed ordinances awaiting action authorizing the use of eminent domain on properties for the Van Buren Street Improvement. Council also presented multiple other resolutions, among them one to accept the Planning Commission's findings and recommendations of the Commission's five-year review of the Comprehensive Plan and another that sought to provide the Town Manager with Town Council guidance on the FY 2021 Budget.
John Irish, Deputy Director of Public Works and Lauri Sigler, Deputy Town Attorney, presented staff reports concurrently on all ordinances to authorize the use of eminent domain. Irish said the Van Buren Street Improvement Project was "essentially improvements between Spring Street to the north and Herndon Parkway to the south." It would provide multi-modal connectivity between the downtown, the regional trails and the future Herndon Silver Line Metrorail Station by providing bicycle facilities and ADA compliant pedestrian facilities. Traffic signalization at Alabama Drive, road drainage and stormwater management were included.
What was involved in "the take," Irish said, were "very small pieces of property," required to give access to improve the street. "Totals of 57 square feet in the whole scheme of things. The rest is for easements and temporary construction easements," he said. Irish provided an image mapping the area with the total of the 57 square feet for the takes plus the additional permanent and temporary easements. The footnote showed the sum of the three areas, the takes plus temporary and permanent easements at 64,984 feet. Irish said if all went well with the project, completion would be the end of winter 2020 to 2021.
In separate votes of 6-0, Council approved each of the twelve ordinances authorizing the use of eminent domain.
Among other actions, Council approved two significant resolutions. In his presentation on Resolution 20-G-01, Comprehensive Plan, Dana E. Heiberg, Senior Planner reminded Council the Plan was adopted in August of 2008. Since then, there had been seven significant amendments, including three areas plans Council adopted. He added that there had been an extensive public outreach process during the past, eight, or nine months and the Planning Commission passed a resolution on Dec. 16. 2019 determining the status of the Plan and provided staff guidance for potential future amendments. "If you approve this, it will affirm the (Planning) Commission's findings, and it also incorporates the Town Council's Policy directives," Heiberg said. During Council discussion, Councilmember Bill McKenna called the outreach process, "A Game Plan for Greatness Moving Forward." Council approved Resolution 20-G-01 by a vote of 6-0.
Next, Town Manager Bill Ashton presented Resolution 20-G-03 that would provide the Town Manager with Town Council guidance on the FY 2021 Budget. Council approved Resolution 20-G-03 in a vote of 6-0.