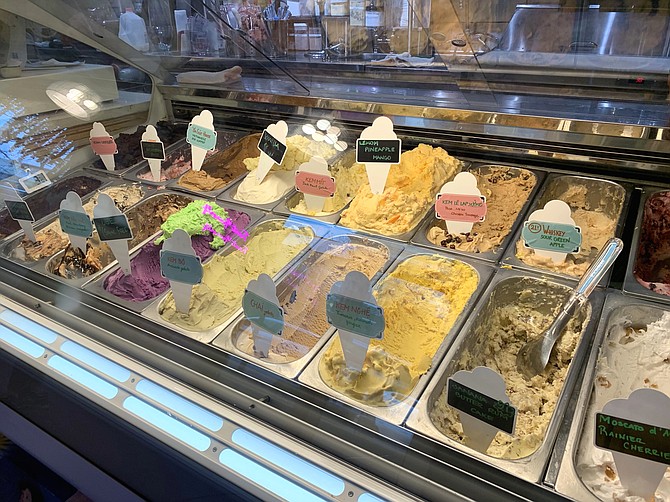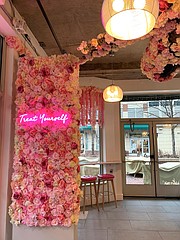 Move over, St. Asaph – Yagut St. is taking over the real estate, at least for a portion of the northern 600 block.
Yagut St. – the kid sibling to its next-door neighbor, Sunday in Saigon – has opened its doors with a different twist than the savory Vietnamese fare served a dining room away. The newcomer's stock in trade is the sweeter side of life, with gelato, pastries and plenty of caffeinated beverages ready for the choosing.
"We're just happy that we can provide a good atmosphere and a good product for people to enjoy; that's our biggest thing," said managing partner Dustin Ngo.
The café's origins come from several directions at once: The first being an opening in the marketplace with the nearby Starbucks' closure last year.
"With Sunday in Saigon, whenever we did desserts, we were sort of confined to Vietnamese desserts" lest it come across as inauthentic, Ngo said. "As soon as Starbucks closed…we figured that now was the best time to jump on for our cause."
But Yagut St.'s name comes from an origin much deeper in meaning. Owner Mimi Huynh grew up on Yagut St. in Dalat, Vietnam, which is also the country's coffee region. With the café serving as a crossroads between Vietnamese cuisine and coffee and sweets, the name fit the theme perfectly.
And the products, so far, are popular. From bubble teas to gelato to all manner of caffeinated concoctions, the menu is small but mighty – and growing mightier all the time.
One of the shop's signature drinks is a coffee drink that packs a decadent punch.
"Our house special is the Vietnamese version of bulletproof coffee," Ngo said. Made with butter and keto-friendly, "It has an amazing flavor profile that people won't find in most places."
Looking to take your beverage completely over the top? Yagut St. has you covered there, too: Get the bulletproof coffee with a cream cheese foam.
"We do what we call a cream cheese foam," Ngo said. "We make this foam similar to how you would froth milk; we froth cream cheese along with some sea salt. It adds this amazing decadent rich salty profile to the strong and sweet coffee, so it's kind of like an umami burst in a coffee cup."
And these offerings are only the tip of the iceberg: Ngo says the shop will continue to expand and refine its menu over the coming weeks and months. But early results are good, he added.
"For the most part, what we had out, people have been flocking towards, which has been great," he said.
IF YOU GO
Yagut St., 682 N. St. Asaph St.
Hours: 8 a.m.-8 p.m. daily.
Try this: Managing partner Dustin Ngo's favorite treat. "We have a fantastic strawberry mascarpone matcha croissant. It's absolutely fantastic; it's flying off the shelves," he said.
Hope Nelson is the author of "Classic Restaurants of Alexandria" and owns the Kitchen Recessionista blog, located at www.kitchenrecessionista.com. Email her any time at hope@kitchenrecessionista.com.