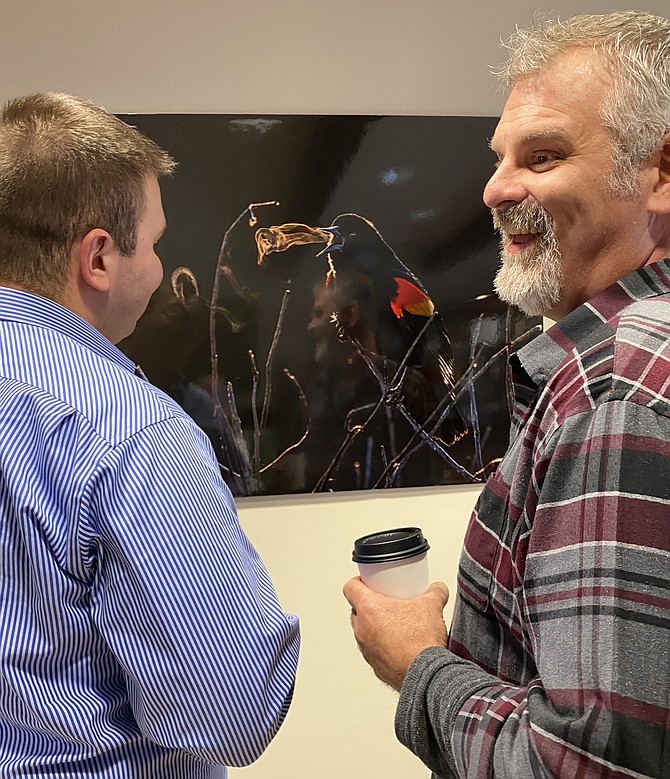 There's still time to visit the traveling 2019 Audubon Photography Award Winners Exhibition presented in association with Nature's Best Photography. Running through Feb. 26, the photos covering a range of species and geographic locations can be viewed for free at Walker Nature Center, 11450 Glade Drive in Reston. The exhibit showcases ten large-scale, award-winning and runner-up images selected from 2,253 entrants hailing from all 50 states, Washington D.C. and 10 Canadian provinces and territories.
"This is the 10th year of the competition, and the third time Walker Nature Center and Audubon Society of Northern Virginia have partnered to present the show. Up until four years ago, the photographs were only shown in "Audubon Magazine," but in 2017, large-scale prints were offered for exhibition to Audubon chapters throughout the United States," said Joanne Bauer, contact for the Audubon Society of Northern Virginia. "It is always a delight to see visitors' reactions to the prints and hear which one is their favorite, although it is so hard to pick. The prints have inspired lots of memory sharing and pure awe about our avian neighbors nearby and afar. We couldn't ask for better partners than Audubon Society of Northern Virginia and Friends of Reston," said Nature Center Manager Katie Shaw.
MANY of the award-winning images displayed in the Walker Nature Center portrayed irreproducible moments in avian life. Photographer Kevin Ebi shot the "incredible image" as one viewer at the Nature Center described it of a Bald Eagle and red fox kit in a dramatic struggle over a rabbit. "I expected to have only a split second to capture the theft in one explosive frame; instead, the eagle snagged the fox and rabbit, carrying both 20 feet off the ground," said Ebi in his "Story Behind the Shot" that accompanied the image. A moment-by-moment account followed, leading up to the final scene in the avian drama.
In addition to the "Story Behind the Shot" that accompanied each photo was a "Camera" description, noting model, type of lens, shutter speed, f-stop and ISO setting. Photographers used either Canon or Nikon cameras to shoot the images on display, no cell phone images here. However, pros did not necessarily shoot all the winning photos exhibited and neither was the Grand Prize Winner, a professional. Judges selected local amateur photographer Kathrin Swoboda as Grand Prize Winner, given her photo of a Red-winged Blackbird taken at Huntley Meadows Park, Alexandria, and shot with a Nikon. In the "Story Behind the Shot," Swoboda said, "I visit this park near my home to photograph blackbirds on cold mornings, often aiming to capture the 'smoke rings' that form from their breath as they sing out."
According to Bauer, the Walker Nature Center seemed like an ideal setting for the exhibition. "Visitors get a close-up view of high-quality photographs in a natural setting where the view out the windows reflects the beauty wildlife photographers find in the wider world," Bauer said. On Sun., John and Kyle Cygrymus of Pennsylvania visited the Walker Nature Center. After exploring the nearby grounds and pathways, they viewed the exhibit. "I made sure I was here early enough so I could enjoy the Walker Nature Center and the Audubon Photography Award Winners Exhibition," said John. With a smile, Kyle added: "I'm a bird aficionado; my favorite is Eastern Wild Turkey." Inside, father and son wandered about the exhibit. They got close to the images, looked hard, laughed and went from one to the next, sharing what they liked and what they didn't. "Incredible," said John. Hands down, father and son, voted Ebi's photo of the Bald Eagle their favorite.
THE SHOW will be on exhibit through Feb. 26 at the Walker Nature Center's Nature House. The hours are Monday and Wednesday-Friday, 9-5 p.m., Saturday 10 a.m.-1 p.m. and Sunday 10-4 p.m. The show will be exhibited next at Huntley Meadows Visitors Center, 3701 Lockheed Blvd., Alexandria, from March 4-25.