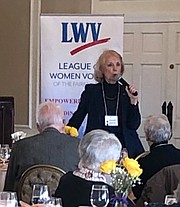 The League of Women Voters of the Fairfax Area (LWVFA) celebrated the 100th anniversary of the League of Women Voters on Feb. 23, 2020. More than 100 LWV members attended the afternoon tea, held at the Country Club of Fairfax. The League was founded by Carrie Chapman Catt in 1920, just six months before the 19th Amendment to the U.S. Constitution was ratified, giving all American women the right to vote after a 72-year fight for women's suffrage.
Vivian Watts, Member, Virginia House of Delegates, was the featured speaker and described her own more than 50 years as a League member, including as President of LWVFA (1975-77). She recounted the strong influence and encouragement of League mentors as she launched her political career and how greatly she benefitted as a delegate from the subject-matter expertise she had developed during her years as a League member. Watts described members as "engaged with energy and spirit" as they "not just ensured that people vote but that the voters are informed."

LWVFA Co-President Nancy Roodberg honored the 28 women who have been members of the League for 50 or more years. One of them, Leslie Byrne, former member of the U.S. House of Representatives and LWVFA President (1982-83) described the critical support she had received from Vivian Watts in starting her own political career. She also credited the League in providing her with her first experience in fundraising.
In a congratulatory letter read at the event, United States Senator Mark Warner praised the "extraordinarily important role" the League has played in U.S. democracy. "You have worked to empower citizens by helping them understand policy issues and through your advocacy efforts."
Capital Harmonia, a community women's chorus based in Northern Virginia, dedicated to bringing music written for women's voices, opened the event by performing songs that celebrate and inspire women.
The League of Women Voters is a nonpartisan citizens' organization that has fought since 1920 to improve the government and engage all citizens in the decisions that impact their lives. The League operates at national, state and local levels through more than 700 state and local Leagues, in all 50 states as well as in D.C., the Virgin Islands and Hong Kong. Membership in the League of Women Voters is open to anyone – men and women – age 16 and older. More at http://www.lwv-fairfax.org/