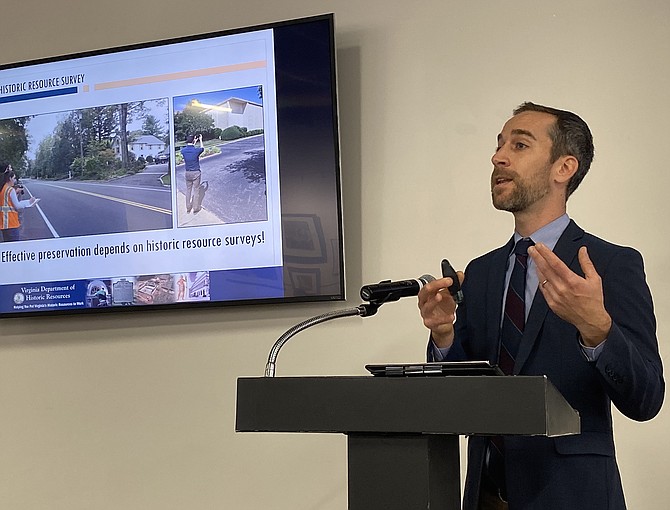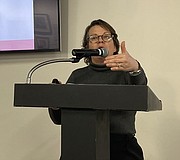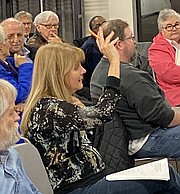 Fairfax County and the Virginia Department of Historic Resources kicked off the Historic Resources Survey of Reston at a joint meeting held at the Reston Community Center Lake Anne on Dec. 17.
"If you don't know where your old stuff is, how old it is, why it's important, and what condition it is in, you can't do much in terms of preservation and interpretation," said Blake McDonald, Manager Architectural Survey & Cost Share Grants Program, Virginia Department of Historic Resources, at the start of the two-hour meeting. McDonald administers the Survey and Planning Cost Share grant program, the vehicle for the Reston survey effort.
That was clear when Reston lost an important building, the American Press Institute Conference Center (API), designed by modernist architect Marcel Breuer, to redevelopment.
Denice Dressel, Heritage Resource Planner, Fairfax County Department of Planning and Zoning reviewed the project timeline and described how Reston buildings recently were lost to redevelopment.
"In 2016, Heritage Resources' staff with Fairfax County's Department of Planning and Zoning conducted a windshield survey of the transit station areas of Reston, after the American Press Institute Conference Center (API) designed by modernist architect Marcel Breuer and located in the TSAs (transit station areas), was lost to redevelopment. At that time, staff identified several potential resources, including Isaac Newton Square... and Reston Center for Associations and Educational Institutions, which has since been determined and eligible for listing in the National Register," Dressel said.
"Survey is the backbone of effective historic preservation," said McDonald. He added that the consultant would be walking the public right-of-ways, taking notes and photographing building exteriors. All collected data would be entered into the department's electronic computer database, the Virginia Cultural Resource Information System, and shared with Fairfax County and other interested parties early next year.
"We preservationists have not been really great looking at newer stuff … Generally, we consider things 50 years or older as historic by definition... But that causes some problems. A lot has happened since 1969 ... At the Department of Resources, we are trying to pay a bit more attention to this period we have labeled, 'The New Dominion'...We are defining it 1945-1991... Key elements that make the New Dominion important in Virginia is that it is a period of intense urbanization/suburban expansion throughout the state, … Civil Rights Movement and the end of lawful segregation and the use of all these new materials and construction methods ... These are the things we are trying to capture … largely through survey."
McDonald added that the Department was in the middle of a statewide architectural study of this period, not because the buildings were threatened or intended to be listed on the National Register but because they were critical facts of recent history or great examples of modern architecture. "From our user perspective, we are seeing a really serious increase in state and National Register nominations for recent past building (mid-century properties)... Our outside community is telling us these buildings are extremely important, and we are also trying to respond to that within, by getting out and recording buildings across the state... The project here in Reston meets those goals perfectly. We really see this as an off-shoot of that New Dominion recent past project … Reston is a primary example of new urbanism planning, and the architecture here is unparalleled to others in the state in terms of concentration and quality in Virginia," said McDonald.
The project came to the Virginia Department of Historic Resources by way of the Cost Share Survey and Planning Grant program, through which the department supports locally-driven preservation planning efforts through partial funding and administrative support. The department selected the Fairfax County project for Reston from their most competitive set of Cost Share applications ever. Then they worked with the county to develop a project scope and hired contractor, Hanbury Preservation Consulting. The Department of Historic Resources would oversee the project to ensure successful deliveries.
McDonald said that the project would entail a survey of 51 properties and eight potential districts in what was called "reconnaissance-level," meaning Hanbury would photograph and make notes from the public right of ways. "If there is local interest in taking the results of this survey and moving that forward in the form of a Virginia Landmarks Register or National Register District or individual property nominations, we would, of course, love to see that happen... We're from the government. We're here to help. Reach out to us for technical assistance, for questions... even if your building is from the 1970s," said McDonald.
The Reston Survey project would specifically look at buildings constructed between 1961-1978. There would be no constraints or requirements for property owners with the survey. The Reston Survey would be the first Department of Historic Resources grant-funded project of resources that are not fifty years old yet. The effort's purpose was not to develop Overlay Districts- a local designation that would place restrictions on private owners.
"May, June, we will wrap up, and we will be able to hand the county, as well as you all a nice finished product in the form of that survey report and all of those individual completed property surveys … Wonderful for us, we get to build our inventory, and great for the county, as they'll now know where more of their important architectures are located. We hope this will be the first stage of many projects to come," said McDonald.
"Responding in part to the loss of the API building, the Virginia Chapter of the American Institute of Architects began an initiative with the Department of Historic Resources to identify significant 20th-century buildings throughout Virginia," Dressel said. "The Reston Architectural Survey seeks to build on these efforts to identify and evaluate those individual resources in the districts constructed between the years 1961 and 1978, prime development years in Reston...In the survey, we'll have an inventory that says; this is out here. It's going to be left up to the county or citizens to say this needs to be preserved or not," said Dressel.
According to McDonald, primary products of the survey project would be the completed forms, photographs and mapping information about the historic resources. Findings would be made accessible to Fairfax County's Department of Planning and Zoning via the Department's Richmond archives with a Fairfax County webpage dedicated to the project: www.fairfaxcounty.gov/planning-development/historic/reston-survey. After the anticipated project completion in May or June of 2020, a second public session would be held.
Mary Ruffin Hanbury, Hanbury Preservation Consulting, said she planned to survey 51 individual properties, five random in each of the eight potential districts as "samples," and named Lake Anne Gulf Gas Station, United Christian Parish, Lake Anne Elementary School, Hidden Creek Golf Course, Reston National Golf Course, The Atrium, Sheraton Reston Hotel, Reston International Center, USGS Building, Terraset Elementary School and Wiehle Avenue Unitarian Universalist Church. Hanbury wrote down other potential properties as session attendees called them out.

Virginia Department of Historic Resources' Aubrey Von Lindern, Certified Local Government Coordinator & Architectural Historian, clarified the benefits of listing a property on the Virginia Landmarks Register and the National Register of Historic Places. Lindern said, "Listing is honorary." It recognized the historic value of a property and encouraged its preservation but would not necessarily protect it from development or destruction. However, owners of registered properties may qualify for state and federal historic rehabilitation tax credits. "They are a dollar for dollar income tax liability for the taxpayer to rehabilitate historic buildings. The amount of the tax credit is based on total rehab costs. The federal credit is currently at 20 percent of eligible rehabilitation expenses. The state credit is 25 percent ," said Lindern. Also, owners of registered properties could ensure stewardship through the Virginia Historic Preservation Easement Program. "It provides a tool that would enable historic landmarks to enjoy long term protection while remaining in private ownership. Though the easement program, an owner has the guarantee of perpetual protection of an important historic resource without giving up ownership," she said.
The Reston survey was the first step toward the Virginia Department of Historic Resources possibly adding site(s) to the honorary Virginia Landmarks Register, followed by forwarding documentation to the National Park Service for nomination to the National Register of Historic Places. While a possible registration would be honorary, according to the Virginia Department of Historic Resources' website: "Only easements protect property in perpetuity. Registration informs owners, local planners, government agencies, and others involved in land-use planning of the existence of a historic resource. Neither the National Historic Preservation Act nor the Code of Virginia however, requires property owners, developers, or government agencies to avoid affecting or destroying historic resources."
Question & Answer Period

Q: What about the buildings at the end of Association Drive; they are not on your list.
A: McDonald: Those were surveyed as part of the Soapstone Connector Project.
Q: Are golf courses listed on the register?
A: Hanbury: Absolutely...It is a designed landscape.
Q: If you get it on the register, it is just honorific. Do you know of any golf course that has gotten something better than honorific?
A: Hanbury: Any kind of tool you could use with a National Register property like an easement could be put on it...Any of the traditional preservation tools ought to be able to work...Another organization... is The Cultural Landscape Foundation, which documents historic landscapes, design landscapes, including golf courses. They have an endangered properties program for landscapes, called Landslide.
Q: How will the county make use of this tool to protect the unique heritage of Reston?
A: Dressel: We will have another meeting just like this meeting, and the findings will be presented to the public. It will be presented to Planning and Development. It will become part of our information while we analyze and access land-use decisions and development decisions.
Q: If the survey indicated something could be on the NRHP, is there any way to get it there without the property owner agreeing?
A: Blake: If it is an individual property, then we need the consent of the property owner. If it's a district, then we do not necessarily need for every single property owner within the district to consent. We would want to see evidence of overall community support, let's say in one of these clusters, for example... If we felt there was overall support, we would work with you with a grant program, or the county could encourage you to hire a consultant to do the nomination form, which includes an additional survey and production of a written document... At that point, when we have a draft, we'd review it and send out a mailing to all property owners within that district area, and they would have the opportunity to object. If we have 51 percent objections, we will not move ahead with a National Register nomination.
After the Q & A, attendee Lynn Mulston said, "I am thrilled to see that both golf courses in Reston are listed in the initial drive-by conducted by Hanbury Preservation Consulting… As chair of Rescue Reston's North Course Committee, I was hopeful that the survey would include the Hidden Creek Golf Course… The community has much work ahead as we continue to fend off unscrupulous developers who are trying every trick in the book to develop these protected open spaces."