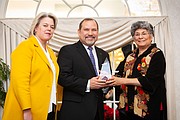 The 2019 Northern Virginia Leadership Awards, hosted by Leadership Fairfax on Dec. 6, recognized leaders who have made significant impacts on Northern Virginia and the region through volunteer service, fundraising, community partnerships and a dedication to service above self. These annual awards are bestowed in six categories highlighting community stakeholders and bringing together more than 150 representatives from nonprofit, government and business sectors.
2019 HONOREES
Regional Leadership Award: Danny Vargas, Founder and President, VARCom Solutions
Vargas is an award-winning business and community leader, accomplished media commentator, and marketing/public relations professional, who currently serves as Chairman for Friends of the National Museum of the American Latino. He has advocated for commonsense solutions for a variety of causes—workforce development, veterans support, economic development, health IT, immigration reform, transportation and more.
Educational Leadership Award: Rebecca Cousins, Employment and Transition Representative, West Springfield High School
Cousins is changing the lives of her students by showing them there are viable career opportunities, even if the traditional college-to-career path is not an option or an interest for them. Her work also incorporates special education students in the planning process, reinforcing their use of communication, critical thinking and teamwork skills.
Corporate Leadership Award – Organization
Womble Bond Dickinson
Womble Bond Dickinson is a professional services firm with offices throughout the US and the UK. They have a collaborative, inclusive and innovative corporate culture. Delegates of WBD serve on the Tysons Partnership's Board of Directors, Sustainability Council, Leadership Advisory Council, Land Use Council, and Partner Dan Mackesey serves as Chairman of the Partnership's Community Responsibility Council, working to foster Tysons community engagement and support the well-being of Tysons community members most in need.
Nonprofit Leadership Award -- Joe Meyer, Executive Director and CEO, Shelter House
Meyer is the dynamic leader enabling Shelter House to continue to grow its mission to address the issues of homelessness and domestic violence in our community. As Executive Director and CEO he is focused on fostering a culture of excellence, mentoring and inspiring his team, and engaging each individual, from the highest state official down to each volunteer, and the clients they serve to reach their potential.
Corporate Leadership Award – Individual: Shirley Luu, Founder and President, Shirley Luu Associates
Luu loves working with people, enjoys educating and empowering women and men to prepare them financially for retirement. Powered by First Financial Security, Shirley Luu and Associates, brings the latest in financial services, concepts, and products to improve the saving habits, health insurance, family protection, and wealth building of its clients.
Trustee Leadership Award: Linda Mathes, CEO, American Red Cross – National Capital Region
Mathes demonstrates vision on a national, regional, and local level. Her awareness of the broad vision of the American Red Cross led her own efforts to ensure they are organizationally aligned. Regionally, following local and national disasters, Mathes mobilizes the community in support of disaster response, readiness and preparedness activities, raising funds, and recruiting large entities to support her vision, including the Active Shooter Symposium, Disaster Preparedness Summit, and multiple Urban Areas Security Initiative grant.
Karen Cleveland, CEO and President of Leadership Fairfax, said: "With these awards, we celebrate the selfless dedication and accomplishments of individuals and organizations whose work is central to our mission to develop, engage, connect and inspire community leaders." Nominations for the 2020 Northern Virginia Leadership Awards open in September 2020, and community representatives are encouraged to submit nominations.
Leadership Fairfax headquarters are located at 8230 Old Courthouse Rd., Ste 100, Vienna. To learn more, call 703-752-7555 and visit leadershipfairfax.org.