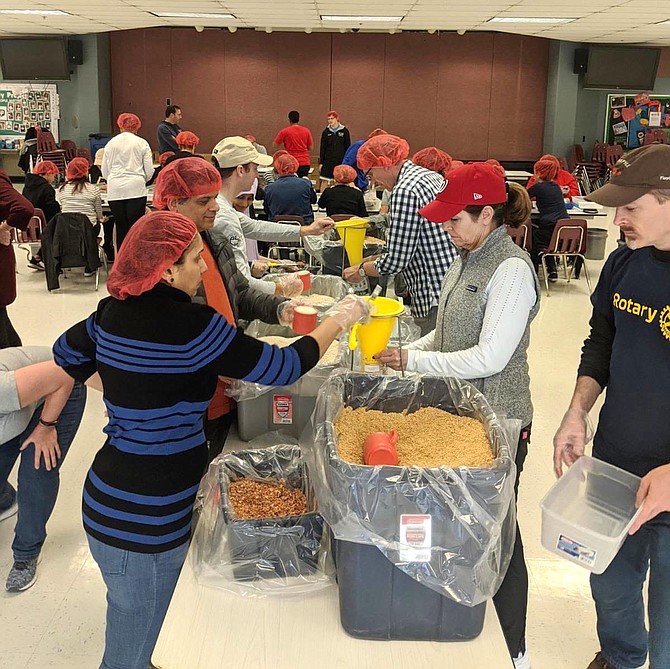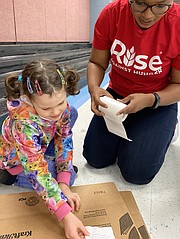 The Rotary Club of Reston participated in a global-reaching volunteer event coordinated by Rise Against Hunger to serve vulnerable families and individuals across the globe who have basic, immediate food needs. Held at Aldrin Elementary School, Reston on Sat., Jan. 11, approximately 50 Rotarians and their family members, South Lakes High School students and the local community packed 10,152 meal packets assembly-line fashion.
Mark Griffin, President of the Rotary Club of Reston, said, "This is our signature event." To fund it and other projects, the club solicited donations through Anython, a social fundraising website. The meal-packing event required funds to pay the cost of shipping and customs clearance for the containers of packed meals.
Alzina Fasadeja is a Community Engagement Coordinator with Rise Against Hunger. She ensured the ordering and delivery of the raw materials, equipment and supplies to the site and would facilitate the large group of volunteers to package the meals from filling, weighing and sealing to final boxing of the packs. The well-orchestrated event began shortly after 10 a.m. when the truck arrived. Volunteers unloaded the contents, including the 50-pound bags of rice, crumbled soy protein and dried vegetable flakes.
Reston Club Rotarian, Peter Murray of Oak Hill, brought his daughter Caroline, 6. "I'm trying to set a good example of helping fellow neighbors around the world," said Murray. Caroline applied shipping labels to the boxes. "I'm trying to be helpful," Caroline said. "The food will go in my boxes. My mom said the people could turn it into soup, people who do not have enough money to buy food." At the label station, Haley MacLean, 8, of Chantilly and her sister Marissa, 6, applied perishable date stickers to the packs. "We are doing this for people who don't have money for rice and vegetables," said Marissa. Nearby, Shruti Singh, 16, and brother Ishaan, 11, of Chantilly, demonstrated how to measure the dry ingredients. Fasadeja said one pack could serve up to six children when hydrated with water. Beginning with one bag, then the next and the next, teams worked nonstop until the last packet was filled. Afterward, Griffin said, "Believe it or not, we packed more than 10,000 meals in one hour, fifteen minutes. It was all hands on deck, and the Reston community came out and helped us with this fantastic project."
Rise Against Hunger is an international hunger relief organization that is driven by the vision of a world without hunger. Since 1998, the organization has coordinated the distribution of food and life-saving aid to the world's most vulnerable in countries all over the world. The organization's mission is to build awareness and drive a global commitment to ending hunger by 2030.