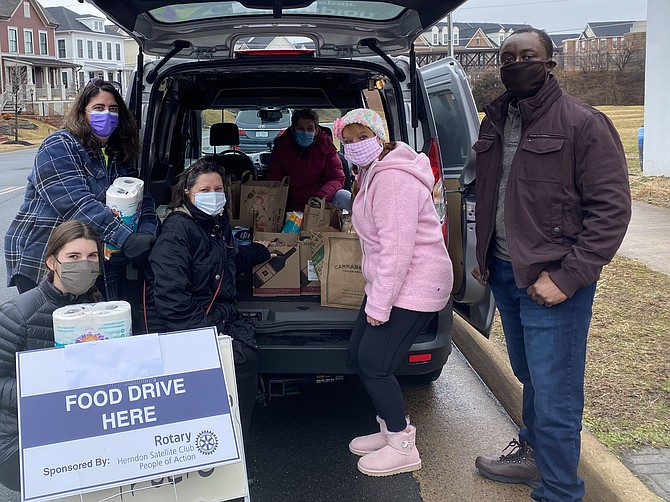 The Rotary Club of Herndon's Satellite Club was at it once again. On the last Saturday of every month since the summer of 2020, Rotarians collect non-perishable food donations to benefit the increasing number of food-insecure neighbors struggling to put meals on the table for themselves and their families. The U.S. Department of Agriculture defines food insecurity as "limited or uncertain availability of nutritionally adequate foods or uncertain ability to acquire these foods in socially acceptable ways."
According to Signe Friedrichs, Chair of the Satellite Club, members collect at different locations in the town each month and distribute items on a rotating basis to Cornerstones and LINK Against Hunger, two of the largest food pantries in the area.
On Feb. 27, the Club set up its touchless drop-off site in front of ArtSpace Herndon, 750 Center Street, open from 10 a.m. to 1 p.m. with LINK Against Hunger, the beneficiary organization.
Volunteers stood ready to accept cash, gift cards, and non-perishable grocery items on the LINK Wish List of Donations. Bags filled with hearty soups, canned pasta, fruit, and vegetables, dried beans, boxed potatoes, toiletries, and cleaning products began stacking up.
Kimra Traynor of Herndon arrived with her grocery bags full of items. "We are lucky to be fortunate enough to be in the position to help others less fortunate," she said.
The Green Lizard Foundation is the charitable arm of Green Lizard Cycling in Herndon. The Foundation presented a check for $1,000. "The Green Lizard Foundation is proud to work with the Herndon Rotary Club in support of LINK. We look forward to helping local children stay active and healthy through… partnering with other local organizations. The past year has demonstrated the tremendous food insecurity right here in our neighborhoods," said Dan Fischer, President.
He added they had some exciting fundraisers planned and scheduling their next children's bike giveaway for kids. "We are hopeful that the COVID vaccine will enable us to continue our mission full speed ahead," Fischer said.
The need for food is not going away any time soon. Herndon Rotary will be at it again every month, helping to support neighbors in need. Due to the COVID-19 pandemic, the Herndon Rotary Club is currently meeting virtually. The Main Club continues to meet at 7:30 a.m. every Wednesday, while the Satellite Club meets on the 2nd and 4th Thursdays at 6 p.m. For connection information, email the club administrator at stevan.porter@gmail.com. Visit the Cornerstones and LINK Against Hunger websites to learn more about donation and volunteer opportunities.