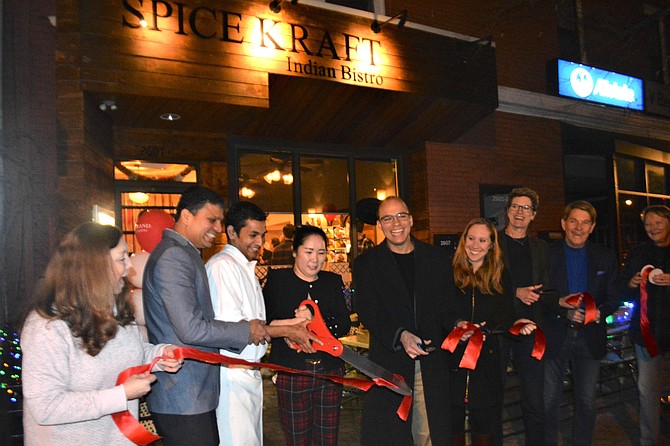 Del Ray celebrated the opening of its newest restaurant on Jan. 20, with a ribbon-cutting and formal opening of Spice Kraft Indian Bistro.
The new restaurant, which features Indian cuisine, catering, and takeout, is located in the former Bombay Curry Company space at 2607 Mount Vernon Avenue.
"This is a place we have loved for a very long time," said Del Ray Business Association president Sue Kovalsky, nodding to Bombay Curry Company owner Balraj Bhasin, who retired in 2019 after 23 years in Del Ray, and was selective in choosing the new restaurant to fill the space. "We couldn't ask for a better businessman, community leader, and friend who waited to find the perfect fit for this neighborhood."
Spice Kraft owner Anthony Shankar managed Taaza, a popular Indian restaurant in Roanoke, for seven years before relocating to Alexandria to open Spice Kraft. He brought along former Taaza chef Premnath Durairaj, who has worked with Shankar for more than two decades.
"Our chef's name means 'love' – perfect for Del Ray," said Shankar, noting the warm welcome the restaurant has received from the neighborhood.
Mayor Justin Wilson, who attended the opening, added: "We are thrilled that Anthony is continuing the tradition of bringing great Indian food here to Del Ray."

For restaurant hours and menus, visit www.spicekraftdelray.com.