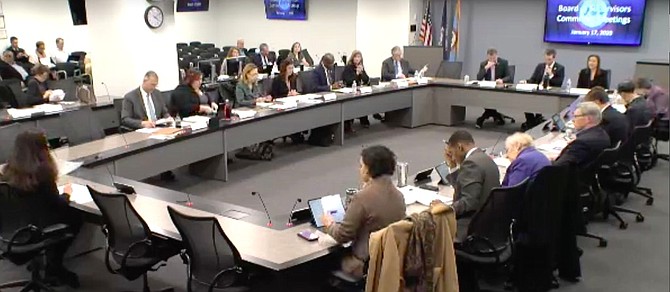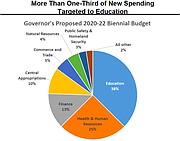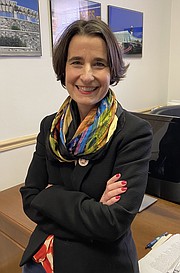 The Fairfax County Board of Supervisors held their first 2020 Legislative Committee Meeting on Fri., Jan. 17 with James Walkinshaw, (D-Braddock), chairman of the committee, and Jeffrey McKay, (D) vice-chairman. During the nearly three-hour meeting, staff reported to the Legislative Committee items deemed important and specific to Fairfax County.
Staff began their presentation with items on Gov. Northam's proposed 2020-22 Biennial Budget and amendments to the 2018-20 budget," followed by House and Senate bills introduced to the Virginia General Assembly by the Fairfax County Delegation.

The meeting kicked off with Claudia Arko, Legislative Director reading the Committee's approved "Five Priority Principles For Reviewing Legislation: Adequately fund K-12 education; Restore funding to the Northern Virginia Transportation Authority; Build upon the successful enactment of significant transportation revenues by the 2013 General Assembly; Restore the funding partnership between the state and localities; and Preserve local government authority, particularly in taxation and land use; and allow greater flexibility in the administration of government."

Albena Assenova, Revenue Coordinator of Department of Management and Budget, had tracked items of interest to Fairfax County that were included in the budget as well as the impact of these relative to county and school budgets and shared updates with the Committee. "The governor's budget did not include across the board salary adjustments for constitutional officers and state-supported local employees...the governor included funding to fully reimburse the general registrar and electoral board salaries in the localities, and we think that this would result in an increase of $41,000," she said.
Assenova said, "The governor proposal included an increase in state cigarette tax rate from 30 cents per pack to 60 cents...allowing the Board of Supervisors to increase the cigarette tax and that would result in an increase of 5.4 million to Fairfax County...deposited in the general fund."
According to Assenova, in the judicial department, the County expected they might see an increase in four positions, given the governor's budget included funding for 59 additional positions for public defenders across the state. Still, it was unclear how many additional district court clerk positions. "We need more than 21 additional positions in the district court and more than 9 positions in the juvenile court," Assenova said. The budget did include one new general district court judgeship and one clerk support staff for Fairfax County, funding for local stormwater assistance, Virginia Housing Trust Fund and for the 2020 Presidential Primary, reimbursement to localities for their expenditures.
As for the school budget, Governor Northam's Proposed Budget targeted more than one-third of new spending on education. According to Assenova, the governor's budget includes a total of $69.2 million increase for fiscal year '21 compared to the current year budget…There were no teacher salary increase proposed for the first year of the biennium. Assenova reminded the supervisors that the County did receive state funding towards salary increases of teachers for fiscal year 2020, and the governor included another increase for fiscal year 2022. The proposed budget includes funding for additional counselors related to school safety at $2 million.

In the Human Services section of staff presentations, Ellen Volo, Deputy Legislative Director, Office of the County Executive said the governor's proposal would provide a 3 percent increase for state-supported local employees of social service departments, "We do think that we would get about receive $2.2 million for a 3 percent increase… if this component of the budget is passed, the County will receive $2.2 million in FY 2021," she said. There would be an approximate $400,000 match required.
Noelle Dominguez, Legislative Liaison, Department of Transportation, said the proposed budget did provide about $50 million more than the last projections for Northern Virginia Transportation funding due to legislation passed in the previous year related to sales of items to the internet as well as revenue from the I-81 bill last year that provided some funds back to Northern Virginia Transportation Authority.

The second item Dominguez presented had to do with regional transportation entity appointments. "Two years ago the General Assembly put language in the budget that allowed the Speaker of the House to appoint non-legislative members to the Northern Virginia Transportation Commission, the Northern Virginia Transportation Authority and the Potomac and Rappahannock Transportation Commission. Some members are currently not general assembly members," said Dominguez. The budget would remove the language for the next appointments; appointees would have to be from the General Assembly.
ONE ITEM concerned the Department of Motor Vehicles and the proposal for 100 more employees given the need for a REAL ID compliant driver's license. "About 1 million or at least more than a million people might get those licenses in Virginia... Proportionately nine of the ten busiest DMVs are in Northern Virginia, two I think are right in our area," Dominguez said.
Moving on, the Committee received details on three County Initiatives of Special Legislation that they had asked the Fairfax County Delegation to move through the General Assembly, among them SB-23 by Senator Adam Ebbin (D-30) that prohibits discrimination in employment and public accommodations based on sexual orientation or gender identity.

Next, the Committee received reports for continuous support of historical positions for legislation such as Courthouse Security Fees SB 149 (Howell); Equal Rights Amendment HJ 1 (Carroll Foy) (Passed House; SPE)/SJ 1 (McClellan) (Passed Senate; HPE) ratifies the Equal Rights Amendment to the Constitution of the United States that was proposed by Congress in 1972; Solar Freedom HB 572 (Keam) and others.
Referring to the four bills in front of the Legislative Committee that spoke to Solar Freedom, Vice Chair McKay said, " I suggest that we do an individual letter on these, what this means to Fairfax County; to come forward from the chairman at our next board meeting, so we can be on record specifically on this issue, and specifically putting it down in terms of what this means for Fairfax County and how far along we are in this. And this would put a halt if these are not approved."
Highlights of New Bills 2020 General Assembly
HB 1391 (Leftwich) (HCT)/SB 253 (Chafin) (SJUD) - Recommend oppose.
Chris Sigler, Assistant County Attorney: I think the issue with the bill is that our affordable housing, ADU program relies on things like affordable housing restrictions and covenants that don't appear in the Deed of Trust, but when there is a foreclosure we want those restrictions and covenants to be protected by the Trustee and honored...I think this bill may say they might not have to do that, and that gives us great concern for the ADU Program.
HB 1534 (Samirah) (HCCT)/SB 649 (Boysko) (Senate Floor)-Recommend support.
Chris Sigler, Assistant County Attorney: It allows Fairfax County, to enter into agreements with towns either wholly or partially within its boundaries for the collection and enforcement of property taxes. So we would be able to collect those by agreement with Herndon.
SB 631 (Surovell) (SLG)-Recommend support. The County supports expanded local authority but has concerns about its ability to implement this authority.
Chris Sigler, Assistant County Attorney: "(May allow by ordinance) the County to fine people who have essentially stolen or removed the shopping cart from the shop that it belongs to and can fine them up to $500... There's concern that there are shopping carts that end up in our creeks."
Supervisor Rodney L. Lusk (D- Lee): "I'm not sure if the punishment fits the crime...I have some issues that the $500 penalty will probably be assessed to someone who is homeless."
Supervisor Dalia Palchik (D-Providence): "This is penalizing poverty. This is how my family shopped when we first moved here."
Supervisor John Foust (D- Dranesville): "If this bill is passed, we do not have to implement any fine at all...I support it...Fining someone $500 or any amount would be inappropriate, but putting the burden on the store owner to retrieve these and get them back is reasonable."
HB 812 (Ward) (HPS)/SB 69 (Locke) (Passed Senate)-Recommend support.
The bill would reinstate one handgun a month.
SB 297 (Favola) (SRSS)-Recommend support.
Creates the Virginia Sexual and Domestic Violence Prevention Fund-Recommend support.
Sue Rowland, State Legislative Consultant, SR Consulting, Inc.: "This is a good bill; we recommend you support... The idea is that there would be funding for local programs such as ours to focus on prevention prior to the support that we give when people have had a bad experience.
HB 151 (Samirah) (HCCT)--Recommend oppose.
Provides that all localities shall allow for the development and use of one accessory dwelling unit (ADU) per single-family dwelling (SFD), notwithstanding any contrary provision of zoning ordinance.
Chris Sigler, Assistant County Attorney: "I think the issue we have with this bill is that we are eroding our land use authority number one. And number two, I think this bill is driving at the affordability crisis… to resolve some of the affordability issues…Right now, our staff is looking at our accessory dwelling unit policy and will be coming back to you...This bill is a mandate that goes a little bit too far."
Visit http://video.fairfaxcounty.gov/ViewPublisher.php?view_id=9 for Meeting Material and the archived video for the Jan. 17, 2020 Fairfax County Board of Supervisors Legislative Committee Meeting.