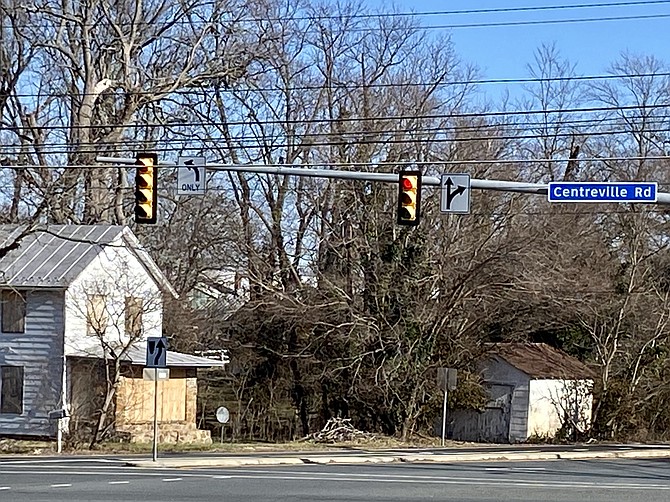 When preparing to build a $40 Million, 48,000-square-foot arts and music conservatory in a sustainable design utilizing energy and green building techniques, with a minimum of 231 parking spaces to serve three shifts of 365 students a day and introduce traffic calming measures while retaining a historic place of worship and converting three historic homes to non-residential use in ultimate condition, an applicant may need a little more time than the initial approved special exemption allowed to establish the use.
The proposed "Floris Conservatory For Arts & Music" project in Herndon, located within the Hunter Mill District of Fairfax County, did not break ground within the period allowed associated with Special Exemption SE 2016-HM-007. Shovels in the ground could be upwards of two years given Fairfax County Board of Supervisors Jan. 14, 2020 approval of Additional Time to Establish Use or Commence Construction for Special Exception SE 2016-HM-007.
ACTING ON BEHALF of Scimores Academy, LLC, Andrew Painter Esq. wrote to Leslie B. Johnson, Zoning Administrator Fairfax County Department of Planning and Development, and requested additional time to "establish use" associated with Special Exception SE 2016-HM-007 that runs concurrently with the approved rezoning application RZ 2016-HM 010. The special exception was set to expire 30 months after the date of approval, on Dec. 6, 2019, unless construction of the improvement had commenced and been diligently pursued. While the expiration date did pass, the approved special exception would not expire pending the Board's action on the request on behalf of the applicant for additional time.
Jan. 14, 2020, Fairfax County Board of Supervisors Meeting, Agenda Item Administrative 2 read: "Additional Time to Establish Use or Commence Construction for Special Exception SE 2016-HM-007, Scimores Academy, LLC (Hunter Mill District)." Meeting Materials for Administrative Item 2 included a copy of Painter's letter in which he said the Applicant had worked to secure financing for the project, diligently pursued the development of the Property and such. Also, the site plan for the site was in bonds and agreements, and the building permit application underway. Painter added that Scimores had closed on all portions of the Property, terminated outstanding leases, and stabilized and secured the three historic residential dwellings.
According to background supplied by County staff, they concurred the Applicant was diligently working through the processes, and it was clear that the additional time of twenty-four months was necessary to ensure the special exception approval remained valid and would allow the requestor to establish use and commence construction. "Staff believes that approval of the request for twenty- four months additional time is in the public interest and recommends that it be approved," was recorded in the staff presentation. The Board of Supervisors approved the request for additional time as stated.
THE FOLLOWING WEEK, week Painter provided supplementary information about the project status and intent. "Scimores continues to raise funds for the project, and the support we have received thus far has been tremendous. The Conservatory will provide Fairfax County youth in the Oak Hill, Chantilly and south Herndon areas direct access to a community-based arts educational facility. This is consistent with the broad policies adopted by the Board of Supervisors and the Arts Council of Fairfax County, which encourage new arts education opportunities and performing arts spaces," he said.
"The Conservatory will facilitate the dispersion of fine arts education in an underserved area of the County and augment arts educational programs offered by Fairfax County Public Schools, private and parochial schools, the Fairfax County Park Authority and local arts organizations. Importantly, it is hoped that the Conservatory will provide experience and training for youth who will be prepared to move up to a higher skill level at the post-secondary education level and beyond," Painter said.
The Floris Conservatory of Arts and Music Project
According to the Fairfax County Staff Report dated April 4, 2017, the Applicant seeks to construct a LEED-certified Conservatory at the northeastern quadrant of the intersection of Centreville Road and West Ox Road adjacent to Frying Pan Park. The subject property includes the Floris United Methodist Church and three Historic Structures all of which contribute to the Floris Register Historic District, not a Fairfax County Historic Overlay District. Located on approximately 8.07 acres, the Conservatory would offer classes in music, dance and movement, and creative and visual arts to students ages 4-18. On most days, the Conservatory would utilize a three-class session daily schedule, with approximately 365 pupils enrolled during each session and employ a maximum of 100 faculty and staff members, including faculty and administrative, support, maintenance, and transportation. Fairfax County Board of Supervisors approved a school up to 48,000 square feet, parking for 236 vehicles, private outdoor recreation areas and open space areas subject to proffers, special exception conditions and a Generalized Development Plan/ Special Exception/Special Exception Amendment Plat. The Building Permit application process was initiated in Nov. 2018.