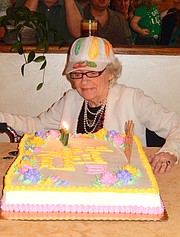 Mildred DeBell has been such an integral part of Centreville and its history for so long that it's nearly incomprehensible to think of this place without her in it. But last Monday, Jan. 20, the woman known far and wide as "Mama" passed away – just two months shy of her 102nd birthday.
Yet, her legacy and that of her family will always remain. And when it came to Mildred, especially, this smart, feisty, down-to-earth person certainly left her mark.
"It is sad to lose her – she was such a special person," said former Sully District Supervisor Michael Frey. "She was always upbeat; and while she was so intent on remembering and preserving the past, she was always looking forward to the future.
"She loved to talk with me about where Centreville was headed and what was next for the community. She really did want to make certain that, as the community grew, people did know where we came from – and so she was so meticulous about preserving our history."
"And she did love telling the story at Centreville Day," continued Frey. "I asked her one time how she could have so much energy. I was a fair bit younger, but it was late afternoon and I was dragging. She said talking about Centreville and telling all the more-recently arrived people about our past just kept her going. You're lucky in life if you get to know a Mildred DeBell, and I count my friendship with her as one of my true blessings."
Raised in Fishers Hill, near Winchester, DeBell graduated from high school in Strasburg in 1934. Four years later, in 1938, she moved to Centreville to teach first grade in the old, wooden, Centreville Elementary School (now Mountain View High School). She was there two years, then taught fourth grade at Bailey's Crossroads, returning to Centreville Elementary to teach seventh-grade part time during WWII.
Eventually, she met and married Stuart DeBell and had three children, John, Stephen (deceased} and Stuart Jr. The family now includes nine grandchildren, 13 great-grandchildren and one great-great-grandchild.
IN THE 1870S, Mildred's future father-in-law's father, John Daniel DeBell, bought Sunnyside – 500 acres total, on both sides of Route 29 from near Centreville's midpoint, past Rocky Run. Later, the DeBells ran Sunnyside as a dairy farm until the late 1950s.
"But we practically had no help because everyone was away at war," recalled Mildred during one of her birthday celebrations. "We had to work really hard. And in the late 1940s-early '50s, Stuart opened an accounting business in Centreville because we needed the extra money. Later, as the dairy business changed, we sold the farm."
An avid gardener, in 1950, Mildred was one of the charter members of the Rocky Run Garden Club, along with Ellanor C. Lawrence, in whose name the Centreville park was preserved. And from 1952 on, Stuart served 16 years on Fairfax County's Board of Supervisors, including two terms as chairman.
In addition, until 1995, the DeBell family ran a Centreville landmark, the Newgate Inn (in the Newgate Shopping Center at Routes 28/29), for 26 years. Meanwhile, Mildred became a noted, Centreville historian and valued member of the community.
In 2003, Supervisor Frey named her the Sully District's honorary Lady Fairfax. And with her trademark humor, she said, "I'm very honored and really pleased. One of these days, I'll have to start acting like a lady."
Then in October 2017 – at age 99 – she was chosen Centreville Day's Citizen of the Year and Honored Community Historian. "Mildred has been a vital part of our community for nearly 80 years," said current Sully District Supervisor Kathy Smith, presenting her with a certificate.
"But today, the Centreville Day Planning Committee is especially recognizing her contributions to preserving Centreville history," continued Smith. "When Mildred married into the DeBell family, she took on the role of curator of a large collection of historical records and artifacts tucked away in the DeBell farmhouse, going back as far as 1826.
"Beginning with the first Centreville Day in 1992, Mildred shared that collection with the public by displaying a selection of it on Centreville Day. [That] display became a Centreville Day staple that Mildred personally organized until well into her 90s. Mildred has always been an educator and a sheer force of nature, and Centreville is all the richer for it."
In addition, DeBell belonged to St. John's Episcopal Church since 1938 and used to direct its choir and play the organ there. She also enjoyed poetry-writing, as well as other pastimes. "I just quit smoking in November," she said during her 100th-birthday party in 2018. However, she added mischievously, "I still sneak a cigarette, every once in a while."
GMU HISTORY PROFESSOR Ted McCord, Mildred's first cousin, once removed, was at that party, too, and praised her warmly. "She's a legend in her own time," he said. "She has a remarkable mind, a great memory and an excellent sense of humor. She also smokes and drinks – and she's a hero to most of my friends because of that."
Sadly, though, time eventually caught up with her and, after living in her Centreville home for nearly 80 years, DeBell spent the past year in Catharpin, living with sons John and Stuart and their wives. Then on Dec. 6, she fell and broke her hip and went from the hospital to a rehabilitation/skilled-nursing facility to an assisted-living facility in Gainesville under hospice care. And on Jan. 20, that's where she died.
"We moved her here on the 15th and thought she may have some time, but she went downhill quickly," said daughter-in-law Connie DeBell (John's wife). "[By the 20th], she was receiving comfort care only and was the most peaceful she's looked since she broke her hip."
She was cremated, but the family will hold a special service and internment for her this spring at St. John's. In lieu of flowers, memorial contributions may be made to St. John's Episcopal church, P.O. Box 2360, Centreville, VA 20122-2360. On the memo line, write: Memorial Fund-Mildred Keller DeBell-Organ Fund. Her full obituary is at https://www.piercefh.com/.
'I Will Always Think of Her with Love'
Memories of Mildred DeBell from her family.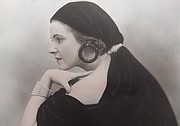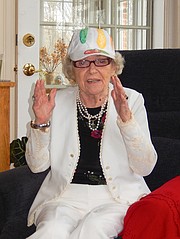 It's never easy to lose a mom, no matter how old she is. And for members of the DeBell family, the loss of their mother, Mildred, brings both sadness and a wealth of comforting memories.
"Mama was remarkable for how many lives she touched, everyone in her family and her many friends," said her son Stuart "Snookie" DeBell. "She was dedicated to helping her community and deepening the understanding of Centreville history.
"As a child, I remember being taken from function to function," he continued. "One night, the Lions club; the next night, choir practice – she just never sat down. She left me with many fond memories; our family was very fortunate to have her with us so long."
HER SON John DeBell said his mother's religion and devotion to St John's Episcopal Church were major factors in her life. "It closed during WWII and the structure deteriorated," he said. "But a small group of Centreville residents in the early 1950s took on the task of restoring and reopening it for services – and she was right there working to get it done.
"She played the organ and directed the choir for decades. She participated in organizing and running the annual bazaars and gave as much money as she could afford, every year. Nothing happened there that she wasn't involved in. It was also the source of many of our parents' friends."

Another thing that stands out, he said, was his mother's love and dedication to Centreville. "When she first arrived, it was just a crossroads with a few aging houses – in what's now the Historic District." Said DeBell, "There probably weren't any more than a few hundred people living within a 5-mile radius. It's now many hundreds of thousands of people, and she lived through all that growth and change."
In her older years, he said, "She was frustrated by how little most of the new residents knew about Centreville and its history. So, for several decades, she became the unofficial historian for Centreville. She had exhibits at every Centreville Day and loved to talk to new residents about its history."
DeBell said his mom worked hard all her life in various businesses, while participating in most of the local, civic organizations. And while his father represented the then-Centreville District on the Fairfax County Board of Supervisors, from 1952-1968, Mildred was also busy being the wife of an elected official, with all the political and civic duties it entailed.
"Up until the early 1950s, Centreville didn't have a post office, so mail to anyone in Centreville was addressed to Clifton," said DeBell. "When my father was elected to the Board of Supervisors, he began work to get a post office in Centreville. He was successful and, for his efforts, he and my mother were assigned P.O. Box 1 – the address my mother still has today, some 70 years later."
"I first met Mama when I worked at the local drugstore in Centreville at age 14," said John's wife, Connie DeBell. "Some 52 years later – more than 48 of them as her daughter-in-law, she at times was a mentor and certainly someone that I admired for her faithfulness and love of family."
Noting that family and church were "everything to her, all her life," Connie said Mildred's "love of St. John's Episcopal Church spanned more than 75 years. She was also instrumental in my becoming baptized and confirmed at St. John's, after I married her son John."
Furthermore, said Connie, "I became a lover of flowers and gardening while living with her the first seven years of our marriage. We worked alongside each other during those years, digging, planting and enjoying the beauty of nature. In 1989, she nominated me to become a member of The Rocky Run Garden Club, of which she was a charter member. She will be missed, and I will always think fondly of her, and with love, for a remarkable mother-in-law, friend and mentor.
MILDRED HERSELF, was also known for her wisdom and advice. On her 90th birthday, when asked the secret of her longevity, she explained, "Keep busy, keep your mind active, and think of other people and what you might be able to do to help them. You just have to keep going, day by day. You really learn when you're down and out. I've had many peaks and valleys, but I've had many friends, plus family, to help me through them. You learn to climb back up."
She also encouraged people to learn history "because you learn from other people's experiences. Try to use your own ingenuity and use the talents God gave you so you can create. Don't depend on the masses to tell you what to think and do. Go back and study our American history and be grateful to those who've done so much to give us the freedoms we have."