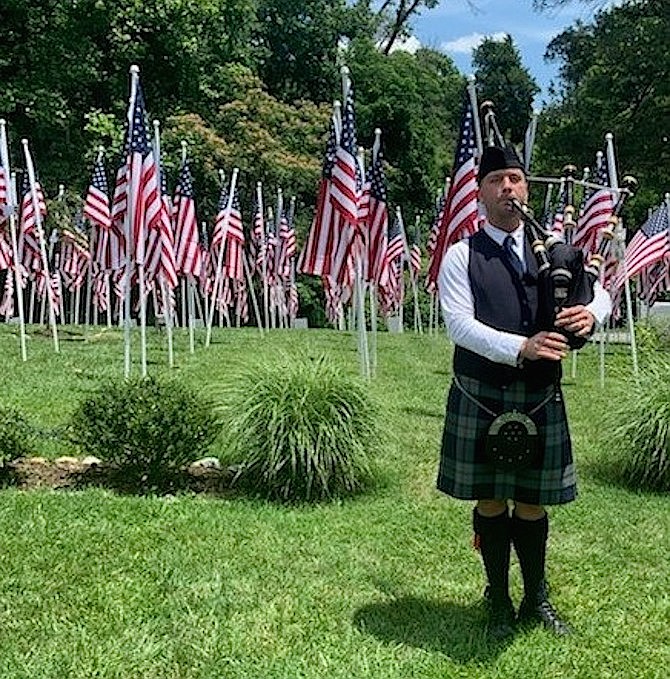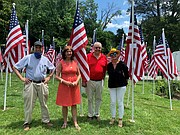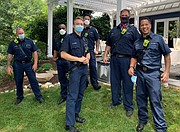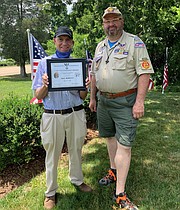 A lone bagpiper stood among hundreds of American flags as the strains of Amazing Grace wafted through the air during the opening ceremony of the 3rd annual Flags for Heroes display June 28 at Cedar Knoll Restaurant along the George Washington Parkway.
Local Scouting Troops joined volunteers the previous day in erecting more than 300 flags in the field overlooking the Potomac River. A project of the Rotary Club of Alexandria, the display will remain in place through July 11.
Local officials, first responders and hospital workers were among the heroes recognized at the ceremony for their service.
"What an awesome day," said Rotary Club president Sharon Meisel. "All of the presentations were heartfelt and authentic and my sincere thanks go out to Mount Vernon district Supervisor Dan Storck for coming down and recognizing the folks that keep us safe."
The project was made possible by the Androus Foundation in honor of Arthur "Tommy" Androus. A card attached to each flag bears the name of a hero along with the individual who sponsored the flag in honor of a friend, family member, veteran or other hero in their life.
"We had a beautiful musical tribute with our National Anthem sung by Bill Colosimo of the Alexandria Singers," said Jim Carmalt, coordinator of the dedication ceremony. "And the fantastic closing music on the bagpipes by Adam Tianello provided for a tearful exit as he disappeared into the flags playing Amazing Grace."
Members of the Rotary Club of Alexandria were joined by Rotarians from Mount Vernon and Alexandria West in assisting with the set-up of the display.
"This was a great, patriotic program, Meisel said. "And the flags are magnificent with the Potomac as a backdrop. We are humbled to honor all the individual heroes who are remembered here today."