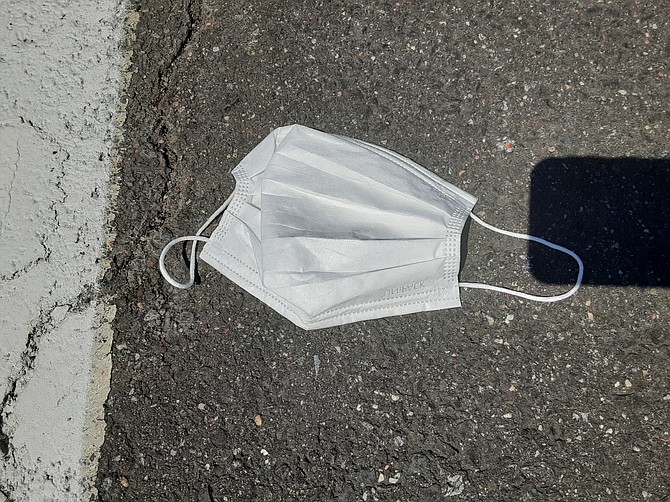 If it wasn't enough that the virus pandemic has everyone decked out in face coverings and rubber gloves to thwart the spread of germs, the area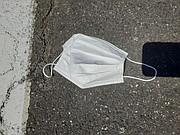 is now inundated with the discarded refuse in many parking lots. Can't touch the stuff because it may have germs, so the discarded personal protection equipment known as "PPE," sits and bakes under the summer sun.
This issue has come up to Laurel Shultzaberger, the emergency management and safety coordinator for the Department of Public Works and Environmental Services, who recommends a common sense approach: just throw the used PPE in the trash cans in the shopping centers or at home. "We have had some reports of these on the ground," she said.
It's better to go with reusable masks, disposable sanitizing wipes and rubber gloves that go in the trash, not flushed down the toilet. The county is finding that many are flushing the wipes which clog the drains or end up in the storm drains and "creating another environmental hazard," Shultzaberger said.
Jeff McKay, Chairman of the Board of Supervisors, put a message about this in a past newsletter this spring. "I have been hearing about a noticeable amount of used gloves, masks, and wipes discarded onto the ground throughout the community. Please remember to dispose of these materials correctly and help us communicate that improper disposal is a public health hazard for your neighbors and our waste collection workers that must clean them up. Another concern is that these items get washed into the waterways and into the Chesapeake Bay," he said.
At the DPWES, Shultzaberger noted that the employees were going to the reusable masks as a "sustainable option," and worked with GreenFare Health and Wellness in Herndon for their mask supply. GreenFare made 1,000 sets (3 masks per set) of 2-layer cotton face masks which they donated to the county.
Nationwide PPE Disposal
In May, the U.S. Environmental Protection Agency (EPA) started encouraging all Americans to recycle materials from their households and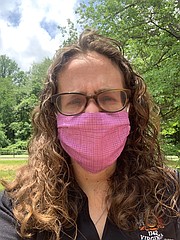 properly dispose of personal protective equipment, especially during the COVID-19 pandemic, they said in a release. Recycling isn't just good for the planet by reducing the amount of waste going to landfills and saving energy, it also supports American manufacturing.
The EPA is targeting the cardboard to recycle, so it can be used to make the PPE, so one of their points is to "keep disinfectant wipes, gloves, masks, other PPE and medical waste out of recycling bins," the EPA said.
In an EPA video, EPA Administrator Andrew Wheeler said to "properly dispose of PPE following local and CDC guidelines." Most likely, those guidelines do not include the parking lots around Fairfax County.