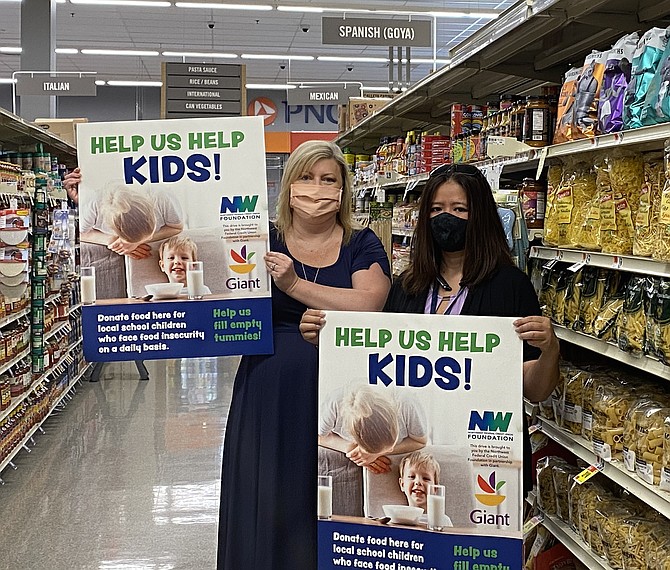 The Northwest Federal Credit Union Foundation, the philanthropic arm of Northwest Federal Credit Union, is out to fill empty tummies. But first, the nonprofit organization needs help to fill its food pantry shelves. "Our once-full shelves are now close to empty," said Mary Kaye "Kaycee" Childress, Executive Director of the Foundation. "Food insecurity affects everyone. Most significantly, it impacts the children in our community who are no longer able to get free breakfasts and lunches at school...No family should have to choose between buying food and paying their bills. Yet, this is exactly what is happening right here in Northern Virginia," she said.
According to Childress, the nonprofit organization launched its "Help Us Help Kids" food drive in the area on Saturday, July 19. The foundation is partnering with Giant Food stores to help local school children who face food insecurity daily. "Giant Food is privileged to partner with Northwest Federal Credit Union (Foundation)," said Pham Ngocmy of Giant Food 2425 Centreville Road in Herndon.
Childress said people could donate items at Giant Food stores, donate items or cash via the NWFCU Foundation Food for Kids Drive through an Amazon Wish List and also make an appointment and drop off food at a local Northwest Federal branch.

"It's surprising that in an area with so much, we have children who are in danger of going hungry each day. Through the Northwest Federal Credit Union Foundation and our dedicated employees and members, we're able to help bridge that gap and ensure these kids have a meal when needed," said Jeff Bentley, President and CEO of Northwest Federal.
Northwest Federal Credit Union is a full-service financial institution ranking among the largest credit unions in Virginia and in the top 60 credit unions in the nation. In Fairfax County, Northwest Federal has branches offices in Vienna and Chantilly. It is headquartered in Herndon, The Credit Union currently serves more than 260,000 members and has assets in excess of $3.4 billion. For more information, visit https://www.nwfcu.org/.