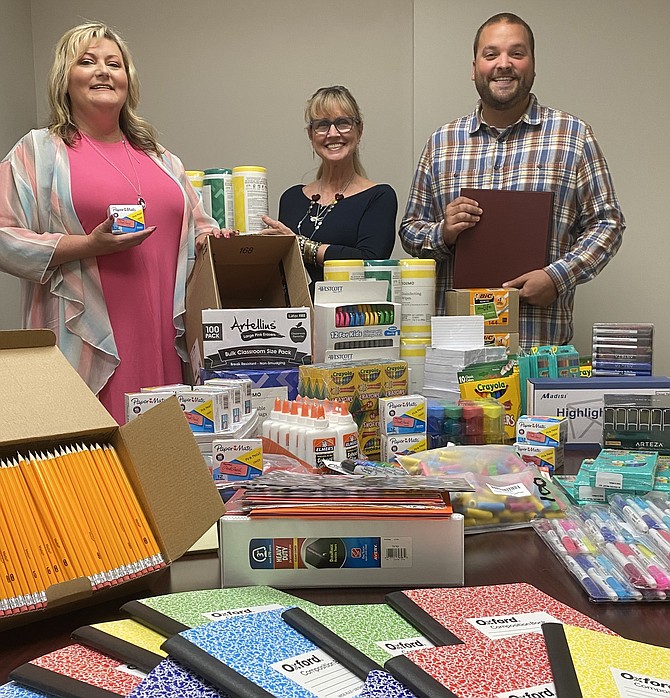 The Northwest Federal Credit Union (NWFCU) Foundation is heading into the final weeks of their Back to School Drive 2021. It runs through Aug. 15. The Foundation, the philanthropic arm of NWFCU set a stretch collection goal of 43,000 items. "Before, we'd expect 4,000 to 6,000 school supply items," said Mary Kaye "Kaycee" Childress, the Foundation's Executive Director. She said during the early need days of COVID, the Foundation found,  when they took their drives to Amazon and started reaching out to people, the number of items donated to their drives "exploded."
"The number one focus of our drive is Dogwood Elementary School in Reston," said Childress." We have a long-standing relationship working with them…[We] said, tell us what you need."  
Dogwood is a Title I funded school based on the percent of low-income students. According to Fairfax County Public Schools, "the elementary schools with the highest level of poverty receive funding that is used for positions and resources to meet the needs of their students."
Childress said that the Foundation is striving first to fill the vital need of all school supplies for students at Dogwood. Items left over will go to other schools. "We try to focus our different programs on different schools to spread the wealth," said Childress. One hundred percent of the Foundation's donations go directly to support the drive, she added.
People can donate items for the many local "at-promise" children in two ways. They can stop in the NWFCU branch locations or donate items through the Foundation's online Back to School Supply Drive Wish List available through Amazon. People can also make financial donations securely processed by the Foundation's nonprofit partner, Network for Good at NWFCU Foundation - Donate.