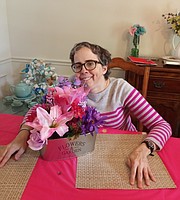 "We feel strongly that every person, no matter their challenges, deserves the opportunity to thrive, and have a support system behind them," said RJ Narang of McLean. Vienna-based Langley Residential Support Services recently received a $10,000 donation from the Narang family, RJ and Heidi, via their Narang Foundation. The gift provided support to Langley as the nonprofit operates programs serving approximately 55 adults with developmental disabilities.
One critical program is the organization's Community Support Program serving 31 persons who live in their own homes or with family members. Another is Langley Residential's six houses located in various Fairfax County communities offering residents either supportive or intensive assistance based on need. The organization also provides Private Pay Direct Support and Life Enrichment Programs. Disability impact is different for each person and sometimes regresses with advanced age. According to the Langley website: "This is where our work begins."
RJ NARANG is a board member of the donating foundation and a McLean-based small business owner. "Our family has chosen to support Langley Residential because of the impact it's having on the lives of people with developmental disabilities in our community…The programs they provide are so valuable in helping these people live a happier and more manageable life, and we thank them for that," Narang said.
Rob Blizzard, of Langley Residential, said one resident, Jennifer has lived at a Langley residence since March 2008. Her home is what the organization calls "The Junior League House in Fairfax," because the Junior League of Washington has been such a strong supporter of Langley Residential. Jennifer shared her thoughts about what she liked about Langley Residential. "I get to go out in the community to movies, restaurants and bowling...(and) I have a lot of friends in the other houses. We get along well with each other...They are reliable and helpful. They listen to me when I am down or when something is wrong or when I tell them I feel sick. I get up early and do my chores without being told…I cook Tuesday, Friday and Sunday."
According to Langley Residential Board Chair, Doug Duvall, as a small nonprofit, Covid-19 has had a significant impact on the organization. "The cost of serving those with developmental disabilities has risen substantially, and the Narang family's donation will truly help us help those most in need," he said.
IN THE LAST FEW YEARS, the organization identified an emerging concern. "Langley Residential's big need at this time is finding funds to retrofit our homes for aging residents... More than 90 percent of our residents are over 45, and a number are officially senior citizens at age 65 or older. Many of these folks have been living happily with us for decades, and we seek to upgrade facilities, such as making bathrooms handicapped-accessible and building ramps from driveways to front doors," said Betsy Schatz, Executive Director.
Langley Residential Support Services is an IRS 501(c) 3 charitable organization. Along with operational expenses, additional funds necessary to retrofit residences and other needs, along with the impact of COVID-19, resulting in increased staffing, food and supply costs, donations of any amount would be much appreciated. Visit http://langleyresidential.org/planned-giving.html.