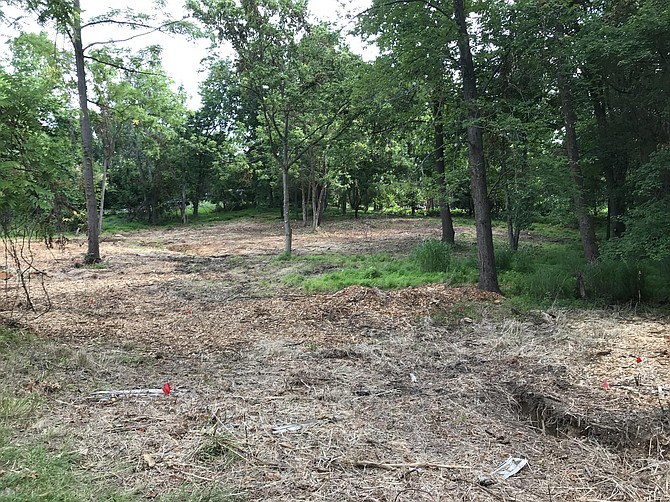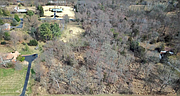 A member of West Montgomery County Citizens Association noticed forest clearing on a lot in the Glen Hills area of Potomac, and reported the incident to County regulators.
Stephen Peck, a Forest Conservation Inspector with Montgomery County Planning Department and a certified arborist, inspected the site on July 16. "I measured more than 17,800 square of forest clearing," Peck said. "This forest clearing was done without prior written permission from the Montgomery County Planning Department, a violation of Chapter 22A-4 of the Forest Conservation Law."
Peck also found wetlands on the property, which could trigger more inspections and citations.
The cut forest consisted of persimmon, maple, walnut, red cedar, bush honeysuckle, oak and maple, Peck reported. "Generally an early successional riparian forest that transitioned into a more mature forest at the low side of the property."
West Montgomery County Citizens Association Susanne Lee said: "The Potomac Subregion Master Plan identifies Glen Hills as a low density area of special environmental significance in part because it is crisscrossed by numerous streams, wetlands, and ponds and a third of the area is within the Piney Branch Special Protection Area. This lot was such a lot — wooded with significant wetland features."
Lee said that she and others in West Montgomery were shocked that the tree service and real estate/development professionals appeared to have no knowledge of the Forest Conservation requirements. "Individual homeowners may not be aware of the specifics. But it's pretty outrageous that realty and tree service companies who develop land for a living are not following the statute."
WMCCA is reaching out to the County Council to raise the profile of such violations, which appear to be increasing. "Many residents of the County seek to protect our environment," said Sam Stavis, who reported this incident. "The ugly consequences of improper development are plain to see [on] ... Valley Drive, and I believe that preventing such incidents would be much better than reacting to them.
"Therefore, I hope that out of this destruction we could create more awareness of and better compliance with the Forest Conservation Law, among other relevant regulations."
Report a Violation
Montgomery Planning employs a team of inspectors to monitor areas of the county covered by forest conservation easements and forest conservation plans. If you witness a potential forest conservation violation, such as tree removal, permanent structures, mowing, grading, paving or construction, you can report it to the Montgomery County inspection team. Click an inspection area in the map at the link to send an email to one of Montgomery Planning's forest conservation inspectors or call 301-495-1314.
Stephen Peck is currently responsible for Potomac and Bethesda areas. Stephen.Peck@montgomeryplanning.org
https://montgomeryplanning.org/planning/environment/forest-conservation-and-trees/conservation-easements/#easement-report