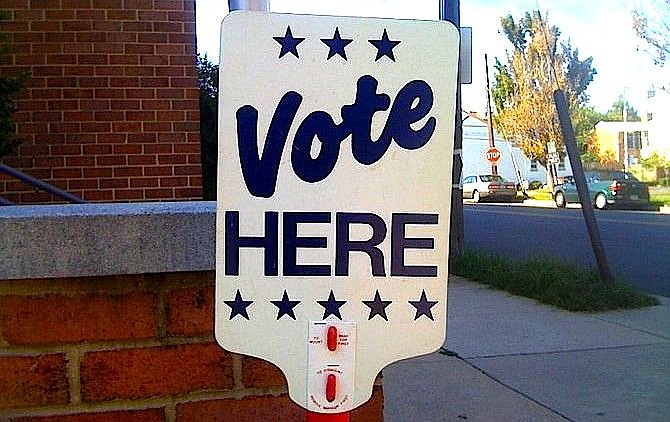 Don't look now, but Virginia is in the closing days of a primary. You might not have heard about it because of the global pandemic and the economic crisis. But buried beneath all the headlines about police brutality and racial injustice, Republicans are about to decide which candidate they want to appear on the ballot this November against incumbent U.S. Sen. Mark Warner. Many Republicans are struggling to figure out which candidate they are going to support in an election that almost seems like an afterthought in the midst of everything else that's going on right now. Even though Warner narrowly won his last reelection to Ed Gillespie six years ago, he seems to be in a solid position now.
"This is beyond an uphill race for any Republican running, especially candidates who have never held elective office and have no name recognition," said David Ramadan, a former Republican member of the House of Delegates who now teaches at George Mason University. "Mark Warner wins this one with a landslide."
Campaign finance records show Warner has more than $8 million cash on hand. By contrast the three Republicans in the race are struggling. Daniel Gade of Mount Vernon has been the most successful, raising about half a million dollars. Thomas Speciale of Woodbridge has raised $80,000. And Alissa Baldwin of Lunenburg County has raised less than $8,000.
"Warner is going to run ahead of the Democratic ticket, maybe not by as much as he would historically but he'll outpoll the Democratic presidential candidate," said Ben Tribbett, Democratic political strategist. "For the Republicans to have a chance at winning the Senate race, they need Donald Trump to carry Virginia. And I don't think many people think that's going to happen, including the Trump campaign, which is not investing here."
DANIEL GADE, 45, is a professor at American University. A native of Minot, N.D., he has a bachelor of science from United States Military Academy at West Point, a master of public administration and policy from the University of Georgia and a doctorate in public administration and policy, also from the University of Georgia. After graduating from West Point, he was commissioned as an armor officer. In 2004, he was deployed to Iraq, where he was wounded in combat twice and lost his right leg. He served in the White House Domestic Policy Council during the Bush 43 administration, and he was a senior advisor to the Department of Labor in the Trump administration.
"I view this run as an extension of my military service," said Gade. "For far too long, there are people in these political positions who are serving themselves or serving their parties and too few of them are serving the Constitution."
Gade says Warner has done little for Virginia, focusing instead on being a "reliable rubber stamp vote for his party." If elected, he says, he would support legislation that would give veterans the ability to use their VA benefits anywhere rather than limiting them to VA hospitals and clinics. He says he would also support the REINS Act, a proposal intended to cut down on regulation by requiring congressional approval of major agency regulations before they can be implemented. He says he would introduce a bill that would require every member of Congress to place all of their holdings in a blind trust, outlawing the kind of financial transactions that some lawmakers engaged in after getting privileged briefings on the COVID-19 crisis.
"Right now all they have to do is report their transactions, which is how we knew about the fire sale of stocks," he said. "It basically makes it a form of felony insider trading. The same kind of thing that got Martha Stewart in trouble should get legislators in trouble when they do it."
He says he would have voted for the CARES Act, although he adds that he believes it should not have included money for Planned Parenthood or the Kennedy Center. As for the Paycheck Protection Program, he feels that the requirement that businesses spend 75 percent of the forgivable loan on payroll might be too rigid. He says business owners should be able to spend that money on utilities and rent.
"It doesn't matter if you can still pay your employees if the business dies because it gets evicted," he said.

THOMAS SPECIALE, 51, is an intelligence officer for the Director of National Intelligence as a government contractor. A native of Peoria, Ill., he has a bachelor of arts in political science from Illinois State University and a master of arts in international relations from American Military University. He enlisted in the Army in 1987, and he's served on active duty or in the Army Reserves since then except for the time he was in college. He's currently in the Army Reserves, where he serves as a human intelligence technician.
"Our country is being torn apart by hyper-partisanship and lies by career politicians, and ultimately there is a very real threat of socialism emerging in the United States," said Speciale. "Democrats want to do away with the Electoral College. They want to seize people's firearms. And they want to tamp down on what they call hate speech, which is any speech they don't like."
Speciale says Warner works for the Democratic National Committee instead of Virginia, raising money in New York, California and Florida rather than focusing on Virginia. If elected, Speciale says, he would advocate for strengthening Second Amendment rights by eliminating so-called "gun free zones" and reducing requirements for gun owners to have concealed-carry permits in multiple states. He says he wants to "re-invent" the Department of Education, but he was unable to provide any specific details other than "hold schools accountable" and "hold teachers accountable." One the issue of immigration, Speciale supports reforms that are outside of the current Republican mainstream — allowing DACA students to receive student aid through the CARES Act, for example, or supporting a path to citizenship for undocumented immigrants.
"I don't think it is logical to think that you are going to evict 30 to 50 million illegal immigrants that our feckless leadership in the past have allowed to move here," he said. "And if you won't give me immigration reform, we'll have to build a wall."
He says he would have voted for the CARES Act, although he disagrees with the additional $600 weekly benefits for people collecting unemployment insurance during the greatest economic crisis since the Great Depression. Ultimately, though, he believes COVID-19 is what he calls a "fake pandemic" because he believes the original estimates for fatalities were overstated.
"I believe it's psychological terrorism," he said. "This is nothing more than a new flu."
ALISSA BALDWIN, 42, is an adjunct professor at Longwood University and a civics and economics teacher at Nottoway Middle School in Crewe. A native of Manassas, she was raised in Nokesville and Lunenburg. She has a bachelor of arts in political science and leadership studies from the University of Richmond and a master of science in educational leadership from Longwood University. She was a paralegal for several years before switching careers to become a high-school history teacher.
"I have gotten to a point where I'm so frustrated with the career politicians and the liberal progressive push on so many issues I hold near and dear, like life and liberty and gun rights," said Baldwin. "So I just decided to live my teaching and enter the race as truly a political outsider, someone who cares about people and is used to bringing people together to solve tough problems."
Baldwin says she would offer a contrast to Warner on issues like abortion, taxes and guns. If elected, she says, she would champion federal legislation that would outlaw the ability of business owners to prohibit firearms in their stores. On the issue of abortion, she is in favor of outlawing it even in cases of rape and incest. On the issue of education, she says she wants to dismantle the federal Department of Education using a phased approach that transfers all its operations to the states.
"They've actually created a lot more problems for teachers and created more inequity in the schools because of their funding formula and their regulations, which are actually unfunded mandates," she said. "It's quite burdensome on local school divisions in rural communities and urban communities that don't have the tax base for local matching funds."
Baldwin says she would have voted for the CARES Act, although she says she would have pressed for increased means testing to limit stimulus checks to people who are most in need rather than the widespread program that was approved by Congress.
"I don't believe that anyone who is here violating our rule of law should receive federal benefits," she said. "You are entitled to protection of your rights under our Constitution. But not benefits."