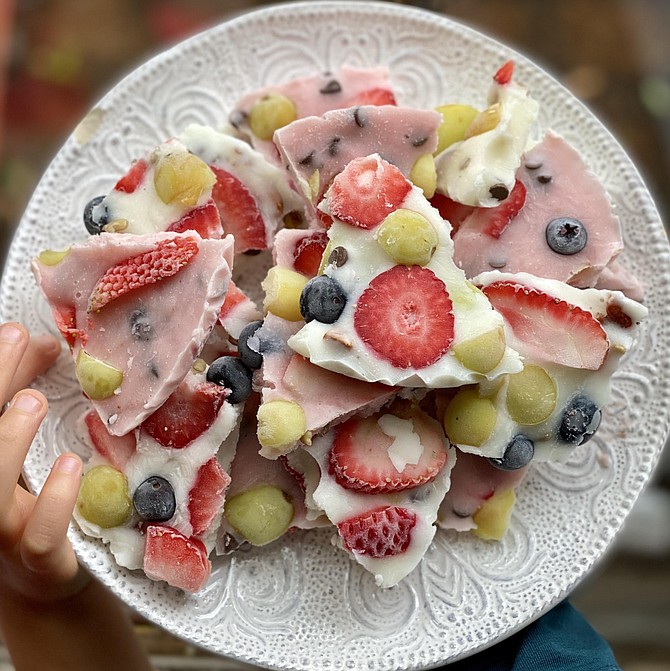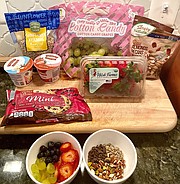 Lately, time has had a way of slowing down. The days have seemed longer at home, especially for those of us with kids that are out of school. But even with spring lasting forever, summer has somehow snuck up on us. While it may look a little different this year, one thing that will always be a staple is fun, cooling summer foods.
When looking for activities to do with my three-year-old son I often turn to the kitchen. Frozen yogurt bark is not only a great way to keep a kiddo busy, but results in a fun, customizable, mostly healthy cold treat that is perfect for warm days. The best part is you can make it on a budget with ingredients that are all from your local Aldi.
First, a brief backstory: Aldi is a German grocery chain that brought its unbeatable prices, no-frills shopping experiences and amazing customer service to Northern Virginia in 2015. They offer a wide variety of products and have great seasonal offerings that you can find in the Special Buys aisle. Aldi has a massive following, often called Aldi Nerds, and I am one of them.
I run an Instagram account called All I Need is Aldi where I feature meals, snacks and desserts that are made with only Aldi ingredients. My goal is to prove that you don't need fancy stores or expensive ingredients to create heathy, fun and delicious meals.
Armed with ingredients from Aldi, my frozen yogurt bark became a huge hit in my house and my son now asks to make it often. What I love most about this is that you can add in whatever toppings you have in the house and make it as healthy or sweet as you like.
Here is how I made mine:
Frozen Yogurt Bark Ingredients
2 individual cups of yogurt: vanilla and strawberry, or whatever flavors you like.
Toppings: strawberries, blueberries, grapes, mixed nuts, sunflower seeds and chocolate chips | Again, you can use any toppings you like. Pretzels, sprinkles or crushed cookies could also be a fun addition!
Plastic wrap or non-stick surface like parchment paper or a silicone mat
Directions
Line a small plate with plastic wrap (or use any non-stick surface like parchment paper or a silicone mat)
Take yogurt and spread it evenly on top
Add toppings
Pop into the freezer for a couple of hours until frozen
Take out, pull plastic off and break apart into bite size pieces
Store extra in the freezer
Heather Mills lives in Del Ray, within walking distance to the Aldi on Monroe Ave.