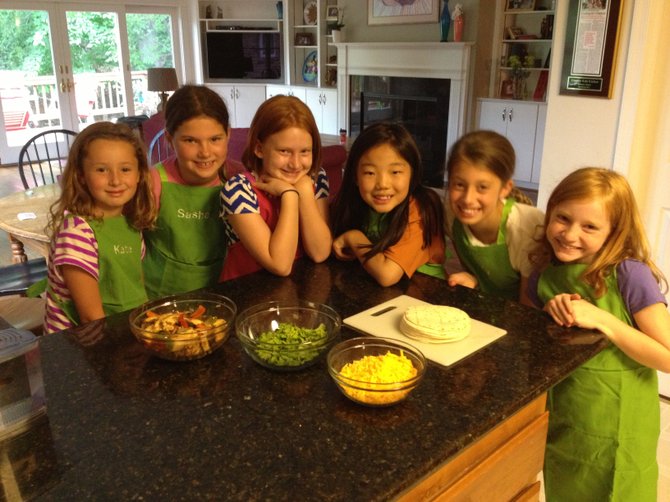 Enticing children to forgo strawberry-flavored candy and choose fresh fruit in its natural form can be challenging. After all, lemonade, popsicles and cookies with milk are considered summertime classics.
Some local culinary enthusiasts say there are an abundance of summer treats that can be made at home and keep children fueled and healthy all season long, however. They offer several suggestions that are ideal for after-camp snacks or whenever the munchies hit.
"When I think of healthy eating and kids and summer, the first thing I think of is fruit," said Andrea Nelson of Creative Kids Kitchen in Arlington. "Beyond the natural sugar factor, most fruit has as much vitamins as a vegetable."
One treat that tops Nelson's summer treat menu is fruit gazpacho. "It is made with a medley of fruits like watermelon, blueberries, honeydew melon. If you have a particularly picky eater, you can puree the fruit. You can involve the kids by getting them to help wash and cut the fruit."
Christine Wisnewski, an instructor at Culinaria Cooking School in Vienna, also recommends making use of the bounty of fresh fruit available during summer. "Sliced peaches or nectarines with a dollop of sour cream and a light sprinkle of brown sugar are a sweet, tangy treat. Or sweeten some Greek yogurt with a little bit of honey and use it as a dip for strawberries," she said.
"Make the most of seasonal fruits: Sliced peaches or nectarines with a dollop of sour cream and a light sprinkle of brown sugar are a sweet, tangy treat."
-Christine Wisnewski, Culinaria Cooking School
Nelson turns the abundance of blueberries that are now available into blueberry biscuits. "They are super easy to make and blueberries are inexpensive right now," she said. "I also make baked strawberry, banana and quinoa muffins using nonfat Greek yogurt. They are healthy and gluten free."
Nikki Drummond of Tiny Chefs Cooking School in Potomac, Md., and Arlington, Alexandria, McLean, Oakton and Springfield, uses her classroom to offer children alternatives to prepackaged, sugar-laden treats. "We make fun fruit kabobs with a yogurt dip made with plain low-fat yogurt and honey and cinnamon," she said. "The kids cut up the fruit so they are having fun."
Drummond also teaches students to make a healthy dessert using uncooked oatmeal, wheat germ and chocolate chips. "We call them breakfast balls, but you can keep them in a container and kids can snack on them throughout the week," she said.
To cool kids down after a day of playing in the sun, Wisnewski offers homemade frozen bananas and sorbet. "[To make] frozen bananas, halve a banana crosswise, insert a popsicle stick in the cut end, freeze for one hour," she explained. "Dip frozen bananas in melted chocolate. Only dip one side if you want to limit the chocolate, then dip bananas in fun toppings like sprinkles, toasted coconut, chopped nuts, or crushed cookies."
To make sorbet, Wisnewski combines fruit and simple syrup. "To make a simple syrup, [use a] one-to-one ratio of sugar to water and bring to a boil to dissolve sugar," she said. "Reduce heat to very low and simmer 10 minutes. Cool, combine syrup with pureed summer fruit. Try berries, peaches or mangos. Add a pinch of salt, and a squeeze of citrus juice. Chill until the sorbet mixture is very cold."
For those who want culinary simplicity during the summer, Wisnewskii said, "Fresh cherries or grapes heaped in a bowl of ice are more refreshing than those served alone. Even the largest watermelon disappears quickly and keeps kids hydrated when left on the counter for snacking. Some people opt for a sprinkle of salt on their watermelon." For a more sophisticated palate, she suggests adding a squeeze of lime, or a small sprinkle of mild chili powder or cumin.
Summer Treat Recipes
Strawberry Banana Quinoa Muffins
Courtesy of Creative Kids Kitchen
Ingredients
1/4 cup quinoa
1/2 cup water
1 cup whole wheat flour
1 1/2 tsp baking powder
1 tsp salt
1 tsp ground cinnamon
3/4 cup packed brown sugar
1/4 cup vegetable oil
1/2 cup nonfat Greek yogurt
1 tsp vanilla extract
1 1/4 cup mashed ripe banana
1 cup diced frozen strawberries
Directions
Combine the flour, baking powder, salt and cinnamon in a medium bowl. Add cooked quinoa. Add strawberries. Combine sugar and oil, yogurt, vanilla and banana in another bowl. Stir gently; do not overmix. Bake at 400°F for 25-30 minutes.
Blueberry Biscuits
Courtesy of Creative Kids Kitchen
Ingredients
1 cup all-purpose flour
Pinch of sugar
1/4 teaspoon salt
2 teaspoons baking powder
4 tablespoons unsalted butter
1/4 cup half and half
1/4 cup blueberries
Directions
In a large bowl, combine flour, sugar, salt and baking powder. Cut butter into 1/2 inch cubes and using your fingertips, work butter into flour until mixture resembles coarse crumbs. Add half-and-half and stir. Add blueberries. Transfer dough to lightly floured surface and knead for 30 seconds. Pat out until it is 1-inch think then cut out rounds with a cookie cutter. Arrange biscuits on baking sheet 1 inch apart and bake at 425°F until puffed and golden (about 15 minutes).
Yogurt Dip with Fruit Kebabs
Courtesy of Tiny Chefs
Makes 2 cups dip, 8 servings of 1/4 cup each
Ingredients
2 cups plain yogurt
1/2 cup honey
1 tsp ground cinnamon
Assorted fresh fruit (apples, bananas,
pineapple, strawberries, grapes) cut into bite-sized pieces
Supplies
Measuring cups
Measuring spoons
Small mixing bowl
Cutting board
Paring knives
Wooden spoon
8 wooden skewers
8 small plastic bowls or cups
Directions
Combine yogurt, honey and cinnamon in small bowl; stir to blend. Thread fruit onto wooden skewers. Divide dip among 8 small bowls or cups and serve with fruit kebabs.
Breakfast Power Balls
Courtesy of Tiny Chefs, Inc.
Makes 8 servings of 2 truffles each
Ingredients
1 cup dried pitted dates (find these in the dried fruits section, near the raisins)
1 cup rolled or old fashioned oats (NOT quick oats)
1/2 cup good quality semisweet chocolate chips (E. Guittard is a good, "nut free"choice)
Supplies
Measuring Cups
Measuring Spoons
Directions
Set the flaked coconut onto a plate or bowl. Set aside for rolling. In the bowl of a food processor, add all ingredients from dates through water and blend until the mixture goes from crumbly to moist and becomes almost one mass.
Dump the mass into a separate bowl (be careful to avoid the blade of the food processor) and start scooping 1 tablespoon balls. Smooth each ball with the palms of your hand and then place into the plate/bowl of coconut.
Roll each ball in the coconut, pressing with your fingertips to force some sticking. Mound your power balls onto a serving platter and eat.