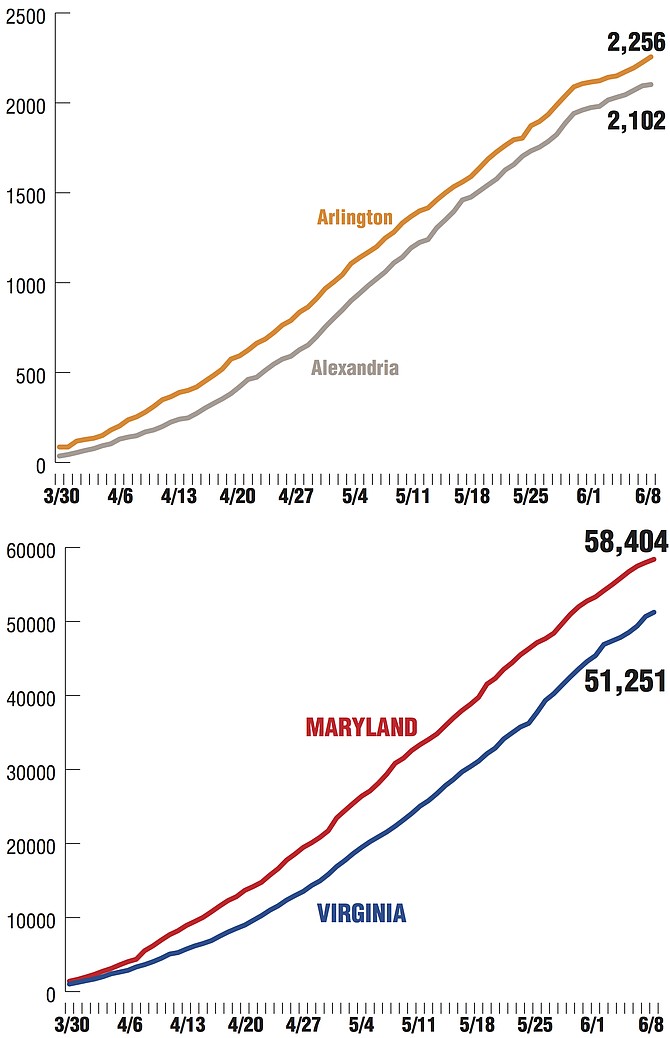 Alexandria Cases: • June 8: 2,102 • June 1: 1,981
Virginia Cases: • June 8: 51,251 • June 1: 45,398
United States Cases: • June 8: 1,920,904 • June 1: 1,761,503
Alexandria Deaths: • June 8: 45 • June 1: 45
Virginia Deaths: • June 8: 1,477 • June 1: 1,392
United States Deaths: • June 8: 109,901 • June 1: 103,700
Tuesday, June 9
BACKLOGGED TESTS: Starting on June 9, the Virginia Department of Health's COVID-19 data dashboard will reflect 13,000 additional tests that were backlogged. Over the next couple of days, this new information will be slowly added to the current data, which will result in an influx of results.
Monday, June 8
EVICTIONS HALTED, FOR NOW: A temporary statewide moratorium on all eviction proceedings in Virginia is in effect through June 28, said Gov. Ralph Northam. The temporary moratorium will halt all eviction proceedings for a period of nearly three weeks, as the Northam administration implements a comprehensive rent relief program for the thousands of Virginians facing housing insecurity in the midst of this public health crisis.
"I am grateful to the Chief Justice for granting this order, and for the activists who have been working tirelessly on this important issue," said Northam. "Access to safe and stable housing is critically important, and this action will keep thousands of families in their homes as we work to get them the support they need."
Details of the Governor's rent relief initiative, supported by federal CARES Act funding, will be announced in the coming weeks. Tenants are encouraged to know their rights and responsibilities and pay their rent on time if they are able. Please visit https://www.stayhomevirginia.com/ for more information and resources on tenant rights.
Saturday, June 6
MODIFIED SUMMER PROGRAMS: Modified full day summer programs at several locations throughout Alexandria for children ages 6-12 will be offered by the Department of Recreation, Parks and Cultural Activities (RPCA). Programs are designed to meet the needs of essential workers who have limited options for childcare, with a priority to Alexandria families who need financial assistance. Each program is designed with limited capacity.
Alexandria residents interested in participating are required to verify eligibility by completing a Summer Camp Pre-Registration Eligibility Form. The questionnaire is available online at https://www.alexandriava.gov/Recreation A mailed paper copy can be requested by calling the Registration and Reservation Office at 703-746-5414. Or, it can be picked up and dropped off at an outdoor drop box at the following locations: Lee Center Registration and Reservation Office, 1108 Jefferson Street; Leonard "Chick" Armstrong Recreation Center, 25 West Reed Avenue; William Ramsay Recreation Center, 5650 Sanger Avenue.
AFTER SCHOOL: Registration for school year 2020-2021 after school programs offered by RPCA is suspended until at least mid-July.
Once ACPS announces their school year schedule, RPCA will make the necessary programmatic adjustments and provide information about program options. It is anticipated that significant changes to program capacity and structure will be required to align with federal, state and local health guidelines. Once appropriate adjustments can be planned for the Fall, registration information will be advertised.
VIRTUAL PROGRAMMING, YOUTH AND ADULTS: A variety of free on-demand programs and classes that can be viewed again and again are offered by the Recreation Department. Children can dress up in their favorite costume, sing along and Be Enchanted About Reading or learn the fundamentals of baseball in Lil Pro Sports. Adults can get fit from their living room with Strength Training at Home, Body Part Aerobics, Chinqua Circuit and Yoga for Beginners. Looking for something different? Try Boxercise or Zumbata en Español. See https://www.alexandriava.gov/Recreation
NURSING HOME DATA NOT PERFECT: The U.S. Centers for Medicare and Medicaid Services (CMS) recently published data on COVID-19 cases in skilled nursing facilities.
The CMS rule applies only to skilled nursing facilities that participate in Medicare and/or Medicare programs; it does not apply to assisted living facilities or to skilled nursing facilities not participating in Medicare or Medicaid. As a result, not all Alexandria long-term care facilities are listed on the CMS database. For more information, including what AHD is doing to help protect the residents and staff of nursing homes and other long-term care facilities, visit AHD's COVID-19 FAQs.
Friday, June 5
MINUS ONE: The cumulative number of COVID-19 cases in Alexandria is now 2,045, including 45 fatalities. The Virginia Department of Health has reassigned one previously reported fatality to another jurisdiction.
FOOD DASHBOARD: Feeding and food distribution has been a concern since the COVID-19 crisis began, and many public and private organizations have responded. The City has developed an interactive dashboard to measure the impact of the combined efforts, including locations, demographic and food program data, and food distribution events. Use the maps and charts to locate food distribution sites, investigate areas of interest, compare areas and more.
REST OF VIRGINIA: Virginia entered Phase Two on Friday, June 5, as key statewide health metrics continue to show positive signs. Under Phase Two, the Commonwealth will maintain a Safer at Home strategy with continued recommendations for social distancing, teleworking, and requiring individuals to wear face coverings in indoor public settings. But the Governor directed Northern Virginia and Richmond to remain in Phase One.
Visit https://www.virginia.gov/coronavirus/forwardvirginia/ for more.
Thursday, June 4
The cumulative number of COVID-19 cases in Alexandria is now 2,031, including 46 fatalities.
EVICTION AND FORECLOSURE: Courts are reopening and some eviction and foreclosure proceedings postponed during the closure may resume as soon as June 16. A number of resources are available for Alexandrians who are facing eviction and foreclosure, including short-term emergency rental assistance through the COVID-19 Emergency Rent Relief Assistance Program. The General Assembly also passed legislation earlier this year that gives tenants and property owners an additional 60-day continuance of an eviction or foreclosure proceeding, if they provide proof to the courts that their income has been adversely affected by COVID-19. See Gov. Northam's temporary moratorium announcement under Monday, June 8.
CAN PETS BE HOSTS? The U.S. Centers for Disease Control and Prevention (CDC) and the Virginia Department of Health (VDH) have provided updated guidance for people who own pets and other animals. Until more is learned about how COVID-19 affects animals, pets should be treated like human family members to protect them from a possible infection. Because there is a small risk that people with COVID-19 could spread the virus to animals, pet owners should limit their pets' interaction with people outside their households.
The new guidelines include recommendations regarding dog walking and dog parks. Dogs should be walked on leashes, maintaining at least 6 feet from other people and animals. Pets and their owners should not gather in groups or and should stay out of crowded places. Fenced dog parks in Alexandria remain closed. Face coverings on animals may harm them and should not be used. Do not wipe or bathe a pet with chemical disinfectants or products not approved for animal use. Talk to a veterinarian if a pet gets sick, or there are any concerns about a pet's health. For more information, see the CDC's Pets and Other Animals.
PROTESTERS CAN SEEK TESTING: The Virginia Department of Health wants to ensure all Virginians, including those participating in protests, know how to access publicly-available COVID-19 tests. The nature of large protests means the virus may spread more easily there, especially if protesters are not wearing masks. The health department has communicated with local health districts where protests have occurred and are encouraging those districts to share information with protesters about community testing events and pharmacy locations where COVID-19 tests are available. All Virginians may get tested if they experience symptoms of COVID-19 or if they believe they have been exposed to others with infections.
Access VDH's online symptom checker, CovidCheck at https://www.vdh.virginia.gov/coronavirus/covidcheck/
Find publicly-available tests at https://www.vdh.virginia.gov/coronavirus/covid-19-testing/covid-19-testing-sites/
MILITARY FAMILIES: The Child Care Affordability and Accessibility for Military Families Act would make child care more affordable and accessible for military families.
"Affordable, accessible childcare is so important, and military families who have to contend with the constant instability that results from frequent moves need our support," said Senator Tim Kaine. "I'm pleased to introduce legislation to improve and lower the cost of childcare and standardize policies ensuring access to that care so that our military can focus on serving our nation."
The Child Care Affordability & Accessibility for Military Families Act would reduce child care costs for certain paygrades, require currently optional fee waivers and reductions, ensure competitive hiring practices to recruit high-quality child care providers, and expand programs that have already been voluntarily implemented by one branch of service, or which are being utilized on an ad hoc basis – improving and standardizing policies across the military and reducing the financial burden of child care for all military families.
Wednesday, June 3
The cumulative number of COVID-19 cases in Alexandria is now 2,016, including 46 fatalities, after two more fatalities were reported.
T.C. WILLIAMS GRADUATE: T.C. Williams High School senior Mathieu Zahlan composed a graduation speech as part of a video contest held by Senator Tim Kaine who selected Zalhlan's entry to highlight on his website and Facebook page.
"There's a French saying that says 'après la pluie le beau temps' which translates into 'after the rain, the good weather'. That's right. We believe in our hearts that we will be the shining light during this horrible pandemic because we are anything but ordinary," said Zahlan.
"We are the quaran-teenagers of 2020, we leave our childhood behind us now, and we step into a new chapter in our lives. We are on a mission to expand our knowledge, create and innovate for a better future.
Kaine launched the video contest calling for seniors to write and record a speech that they would give to their school if they were this year's graduation speaker.
"One of the many groups of Virginians I've been thinking about during this challenging time is the graduates of the Class of 2020, many of whom won't have the graduation experience they've been planning for a long time. I feel a sense of loss about that, so I want to do something fun for them and give all high school seniors the chance to be a graduation speaker," said Kaine.
Zahlan wrote: "I wanted to tell the Class of 2020 that a graduation is not a just ceremony or a party, but that it is a new beginning to bigger opportunities, and with the unfortunate current situations we should step up and be heroes.
COVID-19 Care Survey; The COVID-19 Care Survey will help identify local challenges to accessing COVID-19 testing and care. Results from the survey will be analyzed by the Alexandria Health Department and community partners to determine how different populations in Alexandria seek and receive care. The health department will draft a plan to address major issues and inform future work with local health care providers. The survey will be open through June 19, and is available in English, Spanish, Arabic, Amharic and Farsi. It takes about five minutes to complete and all answers are anonymous. Please share the survey with family, neighbors, friends and others to ensure that every voice is heard.
RESOURCE RECOVERY: The City has announced reopening phases for resource recovery services: Online mulch delivery ordering is now open, with deliveries slated to begin the week of June 15.
The Household Hazardous Waste Facility returns to normal hours of operation (Mondays and Saturdays from 7:30 a.m. to 3:30 p.m.) beginning Monday, June 8.
Curbside yard waste collection will resume on Friday, June 19. Yard waste materials will be collected on Fridays only, rather than on regular residential trash collection days, until further notice. The final day of operation for the City's temporary drop-off site for yard waste will be June 12.
Collection of refuse and recycling materials placed outside of City-issued carts will resume on Monday, June 15. This includes items typically considered "bulk" (such as furniture), as well as collection of metal and appliances, which must be scheduled through Alex311.
Citywide street sweeping will resume on Monday, June 15. However, enforcement of residential "No Parking" rules related to street sweeping remains suspended. Crews will work around parked cars to the best of their ability; however, residents who are able to move their vehicles to accommodate street sweeping equipment are encouraged to do so.

Farmers' market food waste drop-off remains suspended until further notice.
PLAN FOR PHASE TWO: Although Northern Virginia remains in Phase One of the Forward Virginia reopening blueprint, organizations, businesses and other sectors are encouraged to start planning for the next steps for reopening with the Phase Two guidelines for business sectors. These guidelines continue to ease restrictions on individuals and businesses while maintaining a "Safer at Home" strategy, with continued recommendations for physical distancing, teleworking and the requirement for individuals to wear face coverings in indoor public settings.
Detailed data is available through the links at https://www.alexandriava.gov/Coronavirus Now that Northern Virginia is in Phase One of the Forward Virginia blueprint, it is important to note that there is still community transmission of the virus that causes COVID-19 and everyone is safest at home. This is especially true for persons at higher risk for severe illness, including those over the age of 65 and those with underlying medical conditions. Those who do go out are reminded to remain 6 feet apart from others; wear a cloth face covering when physical distancing cannot be maintained outdoors and at all times in indoor public spaces; and wash hands frequently.
ESSENTIAL CHILD CARE: U.S. Senator Tim Kaine and Senator Patty Murray introduced the Child Care is Essential Act, legislation to create a $50 billion program that if passed into law would give Virginia $986 million to help child care providers safely reopen and operate and stabilize the child care sector. These grants would help child care providers and working families by:ensuring that the grants adequately support providers' operating expenses and funding gets to them quickly; requiring that providers continue to pay their staff; providing tuition and copayment relief for working families; promoting health and safety through compliance with public health guidance; prioritizing providers that serve underserved populations; ensuring grants are awarded equitably across child care settings; and conducting oversight through robust reporting requirements.
Tuesday, June 2
SOCIAL SERVICES: The Virginia Department of Social Services issued updated guidelines for child care providers, in line with the Forward Virginia blueprint's Phase Two guidelines. However, it is important to note that Northern Virginia remains in Phase One until further notice. The guidelines incorporate input from more than 100 stakeholders, including public health experts and child care and camp providers, who discussed how to best balance the health, safety and developmental needs of children, as well as how to keep families and staff safe. In response to the insights and concerns raised, there have been some key changes made to guidelines in Phase Two, specifically regarding group size, swimming pools and water activities, and outdoor activities and playgrounds. Detailed data is available through the links at alexandriava.gov/Coronavirus. Now that Northern Virginia is in Phase One of the Forward Virginia blueprint, it is important to note that there is still community transmission of the virus that causes COVID-19, and everyone is safest at home.