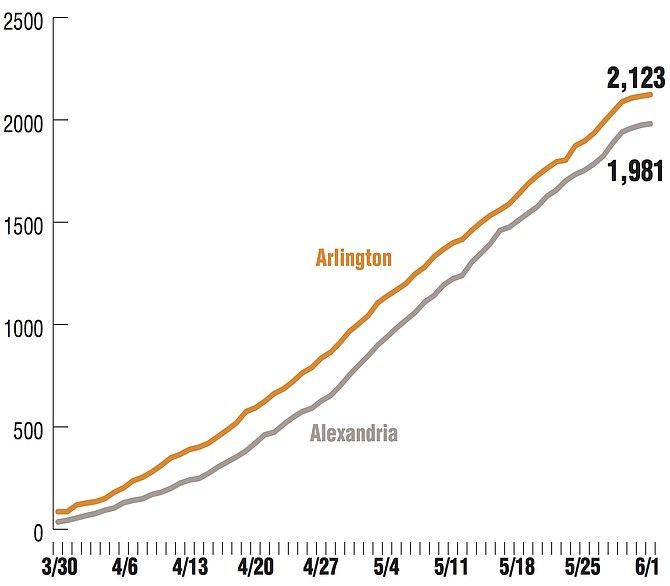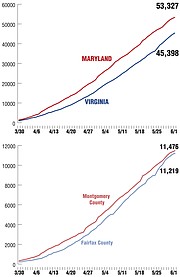 Monday, June 1
Arlington County Cases: 2,123
Virginia Cases: 45,398
United States Cases: 1,761,503
Arlington County Deaths: 116
Virginia Deaths: 1,392
United States Deaths: 103,700
DAY OF MOURNING: Arlington County will join other officials and faith leaders across the country for the day of mourning. The County will hold a moment of silence and lower the County flag at the government building to remember the 109 Arlingtonians — and the more than 100,000 people nationwide (101,711 as of Saturday, May 30) who have died from COVID-19.
Sunday, May 31
Arlington County Cases: 2,116
Virginia Cases: 44,607
United States Cases: 1,737,950
Arlington County Deaths: 115
Virginia Deaths: 1,375
United States Deaths: 102,785
Saturday, May 30
Arlington County Cases: 2,107
Virginia Cases: 43,611
United States Cases: 1,719,827
Arlington County Deaths: 113
Virginia Deaths: 1,370
United States Deaths: 101,711
UP TO DATE: For up to date reports on reopenings, see:
https://www.virginia.gov/coronavirus/
https://www.virginia.gov/coronavirus/forwardvirginia/
https://www.virginia.gov/coronavirus/forwardvirginia/faq/
ZIP CODE ACCURACY: Virginia Department of Health (VDH) began reporting COVID-19 data on testing encounters by health districts using more accurate ZIP Code information. The new data will impact 37,362 test results that were previously not assigned a health district designation because incomplete patient address information was reported to VDH.
Beginning May 30, VDH will report test encounter data using a tiered approach. If a test record is missing a patient address ZIP Code, the ordering provider's ZIP Code will be used. If neither ZIP Code for the patient or ordering provider is available, the testing laboratory's ZIP Code will be used. By using the new data reporting method, testing encounter numbers will increase the health district figures as follows: Alexandria by 699; Arlington by 187; Fairfax by 3,072.
Friday, May 29
Arlington County Cases: 2,089
Virginia Cases: 42,533
United States Cases: 1,698,523
Arlington County Deaths: 111
Virginia Deaths: 1,358
United States Deaths: 100,466
PHASE ONE: Arlington County, along with other localities in Northern Virginia, is transitioning to Phase 1 of the Forward Virginia plan on Friday, May 29.
On May 24, the five Northern Virginia (NOVA) health directors conducted a new assessment indicating the region has met four of the six critical metrics: increased testing, downward trend in percentage of positive tests and hospitalizations over 14 days, and enough hospital beds and intensive care capacity. They also cited the need for continued focus on expanding our contact tracing capacity and developing sustainable supplies of PPE.
Arlington County Board Chair Libby Garvey and other local leaders also asked for NOVA to move to Phase 2, if the data supports it, in concert with the rest of the Commonwealth when that date is established.
"We have a long way to go before we can be confident the virus is under control," said Garvey. "Continuing our forward progress depends on everyone following health guidelines. We will continue to watch the metrics closely in the coming weeks."
FACE MASKS: Starting on Friday, May 29, Virginians will be required to wear masks or cloth face coverings while inside public places such as grocery stores, government buildings, and on public transportation. A few exceptions to this requirement include during exercise, when eating or drinking, and due to medical conditions.
HIGHLIGHTS, WHAT CAN OPEN: Non-essential businesses can open at 50 percent capacity, with strict requirements.
Take-out and curbside pickup for restaurants and beverage services can continue and outdoor seating will be allowed at 50 percent capacity.
Gyms and fitness facilities can offer limited outdoor exercise options.
Outdoor swimming pools may be open for lap swimming only, with one person per lane.
Beauty and nail salons, barbershops and other personal grooming services can provide services by appointment only and must follow strict guidelines.
Places of worship can open for drive-in services or services inside at 50 percent capacity.
Basketball courts and racquetball courts must remain closed, as well as entertainment facilities such as movie theaters.
Social gatherings of more than 10 people are still banned.
WE ARE COVERED: Arlington created the "We Are Covered" program to give businesses, multi-family residences, and houses of worship a way to show they have pledged to protect the people who come through their doors. Arlington encourages all residents and visitors to take personal responsibility to follow state requirements for face coverings, as well as maintain a 6-foot distance from other people and avoid groups of more than 10 people.
REPORT CIVILLY: A new online tool https://survey123.arcgis.com/share/f00c518a06a24102a7ae61fb0090640c provides a way to report concerns about possible non-compliance issues in public places — a preferred alternative to calling the County's non-emergency number or the COVID-19 information line. 9-1-1 should only be called in the event of an emergency. The information generated by the tool will be used for ongoing community education and to spot trends. Potential areas of concern will be reviewed, with any follow-up by the appropriate County departments. Areas listed in the tool include parks, facilities not authorized to operate under Phase 1, and capacity limits involving outdoor restaurant seating, grocery stores, retailers and houses of worship. This tool will evolve over time to meet the guidelines of future reopening phases.
PARK OPENINGS: George Washington Memorial Parkway will reopen parking lots and restrooms that were closed. This includes parking areas at Theodore Roosevelt Island, Gravelly Point (no parking allowed on overflow grass area), Fort Hunt Park, Jones Point Park, Collingwood Picnic Area, Riverside Park, Belle Haven Park, and Fort Marcy. Parking areas at Great Falls Park have already reopened. Updates on park operations will continue to be posted on https://www.nps.gov/aboutus/news/public-health-update.htm
VIRGINIANS GRADUATE TOGETHER: Gov. Ralph Northam hosted a statewide virtual celebration on Friday, May 29. "Virginia Graduates Together" celebrated 2020 graduates with a special address from the Governor and First Lady, musical performances, a keynote speech from United States Women's National Soccer champion Angela Hucles Mangano, and well-wishes from notable Virginians.
IMMUNIZATIONS DECLINE: Senators Mark R. Warner and Tim Kaine joined Senator Maggie Hassan and 14 of their colleagues in calling on the Centers for Disease Control and Prevention (CDC) to address the declining rate of routine child immunizations for measles and other dangerous viruses amid the COVID-19 pandemic. Pediatricians report a 30-76 percent decrease in administering routine childhood immunizations according to a recent column by Del. Patrick Hope and Del. Paul Krizek.
Thursday, May 28
Arlington County Cases: 2,039
Virginia Cases: 41,401
United States Cases: 1,678,843
Arlington County Deaths: 109
Virginia Deaths: 1,338
United States Deaths: 99,031
HUNGER FREE ARLINGTON: Cooperative for a Hunger Free Arlington volunteers have delivered 6,174 meals to homebound COVID-19 positive patients and immunocompromised clients. They plan to provide an additional 14,000 meals over the next two months, in partnership with Jeffrey's Catering.
Since the state of emergency declaration on March 15, referrals to AFAC increased by 36 percent, from 3,606 individuals to 4,902 on May 10; 3,325 meals were delivered (over three weeks) to homebound seniors, with plans for an additional 8,925 meals over the next seven weeks.
Since May 1, CHFA volunteers delivered 3,640 flash frozen meals and 20 families received AFAC groceries as a direct result of a referral from the County's food hotline, 703-228-1300.
APS has provided over 124,000 meals since schools closed in March. Gift cards, groceries and meals for an additional 1,400 families in Arlington, were provided in partnership with area PTAs and Real Food for Kids.
The Cooperative is comprised of the Arlington Food Assistance Center (AFAC), Arlington Public Schools and Arlington's Department of Human Services, all of which provide safety net services. If you or someone you know is in need of food assistance, call 703-228-1300 or email foodassistance@arlingtonva.us.
CORRIDOR OF LIGHT: The installation of Luminous Bodies by Cliff Garten at the intersection of Esplanade Bridge, North Lynn Street and Lee Highway (above I-66 and adjoining the approach to Key Bridge) will be finished June 1. The Luminous Bodies sculptures initially will be illuminated with a changing array of blue to blue-green light each evening (8-10 pm) in honor of America's essential workers on the front lines of the COVID-19 pandemic. This display will continue until the pandemic allows the artist to travel for the final programming and dedication of the sculptures.
The artwork is a 13-year effort to create a vibrant gateway for Rosslyn's central corridor. The four, 26-foot tall sculptures, made of formed stainless steel rods intersecting to define both exterior and interior surfaces, are enhanced with LED lights which will be programmed by the artist. Pedestrians will notice an enhanced design for the fencing along the length of the east side of the new bridge, which was also developed by artist Cliff Garten to complement the Luminous Bodies sculptures.
TIM KAINE POSITIVE: U.S. Senator Tim Kaine and his wife, Anne Holton, tested positive for antibodies to coronavirus.
"I tested positive for the flu earlier this year and was given standard medication to treat it. The symptoms lingered and I continued to receive treatment from my physician for the flu through mid-March. At the end of March, I experienced new symptoms that I initially thought were flu remnants and a reaction to an unusually high spring pollen count. Then Anne experienced a short bout of fever and chills, followed by congestion and eventually a cough.
"After Anne got sick, we each talked to our health providers in early April and they thought it possible that we had mild cases of coronavirus. We were both at home in Richmond, working remotely and isolated from others. Due to the national testing shortage, we were not tested for the virus but continued isolating and watched for any worsening of symptoms. By mid-April we were symptom free.
"We each tested positive for coronavirus antibodies this month. While those antibodies could make us less likely to be re-infected or infect others, there is still too much uncertainty over what protection antibodies may actually provide. So we will keep following CDC guidelines — hand-washing, mask wearing, social distancing. We encourage others to do so as well. It shows those around you that you care about them."
Wednesday, May 27
Arlington County Cases: 1,988
Virginia Cases: 40,249
United States Cases: 1,662,414
Arlington County Deaths: 109
Virginia Deaths: 1,281
United States Deaths: 98,261
148 PARKS: Arlington's 148 parks reopened on May 23, prior to Memorial Day. In early June, the County plans to reopen athletic fields and shelters (with restrictions), batting cages, dog parks, pickleball courts, tennis courts and outdoor tracks, according to a May 27 release.
Tuesday, May 26
Arlington County Cases: 1,935
Virginia Cases: 39,342
United States Cases: 1,637,456
Arlington County Deaths: 104
Virginia Deaths: 1,236
United States Deaths: 97,669
TEMPORARY OUTDOOR SEATING: The Arlington County Board approved an administrative process to allow temporary outdoor seating areas beyond those already permitted. The County will consider temporary outdoor seating areas that may be in parking lots, sidewalks, and other public spaces.
SAFETY STANDARDS: Gov. Ralph Northam directed the Department of Labor and Industry to develop emergency temporary standards to prevent workplace exposure to COVID-19. These occupational safety standards will require the approval by vote of the Virginia Safety and Health Codes Board and must address personal protective equipment, sanitation, record-keeping of incidents, and hazard communication. Upon approval, the Department of Labor and Industry will be able to enforce the standards through civil penalties and business closures.