Mental health counselor Bianca Molinari Anez knows what it is like to encounter postpartum depression; she experienced it herself. That's one of the reasons she is so devoted to the group of women she counsels. Working under the Northern Virginia Family Service (NVFS) Healthy Families Program, she provides mental health services to women who are pregnant or postpartum. "We are committed to working with moms during this very vulnerable period of their lives. The mental health issues that the mother has during or after birth affects the child's mental health as well. Early intervention fosters a nurturing relationship between mother and child, as well as for the whole family and community," said Anez. "There is research that when a mom experiences perinatal depression, it can affect how she attaches with her child. In other words, if a mom doesn't have her own needs met, it makes it difficult for her to meet her child's needs."
NVFS starts with an assessment to determine if the client is at risk of depression. If so, the mother is referred to Anez, a bilingual mental health counselor with a master's degree in counseling.
"We help new moms cope with daily stressors, so they can be emotionally available for their children," Anez said. They use talk therapy, cognitive behavioral therapy, art therapy, mindfulness and other strategies depending on the client's needs, as well as case management.
"The mothers we work with are very vulnerable," she added. Many are new immigrants who don't speak English or have limited proficiency, are low income and may face other barriers such as access to transportation or lack of health insurance. "We remove barriers and make it as easy as possible for them to access counseling. Because our therapy is home-based, bilingual, and free, there's no need to travel to an appointment and no need for childcare. In the current climate, we 'meet' by phone or video either in English or Spanish."

Since March 9, NVFS moved to tele-mental health, starting with weekly phone calls instead of in-person meetings to prevent spread of the virus. More recently, NVFS is communicating with clients who are able by video. "Tele-mental health has been very helpful for we have been able to see each other, since we can't be together in person," Anez said. "That visual communication brings a sense of normalcy to our sessions." One benefit of tele-mental health is it gives social workers like Anez more time to work with clients, since she doesn't have to spend time commuting to their homes. That extra time has allowed her to expand her caseload in response to the growing request for services because of COVID-19. At this point there is a waiting list for services.
"Tele-mental health is going to change the way we do business," Anez said. "In the past, schedules sometimes made it difficult to find a convenient time to meet. This gives us another option, one that for many people is a familiar option, since they already were using video to communicate with their families back home. For others, who may be experiencing domestic violence or another crisis or may lack the technology, we will continue to identify the best – and safest – ways to communicate."
Many of Anez's clients live in multi-generational or multi-family households, which makes it harder to isolate. There is a lot of fear about getting the virus – for good reason. Some have continued to work to support their families, even when working may be a risk to their health. This is on top of other stressors they face, such as how they will pay critical expenses like rent, food and diapers. In addition, with less income, they may not be able to send money to their families back home. And, those family members may live in countries with no testing, which creates more worries.

NVFS's POST-PARTUM program is typically 12 weeks long. But for some clients, like the new mom whose work hours were reduced, therapy was about to end when COVID-19 hit. "We chose not to abandon our existing clients in that moment," says Anez. "Our goal is to get our clients back on their feet and make sure they are able to stay there. Nanci Pedulla, who directs Healthy Families, trusts my clinical judgment. We go day by day and wrap up when we feel the client is at a healthy place."
Is it hard to say good-bye? Says Anez: "With home-based therapy they open up their homes to you and treat you like family. But when they graduate, they're ready. They have the tools and coping skills. It's a bittersweet goodbye, but I trust they are ready to fly."
Anez has been a counsellor with NVFS for three years. Before that she worked with youth in an Alexandria detention center. The facility was open 24 hours and that was hard on her family life so she chose a job where she could meet her own family's needs. "Perinatal mental health has always piqued my interest because I went through postpartum depression. This job occupies a very special place in my heart. I love my job, love the moms, love Northern Virginia Family Service, and am so encouraged to see how effective it is."
To donate to NVFS, learn more about what they do, or volunteer, see: https://www.nvfs.org/
In Her Own Words
She says NVFS practices what they preach: they get you on your feet and make sure you stay there.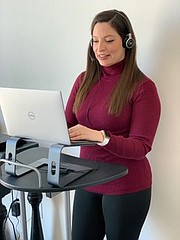 "The focus of my work is helping new mothers. Normally, I do that in person in clients' homes but because of the pandemic, Northern Virginia Family Service counselors are now providing tele-mental health.
"For instance, one of the clients I am seeing virtually is a new mom who had been working in a restaurant in Tysons Corner. At first, when the restaurant cut back from a full team to only two workers, my client didn't get called in to work. Now she works two days a week, helping with deliveries and take-out. This family was financially impacted in a big way, because her husband's hours were cut as well.
"My client was already suffering from postpartum depression; being able to go to work was her coping mechanism. It allowed her to see herself as more than a mom, to feel productive outside the home, to interact with others, and practice her English skills. But COVID-19 took that from her. She felt isolated. She was constantly checking the news and worried about her family overseas. She no longer had a routine. In addition, her child, who had been in day care part-time, was now at home without a routine and began to regress. In other words, the whole family was being affected by all the changes from the pandemic.
"That's where I came in. I made sure the mom had a safe space where she could tell me whatever she was feeling. (When we started doing tele-mental health, she asked to do some of her sessions in English so she could keep up with the language.) From what she shared, I knew she was in survival mode. She was in shock. She had no motivation to do basic activities like cooking or working out, yet by the end of the day she felt exhausted. I validated her feelings and helped her understand why she was feeling that way."
"I shared coping strategies, like to have a routine but also to be flexible. I encouraged her to be self-compassionate. I suggested she filter the news and, as a result, she became intentional about just watching the news at the end rather than all day long. It was clear to me that just talking about the news was a trigger for her anxiety. I talked to her about how to communicate with her husband. They worked on this together and now their relationship is thriving."
"I'm happy to report she is doing much better after a number of tele-mental health sessions. She is communicating with her husband, working out, and spending time with her child. At the beginning of the pandemic, she was having a hard time playing with her child, because she was distracted by the virus. That has shifted too. She recognizes that the silver lining of sheltering in place is she has more time with her child to do things like arts and crafts. She told me, 'Since I don't know if I'll have this time at home with my child again, I'm learning to treasure these moments.'"
— Bianca Molinari Anez, Mental Health Counsellor, Northern Virginia Family Service