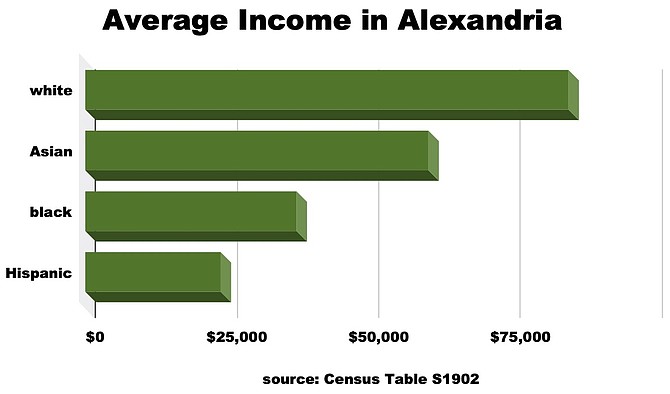 White Alexandria is pulling in significantly more money than Hispanic workers and African Americans, according to numbers from the United States Census Bureau. A look at average income shows non-Hispanic whites make more than $85,000 a year. That's more than three times the average income for Hispanic workers, $24,000, and more than twice the average income for black workers, $37,000.
"Where do Latinx folks work? They're in the service industry. They're in kitchens. They're in basic-level construction," said Jon Liss, executive director of New Virginia Majority. "All of a sudden now we're seeing those jobs as being essential, but unfortunately when it's time to get paid for jobs that are dangerous and dirty and nobody wants to do them they're not getting paid."
The nationwide wave of protests against police brutality sparked by the murder of an unarmed black man by a white police officer in Minnesota has sparked a new conversation about how race and ethnicity influence everything from education and health care to criminal justice and corporate power. At the center of that debate is a concept that many white people are confronting for the first time: systemic racism. The disparity in incomes between whites and people of color in Alexandria is the end result of a complex web of factors.
"I think we are expected to perform less favorably than other demographics," said Christopher Harris, president of the Alexandria NAACP. "The expectation is that we are less valued and not worth as much as a person in another demographic with less education or less experience."
Chuck Collins at the Institute for Policy Studies says people often look at income disparities and resort to something he calls the "narrative of deservedness," which he defines as "the story we tell ourselves to justify inequality." It's the idea that people who work hard and have taken the time to earn advanced degrees deserve to make more money. He says it's a comfortable story, but it glosses over structural inequalities and the legacy of racism in employment, income and education.
"When you look at systemic trends, you can't just chalk it up to a story of meritocracy," said Collins, who is director of the Program on Inequality and the Common Good at the Institute for Policy Analysis. "Part of how we change that story is for those of us who have had advantages or have had the wind at our back to honestly talk about that."
THE HISTORY OF income inequality dates back to the days of slavery, when Alexandria was home to one of the largest slave-trading operations in the county. After the Civil War, a series of Jim Crow laws institutionalized racism in Virginia, creating a system to segregation perpetuating white supremacy and a poll tax preventing black people from exercising their franchise. After World War II, government subsidized loans for veterans and farmers helped white families buy homes and start building wealth.
"I think we are expected to perform less favorably than other demographics."
—Christopher Harris, president of the Alexandria NAACP
"We invested in expanding the white middle class, and we put a lot of white households on the express train to wealth building," said Collins. And we barred blacks, Latinos and native people from getting on that train."
The ratio of average black wealth to average white wealth has not changed since 1962, when the Federal Reserve launched the Survey of Financial Characteristics of Consumers. Back then, the average black household had 20 percent of the wealth of the average white household. The wealth gap today is identical to that 1962 ratio, an indication that all the progress made during the civil rights movement did little to move the needle for economic equality. University of Virginia economics professor Eric Young says the primary driver of relative wealth is relative income.
"You have a bunch of households that start out behind, and their income level is smaller so there's no reason to expect them to catch up," said Young, who is now on a sabbatical at the Federal Reserve in Cleveland. "If anything, what's kind of surprising is that they didn't fall further behind."
Young says one reason for the income gap is the relationship between the education system and the job market. While more than 80 percent of white people in Alexandria have a college degree or higher, only one out of three black people in Alexandria have a college education, and only one out of three Hispanic people in Alexandria have a bachelor's degree or higher. He says part of the reason that black and Hispanic workers have low-paying jobs in service industries is that their educational background makes it harder to get a job in a higher-paying industry.
"The educational system is creating part of this gap by benefiting the typical white student more than the typical black or Hispanic student," said Young. "When they graduate, they come out with a gap in their skills and then they sort into industries that pay different amounts on average."
SOMETIMES THE INCOME GAP is illegal, and employers are violating the law by paying black and Latino workers less than their white colleagues for doing the same job. Traditionally those cases have been heard in federal court, but starting next month a new law might end up radically changing how wage discrimination cases are litigated. A new law introduced by Sen. Adam Ebbin (D-30), known as the Virginia Values Act, will open up state courts to wage discrimination claims for the first time. Employment lawyers say they expect most wage discrimination cases will end up moving from federal courts to state courts as a result.
"In federal court, you have a mechanism that allows cases to be dismissed or reviewed by the judge on its merits before it goes to trial. It's called summary judgment," says Michael Barnsback, a defense lawyer in Alexandria who represents employers in discrimination cases. "Virginia state courts have a very strong policy of once a case is filed, you're going to get your day in court and you're going to trial."
Barnsback says many people file discrimination cases under difficult circumstances, right after losing a job. In many cases, he says, they're trying figure out why they lost the job and they suspect that discrimination may have played a role. But then when they get to the courtroom they need evidence. Now that Ebbin's bill is opening up circuit courts to these kinds of cases for the first time, people who feel they've been discriminated against will have a new venue that might not have as many roadblocks as the federal court system.
"My legislation is a tool that can only move things in the right direction," said Ebbin. "But I don't think it's going to be a panacea for wage discrimination."