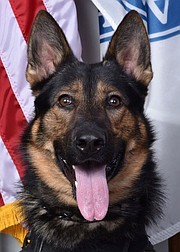 The Alexandria Police Department's K-9 Taz, a 2-year old German Shepherd who was imported from Hungary, will receive a bullet and stab protective vest, thanks to a donation from local residents Chuck and Cathy Rey and the nonprofit organization Vested Interest in K-9s, Inc.
Delivery of the vest, which will be embroidered with the names of the donors, is expected within eight to 10 weeks. A single donation of $960 will sponsor one vest, which has a value of $1,744-$2,283 and weighs an average of 4-5 pounds.
K-9 Taz became a member of the APD in April 2019 and completed more than 800 hours of specialized training. He is certified in Patrol and will soon be certified in narcotics detection. He is assigned to Officer Kyle Russel. Officer Russel and K-9 Taz are also assigned to the Special Operation Team as a K-9 element.
Outside of work, Taz enjoys going for walks in the woods, playing ball, and spending time with his older brother K-9 Chance, who retired in 2019 from police work. He strongly dislikes baths and being groomed.
Vested Interest in K-9s, established in 2009, provides bullet and stab protective vests and other assistance to dogs of law enforcement and related agencies throughout the United States. Since its inception, Vested Interest in K9s has provided over 3,917 vests to K-9s in all 50 states.