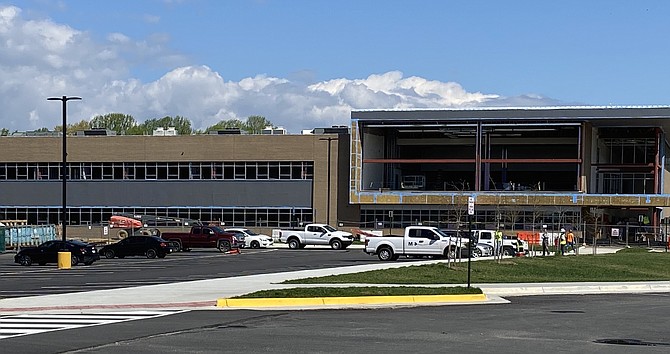 School reopens for Fairfax County Public Schools students in eight weeks. That means that families in the 10th largest school division in the United States have until Friday, July 10, to respond with their enrollment choice for the entire 2020-21 school year. Their options are four-day remote learning or two-day socially distanced in-school learning. The deadline allows the County time to plan for the virtual and in-person class schedules. County teachers will also be surveyed for their return-to-school preferences.
At the June 23 Fairfax County School Board Work Session, Superintendent Scott S. Brabrand said, "We have heard you. You have asked for additional flexibility for students and families, and we are providing that today. You asked for additional flexibility for our teachers, and we are providing that today… We hope again to better accommodate our families because of this flexibility… The increased flexibility will allow more students online… Hopefully, as we get more kids to do virtual, we will be able to increase the number of days for face-for face interactions."
According to Fairfax County Public Schools, in Choice One, students participate in full-time remote learning for the academic year, regardless of any changes to the schools' operational status.
THE COUNTY would provide virtual interactive instruction four days per week and asynchronous education one day per week. To the extent possible, elementary and middle school students would be served by dedicated online Fairfax County School teachers in a cohort model with other students from their school, region, or the division. High school students would be served through Online Campus courses, Virtual Virginia courses and specialized course instruction from dedicated online Fairfax County School staff. However, families must understand the need to support their child's active participation in all online learning activities on the established schedule. According to the Fairfax County Public Schools website, parents would need to work with the division to arrange for their students to participate in state assessments and other mandated educational activities.
Choice Two is at least two full days of in-school learning weekly, with students engaged in independent study and work on the days they are not in the school building. This option aligns with the predominant model for instructional delivery under Phase 3 of state guidance. It allows for health and social distancing protocols to protect students and staff per current CDC and VDH guidance.
According to the Fairfax County School Board website: "When in the building, six-foot separation is maintained whenever possible, to apply to both staff and students, and efforts are in place to limit mixing groups of students. Buses will enact new capacity limits and seating guidelines, per health and safety expectations."
"I'm trying to think of how we can manage some of the expectations and wanting to protect us from impossible asks… Time is what I'm more concerned about," said Fairfax County School Board Member At-Large Abrar Omeish during the June 23 work session.
IN BOTH CHOICES, one day would be set aside for teacher planning and intervention support for some students. Special Education students and English Language Learners would receive more in-person or synchronous instruction. "I think it's important to keep in mind our students with disabilities are served in very different settings across the district...There isn't going to be a one size fits all," said Teresa Johnson, Assistant Superintendent, Department of Special Services. Additional details about Reopening of School plans are available online.