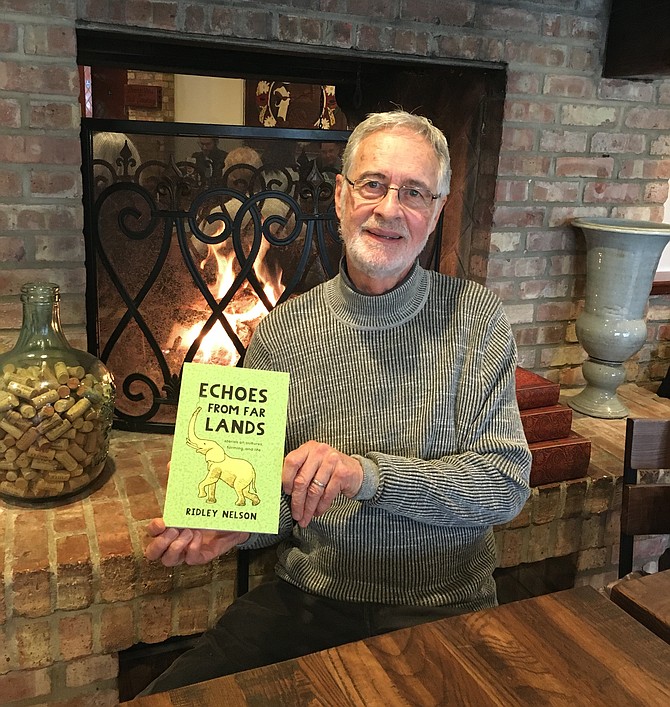 Great Falls author Ridley Nelson will discuss and sign his newest book, "Echoes from Far Lands: Stories on Culture, Farming, and Life," on Thursday, March 19, at 7 p.m., at the Great Falls Library in Great Falls.
The idea for the book itself, Nelson says, was first born in the basement of his Great Falls home, when, taking a break from his gardening, the semi-retired agricultural economist stretched out on the sofa and reached for the nearest book off of his bookshelf, which turned out to be an Australian anthology of poems. Nelson says the pages of the book opened to these words from Judith Wright's "South of my Days":
"Seventy years of stories he clutches round his bones. Seventy years are hived in him like old honey."
Wright's words resonated deeply with Nelson, as he recounts in the opening paragraph of his book: "It occurred to me that I, too, felt 'hived' full of stories, and, as it happened, about seventy years' worth, too. So, unable to hold them in any longer, I started writing."
Nelson, who has both British and Australian citizenship and lives in Great Falls, has lived in England, Australia (his place of birth), Egypt, India, Tanzania, and Kenya, and has visited ninety-five countries. Many of these global encounters – all richly-textured and meticulously crafted – are woven into the fabric of his book.
"I appreciate the opportunity to discuss my work at this great community forum," Nelson says with enthusiasm. "I'm looking forward to an active dialogue and discussion," he says.
Nelson's book, published by Mascot Books in Herndon, is powerful and compelling. With heart, humility, and often with humor, the author guides the reader on a globe-trotting journey from the halls of his English boarding school to the sheep stations of his native Australia, from a dimly-lit English pub to a peaceful village church, and even on an exciting lion-hunting expedition in Africa.
During the March 19 event, which will be hosted by the Great Falls Writers Group and the Great Falls Library, Nelson will discuss his writing process, engage in Q&A with the audience, and read from his work. Copies will also be available for signing and purchase. The event is open to the entire community and free to the public.
Because a capacity crowd is expected and seating is open, an early arrival (6:45 p.m.) is recommended.