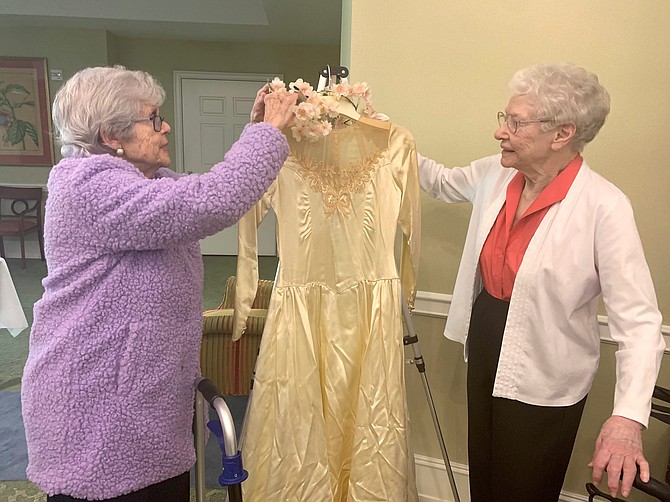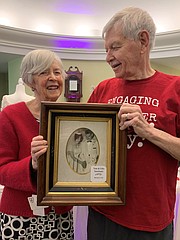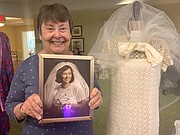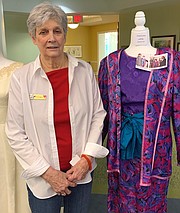 The residents of Goodwin House Alexandria took a trip down memory lane during a special exhibit of wedding dresses and photographs dating from the 1950s and '60s at the Feb. 14 Lasting Love showcase in celebration of Valentine's Day.
"My husband David and I were married in 1970 in a little town in Southwest Virginia," said Eleanor Karro as she stood next to her wedding gown on display. "I chose a Vogue pattern and had my dress made by a local seamstress."
Carol Lewis married for the second time in 1993.
"We had known each other for 10 years or so before we got married," said Lewis, who was widowed in 2015. "A few years before the wedding, my husband wanted to buy me a dress and Shepherds of Australia had just opened in Tysons. So that is the dress I wore on my wedding day."
Lewis and her husband had a blended family that grew to include six grandchildren and one great-grandchild.
"He was the love of my life and my best friend," Lewis said.
Other tales of love included Edward Mott, who married his wife Priscilla in 1958 at Christ Church in Alexandria. The high school sweethearts dated off and on for six years before Ed said he "very nervously" proposed to her.
"Try to be nice to your wife," was Ed's marriage advice as he displayed a photo of Priscilla to honor her memory. The couple was married 61 years before Priscilla passed away in May 2019.
Gloria Gibson had two wedding dresses on display during the expo: her own dress from 1952 and that of her mother, who married Gibson's father in 1927.
Gibson and her husband John were married for 66 years before he passed away in July 2018. Her biggest piece of marriage advice is "to be willing to compromise."
When Karro was asked about her best memory from her wedding day, she didn't hesitate.
"We couldn't find the wedding flowers at the church," said Karro." So my husband never lets me forget that I was late to my own wedding."