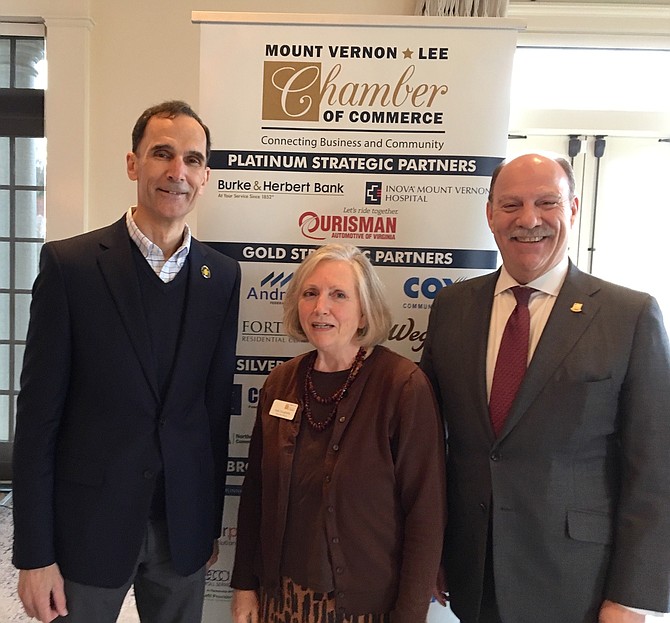 "The impact of the Coronavirus on the tourism industry in Northern Virginia will be in the billions of dollars," said Barry Biggar, President and CEO of Visit Fairfax, speaking to the Mount Vernon Lee Chamber at the March Business Breakfast.
Biggar joined with Supervisor Dan Stork, (D-Mount Vernon), to update the Chamber on the results of a recent study of visitor destinations in South Fairfax County but began his remarks with what was on everyone's mind – the Coronavirus.
Noting the travel ban from European countries, Biggar said "Twenty-nine percent of the European travelers to Northern Virginia come in the month of March. Now that is all gone."
Biggar shared the economic impact of tourism in Fairfax County saying that it generates $3.472 billion annually and supports 33,330 jobs with a payroll of $763 million. "Fairfax County ranks first in Northern Virginia jurisdictions for tourism income and South County is the 'soul of tourism' in the County," said Biggar.
"The Coronavirus is having an impact on the tourism industry similar to the effect of 9/11, but we are resilient and will come back," Biggar said.
Supervisor Stork outlined the main purposes of his Tourism Task Force, that has been meeting for the past year, are to identify ways to support and leverage the tourism sites in South County.
"Connecting tourism sites to communicate and collaborate for shared success is a main objective of the task force," said Storck. "Along with creating positive branding and placemaking for Richmond Highway."
"Our goal is to increase small business revenues and County taxes from hospitality, tourism and recreation," said Storck.
The task force will work with Visit Fairfax to provide more online promotions for local attractions and implement a dynamic booking platform that allows collaboration between the tourism sites and local hotels.