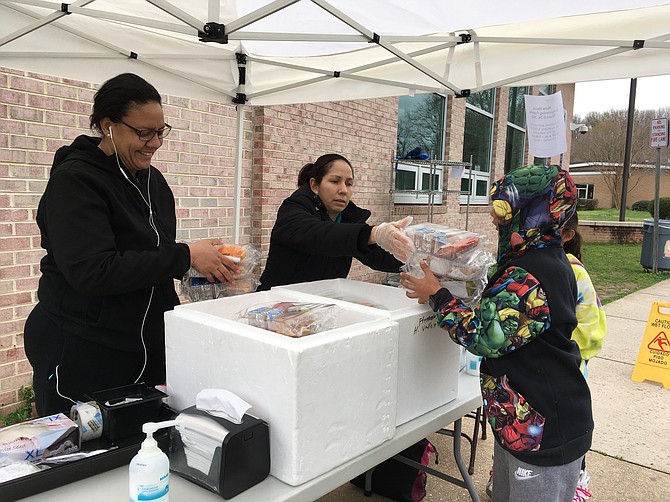 In response to the coronavirus pandemic, Mayra Figueroe and Marialma Gautier manned the food distribution table at Hybla Valley Elementary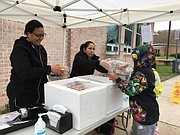 School on Tuesday, March 24, giving out both breakfast and lunch to area students.
A van pulled up and requested a few items. "This is very helpful," said the driver. "We're used to them being at school and daycare all day," she said.
A majority of the customers came by foot from nearby apartments and houses along Harrison Lane.
When the meal distribution started a few days ago, there were times for each meal, but now the table is just open for a longer shift. "We're serving breakfast and lunch at the same time," said Gautier. For breakfast, there was juice, a cinnamon roll, a bagel, cream cheese and a piece of fruit. For lunch, there were sandwiches or chicken tenders, with fruit and chocolate milk. Free for any children under 18; FCPS students of any age;for adults, there is a $2 charge.
At this time, Fairfax County Public Schools are closed through the end of the academic year in June. All FCPS school buildings and administrative offices are closed until further notice. Food distribution at dozens of FCPS sites will continue as scheduled.
The May 2020 International Baccalaureate exams are canceled, the message on the FCPS website stated. Traditional face-to-face Advanced Placement exams will not take place. On April 3, the full exam schedule including the specific free-response questions that will comprise each AP exam will be published by the College Board.
SOL tests are expected to be canceled this year. The Virginia Department of Education is preparing an application for the testing waiver from the U.S. Dept. of Education.
FCPS offers grab and go food distribution sites, including pop-up sites in the community, curbside pickup at two schools, and meal delivery along some bus routes.
Go to https://www.fcps.edu/news/coronavirus-update-food-resources for more information.