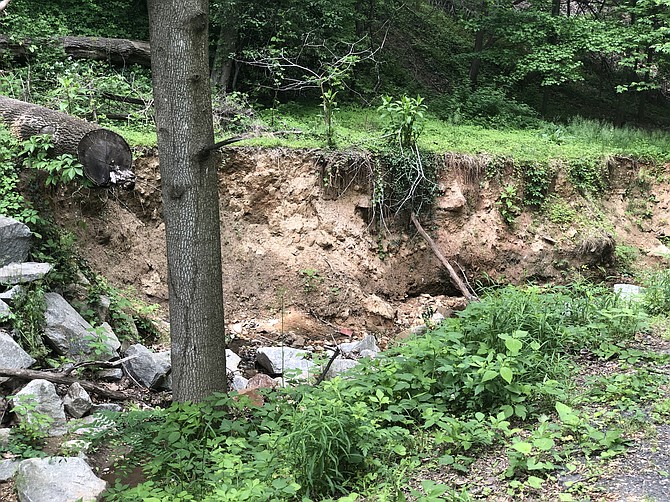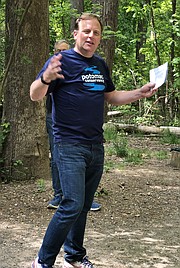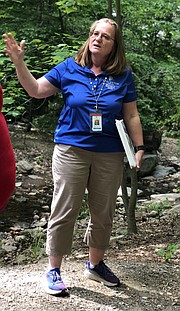 Controversial Stream Restoration Techniques Divide Residents
Did you know Arlington covered over 70 percent of its streams as it developed from a bucolic refuge from Washington's hot summers to a bedroom community of car dealerships and strip malls? Arlington's natural stream network served as the stormwater management system. But development caused stream erosion and gullies; streams and floodplains were filled in or paved over.
As Hedrick Belin, President of the Potomac Conservancy walked the banks of Tributary B on May 14, he was on a mission to involve more members of the local community in the protection of one of the most important resources they have: their watershed.
A few streams remain prominent parts of the landscape in Arlington, but are increasingly at risk for erosion, bringing sediment and unfiltered runoff down to the Potomac River. Belin led a group of interested Arlington neighbors up the path along Donaldson Run's Tributary B for a "Riverside Chat." His goal was to educate residents on the need for action to diminish run-off into the streams and take note of the County's effort to "restore" Tributary B. He connected with Arlington County staff for the May 14 walk because Potomac Conservancy wanted to showcase that tributary's challenges as an example of how stormwater is impacting the streams that flow to the Potomac. Donaldson Run is not unusual in that regard, but is a very visible example with a lot of needs.
Belin reminded residents that we drink the water in the Potomac and need to help maintain the momentum in cleaning it up. The recent report card on river cleanliness declined from a "B" to a "B-minus" indicating the need for more effort to keep that momentum up. "And," said Belin, "that means we have to ask for support, particularly donations, which have been down in the pandemic year." There are other ways to support the Potomac Conservancy too, either with advocacy or hands-on volunteering.
Although Potomac Conservancy has not collaborated with Arlington County on either Trib A or Trib B restoration, Belin was joined on his walk by Aileen Winquist, Outreach Manager for the County's Donaldson Run Stream Restoration Project, who explained what the County is planning for Donaldson Run's Tributary B to improve its ability to handle stormwater. A technique known as "natural channel design" will be used to create a new stream channel that the County believes can better manage the runoff it receives from the surrounding land. This method steps the water down the stream on large rocks into pools, and uses floodplain reconnection and "meanders" to reduce the energy of the stream flow and its ability to erode the banks during a storm.
Not all stream conservationists believe this technique to be effective; in fact, he County's imminent stream restoration project is viewed as a waste of money by some conservationists. Since it will require cutting down about 80 trees along the stream, the effort has been called into question by residents, who thanks to recent public meetings, are more aware of the pitfalls of this restoration technique.
According to Mary Vasse, Senior Director of Development for Potomac Conservancy, "We have not collaborated on any design work for Tributary A or B projects. We are aware of community concerns about the project and we recognize it is a challenging project."

One thing Belin and Winquist can agree on is encouraging residents to do whatever they can to help reduce run-off, from installing rain gardens to planting canopy trees, to not using impervious surfaces for parking lots, driveways, and public spaces. Local government should be encouraged to take more action to limit growth and manage stormwater in an era of more storms, said Winquist. Potomac Conservancy's mission remains to identify solutions residents can be a part of at the local level, as individuals and river managers.
The debate over the Donaldson Run Tributary B restoration will be the topic of a future article.
To learn more about what you can do to help the Potomac Conservancy see: https://potomac.org/donate
To participate in the Potomac Conservancy's "Take Me To the River" event, see: https://secure.everyaction.com/GilDTzWReUid5zrd826IGQ2?sourceID=1046269
To see this year's report card on the Potomac, see: https://potomacreportcard.org