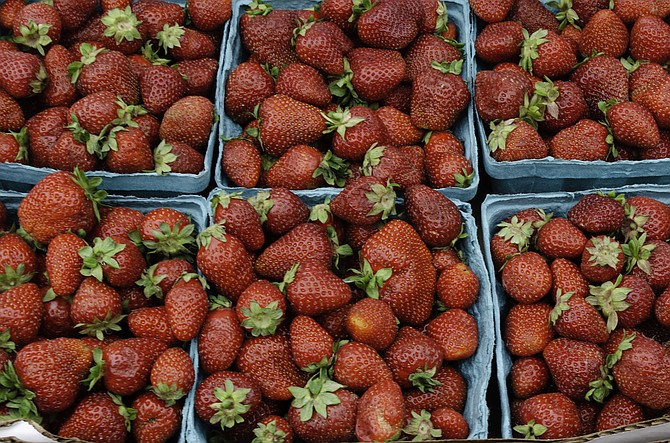 As the country heads into the third month of COVID-19 restrictions, the Mount Vernon Farmers Market on Sherwood Hall Lane is one of three markets that are opening in May.
The other two are in Burke and Reston, which are central locations that can cater to a wide scope of the county residents, said Fairfax County Park
Three to Open in May
Reston: Saturdays, beginning May 9: Reston Farmers Market at Reston Lake Anne Village Center, 1609-A Washington Plaza, 8 a.m. to noon.
Mount Vernon: Wednesdays, beginning May 13: Mount Vernon/McCutcheon Farmers Market, Mount Vernon Sherwood Library, 2501 Sherwood Hall Lane, 8 a.m. to noon.
Burke: Saturdays, beginning May 16: Burke Farmers Market at Burke VRE parking Lot, 5671 Roberts Parkway, 8 a.m. to noon.
Authority spokesperson Judy Pederson. "These three are located in different areas of the county which places them within reasonable travel distances for all our residents."
The first opening will be Saturday, May 9 in Reston, followed by Mount Vernon on Wednesday, May 13 and Burke opening day on Saturday, May 16.
This is a step towards normalcy, but operations in the markets will not be business as usual, due to the pandemic. Social distancing will be urged, as will face masks. "Face covering strongly recommended," the rules state. Face masks are required at the Reston market.
Throughout the pandemic, grocery stores have been allowed to operate with special rules in place. Most stores have had tape marks on the floor to ensure social distancing. Grocery stores are listed as essential businesses by Gov. Ralph Northam, but the markets are not. "Because of that, the markets must operate under more stringent safety protocols in order to open," Pederson said.
The governor is currently making other moves to carefully open some facilities across the state. For example, he announced that hospitals and dentists will be allowed to resume non-emergency procedures as of midnight Thursday, April 30. Northam's office put out a directive for restrictions including extending Executive Order 53 through Friday, May 14, 2020.
Executive Order 53 originally signed on March 24, bans groups of more than 10 people; closes recreation, entertainment, and personal care businesses; and limits restaurants to offering takeout and delivery services only.
Executive Order Fifty-Five, which directs Virginians to stay home unless they must leave for essential services, including buying food, remains in effect until June 10.
Market Masters
According to the Fairfax County Park Authority, there are usually two market managers overseeing each market, and the size of the market,
Rules
Market shoppers are asked to comply with all COVID-19 health and social distancing requirements:
· No more than 2 family members in the market
· Face covering strongly recommended
· No pets
· Keep a 6-foot distance from others
· One customer per stall
· Do not touch surfaces. Let vendors bag purchases.
· Credit or debit card payments preferred
· No on-site eating of purchases or sampling
· Do not linger. Get in and get out quickly.
· Leave by Exits only
depends on the number of vendors at the site.
"As we open the markets this year, because of the extra safety precautions related to the pandemic, we're seeking to place between four and six volunteer market masters and park staff members at each market," Pederson said.
There will be a combination of old and new vendors at the markets, and as with the market standards that have been in place through the years, each vendor has to go through the application and acceptance process.
The Fairfax County Park Authority markets are strictly producer-only, which means that all of the farmers and producers sell only what they grow on their farms or make from scratch. To stick with the "locally-grown" mantra, the vendors must be located within 125 miles of Fairfax County.
"We also encourage value added vendors to use local ingredients," Pederson said.
After evaluating these three market openings, the Park Authority will assess the situation to determine if any changes are needed. The agency is hoping for successful 2020 market debuts that will pave the way for the opening of all FCPA farmers markets, their information said.
Up to date information about COVID-19 can be found at virginia.gov/coronavirus.