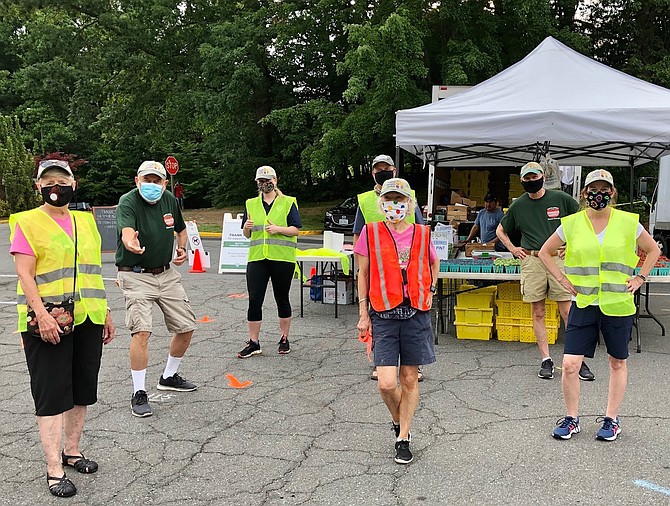 After a long fall and winter, a beautiful spring has arrived bringing with it the return of the Reston Farmers Market (RFM).
Last year at this time with Covid 19 surging nationwide, our Fairfax County Park Authority sponsors were doubtful they would permit any of their 10 farmers markets, including Reston, to open at all. However, once a strict regimen of Covid 19 safety protocols were agreed upon, RFM opened on May 9. It looked and felt quite different: stalls were farther apart, people wore masks, entry was controlled, one-way traffic was the rule, social distancing was strictly observed, shoppers had to point to products for purchase rather than touch them, and hand sanitizers were everywhere. It took some getting used to, but it worked. Shoppers increased as people realized this market was a safe place. We counted a total of more than 64,000 shoppers; vendors generally did well; and, there were no known infections.
When we open our 24th year on May 1, most Covid protocols will continue. Masks are required—no mask, no shopping. We've dropped the one-way traffic and are hoping that, as inoculations take us towards herd immunity and infections stabilize at lower levels, there will be further easing of still necessary restrictions.
I can say with absolute certainty that you will still find the freshest, best tasting locally grown and home-made foods at the Reston Farmers Market. And, most of your favorite farmer vendors will be back for the 2021 season along with some new ones. One popular farmer returning is Shenandoah Seasonal, an all-natural produce grower originally from Reston who, because she had a new baby, opted out last year due to the pandemic. She's back this year, with even more produce!
In fact, we should have our usual full complement of 30 vendors, thanks in part to Bob Smoot, a special friend of the Market who allows us to use the brick strip next to the parking lot for five vendors we otherwise would have to exclude.
Our vendors encompass a wide range of products. In addition to having our basic vegetables and fruit vendors (10), RFM has three meat producers and a seafood selling fisherman, four vendors who sell baked goods, four who sell plants or flowers, and an incredible range of more exotic and value-added products. Examples of the latter include: Maple Syrup from trees in the Blue Ridge Mountains; mushrooms grown in weather-controlled rooms on Maryland's Eastern Shore; scrumptious micro greens from a farm near Baltimore; Turkish cuisine from a kitchen in Arlington; and, vegan/organic foods and plant-based healthy eating classes based in Herndon! Reston is the largest market in the County in fact.
Founder Robert Simon and Delegate Ken Plum joined me in inaugurating the Reston Farmers Market with just 12 vendors in May 1998. At the time, Lake Anne was a lonely place on Saturday mornings. As a crafts market grew up on the Plaza beside RFM, Saturdays took on a marvelous bazaar-like atmosphere. However, last year the crafts market closed for several reasons. Now here's the latest good news. We hear a crafts market is likely to return this year. And, there is competition to run it, with a volunteer merchants' group offering to do so and give 100 percent of net revenue to be dedicated to maintenance of the Plaza! Good news indeed!