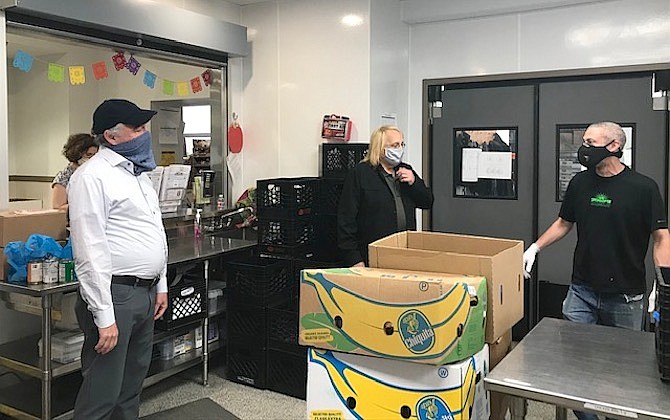 Senator Tim Kaine stopped by the Arlington Food Assistance Center (AFAC) on Monday, May 4, to tour the warehouse, help pass out food to Arlington families and thank the volunteers. Charles Meng, CEO and Executive Director of AFAC reports in his April 23 message that "since February we have seen the number of active referrals to AFAC increase by 30 percent … We are committed to staying open during this critical time … as our groceries may be the only food that some of our clients can access."
AFAC now provides supplemental groceries to nearly 3,000 families a week.
In order to implement safety measures due to the coronavirus, AFAC changed the distribution hours at the Nelson location by expanding the weekday hours to 2 p.m. and eliminating the Tuesday and Thursday evening hours. In addition, they modified the distribution process to hand out prepackaged food and moved the distribution outside the building. From the start they have been practicing social distancing and wearing masks and gloves.
Meng says, "Our commitment remains as it has always been – to serve all in need in Arlington. Very simply, we are committed to our mission in good times and bad."