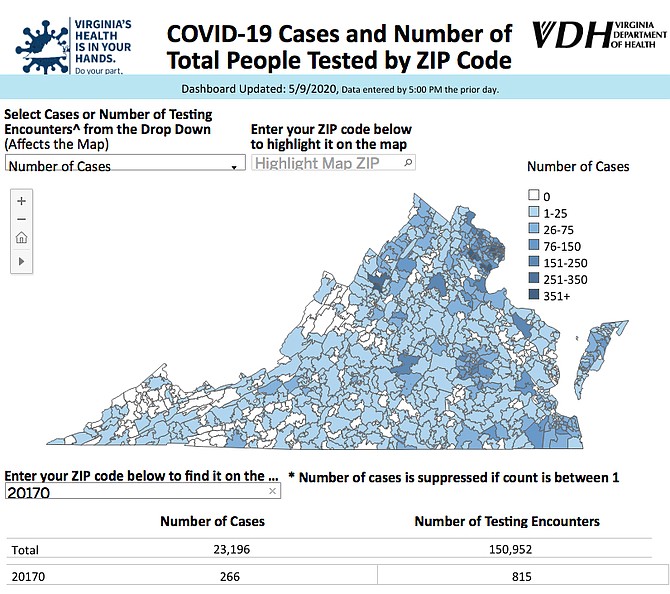 It has been nearly seven weeks since Virginia Gov. Ralph Northam used what he called during a news briefing on May 8 the "one blunt tool" they had back then to slow the spread of the coronavirus, "shutting everything down." Now armed with a steady supply of PPEs, continuing to ramp up testing, hiring roughly 1,000 contact tracers, and most of all, seeing a downward trend in the percent of positivity cases for COVID-19, Gov. Northam said, "I anticipate and hope that Phase One (of the Forward Virginia plan) will start on Friday, May 15. Obviously, if our trends change, we will adjust that date as needed."
In his weekly email to the Fairfax County Community dated two days earlier, Chairman Jeffrey C. McKay wrote: "In response to a letter from Loudoun County Chair Randall, Prince William County Chair Wheeler, and myself, Governor Northam announced his intention to coordinate any future reopenings with Northern Virginia localities. This is important because we know a one-size-fits-all approach in the Commonwealth simply doesn't work. We also communicated our desire to coordinate with D.C. and Maryland to avoid confusion for our residents and businesses."
According to Gov. Northam, Phase One Forward Virginia would slowly and deliberately ease some restrictions, but not all. "We will move forward cautiously with science, data and safety as our criteria...I have said that I want a 14-day downward trend in the percent of positivity," Northam said, referencing data by the Virginia Department of Health. "In many ways, (it) Phase one will look like what we've been doing," he said. The 10-person limit on gatherings would remain. The governor encouraged everyone to wear face coverings when in public and to social distance. His Stay At Home order would become Safer at Home order. Beaches would continue to be open for only exercise and fishing. "This virus is still with us. It has not gone away...We may be living with it for months or even years," he said.
Highlights of Changes from Current Status to Phase One:
Fitness and Exercise Facilities can hold outdoor fitness classes with restrictions
Non-essential Retail can open, at no more than 50 percent capacity
Personal Care and Grooming Services by appointment only; must adhere to social distancing, and face masks required
Indoor Shooting Ranges can open, at no more than 50 percent capacity
Places of Worship can hold indoor services, at no more than 50 percent capacity
Private Campgrounds can open
Restaurants, Dining Establishments, Food Courts and Beverage Services that have a permit for outdoor seating can serve people at no more than 50 percent capacity, with spacing and with employees wearing masks
State Parks, in some places, can allow overnight use
Violations will be a Class I misdemeanor
Northam said he knew some communities might choose to go more slowly, particularly in Northern Virginia, where they may not feel their communities are ready to go to Phase One just yet. "I have said that Phase One restrictions will be a floor, not a ceiling, and local governments to consult with our administration about stricter regulations," he said. Clark Mercer, Northam's chief of staff. "If these entities, as a region, would like to delay entering Phase One by two weeks, for example, which would be May 29, I think the governor would be open to doing that," Mercer said.
On May 5, government leaders at the helm of Loudoun, Fairfax and Prince William counties, Phyllis J. Randall, Chair-at-Large, Jeff McKay Chairman At-Large and Ann B. Wheeler Chair-At Large respectively had sent a joint letter via email regarding a "Coordinated Response to COVID-19" to Northam. The leaders communicated their "strong desire to be both briefed and consulted" as Northam's administration made decisions about the reopening of the Commonwealth. Together, the NOVA leaders represented more than 2 million residents, just shy of a quarter of the Commonwealth's population. They said not all parts of the state had been impacted the same by the virus.
THE LETTER read in part: "Sadly, our three counties also account for 40 percent of all known positive cases and hospitalizations due to the novel coronavirus disease (COVID-19) in the Commonwealth...Regionally, Northern Virginia equates for 40 percent of the Commonwealth's GDP...We have worked closely with our communities and regional partners to ensure that Northern Virginia's response is unified and continues to meet the needs of all residents. These efforts continue today... As you know, our communities are unique, and our needs remain great. Overcoming this pandemic will require even closer communication and a clear understanding of what our localities face currently and in the future; we can bring that perspective. We request a discussion with you prior to future announcements about the state's reopening. This is not an attempt to slow our progress. Rather, a recognition of the need for greater collaboration between state and local governments." Additionally, the leaders requested a weekly phone call between a member of Northam's team and their chiefs of staff to "help with the flow of information and help better open lines of communication."
According to Fairfax County Supervisor John W. Foust (D-Dranesville), other parts of Virginia might be ready to start easing restrictions and reopening businesses, but he was concerned. He said, "Given the prevalence and continuing spread of the virus in Northern Virginia, we should move very cautiously." Foust said he agreed a back to work plan for Northern Virginia should be closely coordinated with the District of Columbia and suburban Maryland jurisdictions. "To state the obvious, the virus does not recognize or respect jurisdictional boundaries," he said.
New Cases
The Virginia Department of Health:
The number of new COVID-19 cases in Virginia by day:
May 6 - 729, May 7- 585, May 8 - 772, May 9 - 854