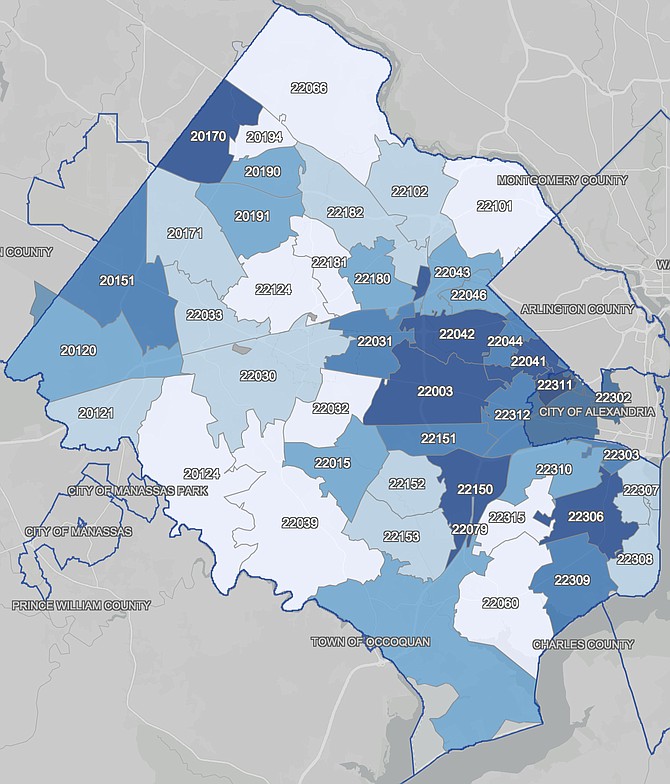 Fairfax County, along with the rest of the state, is expected to enter the third phase of reopening on Wednesday, July 1. "We are hopeful we can move into Phase Three and beyond," said Fairfax County Chairman Jeffrey C. McKay. "Preliminarily, our data continues to meet the necessary criteria," he said.
Meanwhile, as the area prepares to roll out its plans, COVID-19 Case Data for Fairfax Health District indicates that some of the 42 county zip codes continue to be impacted by the virus at significantly higher rates than others in the county and the Commonwealth. These zip codes are virus clusters. Notwithstanding, the entire County will move to Phase 3 at the same time, as it did with other phases.
While the curve is flattening in the County, to reopen safely, the County must commit to four essential actions to prevent the spread of the COVID-19: expand and prioritize testing; isolate infected people; trace contacts and quarantine contacts. If one step is lacking or not fully operational, the virus can spread again. According to Healthline.com, health experts said contact tracing is essential to containing the virus, as one person could infect three others or more.
The Fairfax County COVID-19 dashboard indicates that specific zip codes in the county remain in the top five COVID-19 cases per 100,000. On Monday, June 29, the Dashboard revealed the top zip codes were Springfield – 22150, Alexandria – 22306, 22041 and 22311 and Herndon – 20170. Located in the western section of the county, Herndon is not near the other areas that are more significantly impacted.
Specific information on the local level to box in the novel coronavirus disease (COVID-19) through tracing is not available on the Dashboard. Data or hypotheses as to why certain zip codes in Fairfax County have become virus clusters also appear limited in scope.
The population of Fairfax County is 16.8 percent Hispanic, but Latinx individuals account for 65.3 percent of positive COVID-19 cases in Fairfax County.
The Northern Virginia Regional Commission concluded that Latinos accounted for a disproportionate number of coronavirus cases in this area. "The HIspanic or Latino share of cases in Northern Virginia is three-and-a-half times their overall share. All health districts in NOVA have significantly higher shares [for the Latino population]. This indicates significant ethnic disparities in COVID 19 cases."
Coronavirus cases by zip code in Northern Virginia also revealed disparities by race, ethnicity and economic status.
"Although everyone is potentially susceptible to the virus, research shows that people of color and low-income families are especially vulnerable and have higher death rates from COVID-19," said Steven H. Woolf, of Virginia Commonwealth University and the Northern Virginia Health Foundation. "They have greater exposure to the virus, are more susceptible to complications, have greater barriers to health care, are more vulnerable economically, and suffer from deteriorating health caused by deepening economic adversity."
The zip codes with higher concentrations of poverty, lower education levels, and crowded housing conditions tend to have the highest rates of COVID. These people are more likely to work in jobs where they are underpaid, don't get paid sick leave, depend on public transit and don't have telework opportunities, bringing more risk of exposure to coronavirus.
According to the U.S. Census, 20170 is 36.2 percent Latino, while Fairfax County overall is 16.8 percent Latino. This Herndon zip code also has nearly twice the percent of residents without health insurance as the rest of Fairfax County, with 16.2 percent uninsured compared to 8.8 percent without health insurance in Fairfax County overall. A greater percentage also speak a language other than English at home, 57 percent in 20170, compared to 39 percent in Fairfax County.
In Springfield/Lincolnia 22150, 19 percent of residents lack health insurance, compared to 8.8 percent in Fairfax County. Almost 10 percent of the population lives in poverty, compared to 6 percent of Fairfax County.
Testing
John Silcox, Communications Director, Fairfax County Health Department, said that the County held small targeted testing events in high-risk communities with limited resources for testing. They didn't publicize the dates and locations Silcox said because they were not intended for the region. "We work with our outreach team and community organizations and leaders to identify locations, inform people in the surrounding neighborhoods, and pre-register people for testing. So far, we have done events in Herndon, Springfield, Mount Vernon, and Seven Corners area of the County and more are being planned," he said.
Carol Jameson is CEO of Health Works in Herndon, a nonprofit organization that provides comprehensive health care to vulnerable people with low incomes. COVID testing is available to anyone who is their patient at no charge. "Many are quite poor, really struggling, living in crowded quarters...sometimes multigenerational and sometimes not," she said.
Isolate and Quarantine
Fairfax County utilizes hotels for isolation, quarantine, protection, and overflow shelter for people experiencing homelessness. According to Silcox, they are also used for individuals living in overcrowded situations who cannot isolate safely at home. "As of June 2, 2020, 312 rooms have been secured in four hotels. Of those rooms, 194 are occupied with 207 guests. Two additional hotels in the South County area with 143 rooms are expected to open in the coming weeks," Silcox said on June 5.

Tracing
In tandem with the Fairfax County Health Department, the Institute for Public Health Innovation is hiring Contact Interviewers, Case Interviewers and Interviewer Supervisors to reach out to Fairfax County contacts of persons with probable or confirmed COVID-19 infection, counsel them on testing and quarantine, refer them for testing, and connect them to necessary resources throughout quarantine. https://www.talentboost.cloud/iphi