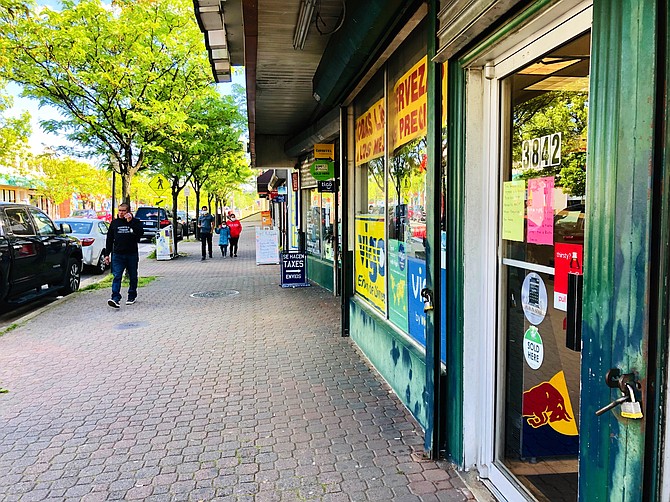 Azucena Esquival lives in a cramped apartment in the Arlandria neighborhood of Alexandria, where the problem of community spread isn't just theoretical. The pandemic is in her household. Earlier this month, she tested positive for COVID-19, the disease caused by the novel coronavirus. Another adult in her household paid $300 to get a test, which was also positive. They are living with two people who have not been tested. None of them are currently working, and they have no source of income.
"We are all going to get it," said Esquival through a translator. "It shouldn't be like this. What is happening to our household is happening to everyone in Chirilagua" she said, using the local nickname for Arlandria.
A look at 22305, the ZIP code that includes Arlandria, shows the contours of the problem. More than half of the tests here are positive, according to new data released this week by the Virginia Department of Health. That's one of the highest positivity rates in the state, and it's double the rate for the region. The rapidly spreading disease has created a sense of panic in this Arlandria, where the median household income is less than $55,000 and one out of three people lack health insurance.
"We urge the governor to come visit Arlandria," said Jon Liss, executive director of Virginia New Majority. "Come see with your own eyes what's happening here."
CITY OFFICIALS say they are doing everything they can to make sure that testing is free and available to anyone who needs it, regardless of their ability to pay or provide documents. Under normal circumstances, the Neighborhood Health clinic on Glebe Road requires paperwork from people seeking care proving they make less than 200 percent of the federal poverty level. About a month ago, they moved to seeing patients over the phone or online. Now, during the pandemic, no paperwork is required — no paystub and no letter from an employer. All that's needed is that a patient disclose their income.
"All we do is ask them, 'What's your income level?' They tell us their income level over the phone," said Basim Khan, executive director of Neighborhood Health. "They just tell us. We don't require any documentation. There's no forms. There's no paperwork."
That's a message that has not broken through, according to people who live and work in Arlandria. Many low-income people believe they will need a paystub or a letter from an employer in order to get a test at the testing center Neighborhood Health set up in an Arlandria parking lot. That's led people to avoid getting a test, or paying $300 to get a test from a private provider — a huge out-of-pocket expense for people who are already struggling to get by during the greatest economic crisis since the Great Depression.
"Yeah, we're heard that too, and it really infuriates me when I hear about people paying $300 for a test," said Khan, who is also a primary care physician at Neighborhood Health. "I think it's an outrage, and we need to work with the community to let them know that this resource is available."
THE NEIGHBORHOOD has been known as Arlandria since the Arlandria Shopping Center opened its doors in 1947. Three decades later, Salvadorans fleeing violence and civil war in their home country were drawn to the area. As early as 1990, so many Salvadorans arrived that it took on a new nickname: Chirilagua. That was the name of the Salvadoran city that was home to many of the refugees before arriving here in Alexandria.
"It's like a little barrio," says Ingris Moran, whose parents arrived from El Salvador 30 years ago. "Everyone knows each other, and everyone knows their neighbor."
The Hispanic population in Alexandria is less than 20 percent of the population, but they account for more than 40 percent of the positive cases of COVID-19. Census records show that more than 60 percent of people who live in Arlandria are Hispanic, and a majority of that population has no health care. Many low-income Hispanic residents in Arlandria work in essential positions like construction or custodial work, and they are more likely to take public transportation to work.
"Pandemics disproportionately impact people of low income. In this country, that's people of color," said Stephen Haering, director of the Alexandria Health Department. "One of the things we're focused on is why there is this disproportionality, and how it can be remedied."
"This crisis has really highlighted the deficiencies we have when it comes to access to health care, to communications in different languages and how we serve our vulnerable communities."
— Councilman Canek Aguirre
SINCE THE PANDEMIC shuttered schools and closed businesses, city officials have been engaged in a number of outreach efforts to make sure that people in Arlandria understand the dangers of the pandemic and the services available to them. They've created direct mail in several languages, and they've used a system to send text messages to people who live in the community. They've partnered with churches and nonprofit organizations, a communications effort that some say did not materialize fast enough.
"Unfortunately I feel that we were a little bit slow as a city to come out with this," said Councilman Canek Aguirre, the first Hispanic member of the Alexandria City Council. "This crisis has really highlighted the deficiencies we have when it comes to access to health care, to communications in different languages and how we serve our vulnerable communities."
City officials have also entered into a contract with the Hampton Inn near the King Street Metro to isolate COVID-19 patients if needed. Although the city government facilitates the logistics, the Alexandria Health Department conducts the health investigation to determine if a hotel room is required. The new contract replaces an earlier agreement Neighborhood Health had with an Arlington hotel, where one Arlandria resident was staying before Alexandria officials entered in to the contract with with Hampton Inn.
"So far, only one COVID-19 patient has needed a room," said Craig Fifer, communications director for Alexandria. "Keep in mind that the overwhelming majority of people with COVID-19 isolate and recover at home on their own."
Last week, New Virginia Majority called on Gov. Ralph Northam to provide 10,000 tests in Arlandria. The move came shortly after the state released ZIP code data for the first time, showing that Arlandria has one of the highest positivity rates in Virginia. As of Wednesday, the ZIP code including Arlandria had 765 tests and 386 positive results. That's significantly more tests than any other ZIP code with a higher positivity rate, which tend to be smaller communities in Accomack County or Shenandoah County where only a few dozen tests have been administered. So far, the governor has not yet agreed to New Virginia Majority's request.
"Governor Northam appreciates this input and shares these concerns," said spokeswoman Alena Yarmosky in an email request for a response to the New Virginia Majority request. "Our administration will continue to expand testing in this area, as well as in other disproportionately impacted communities across Virginia."