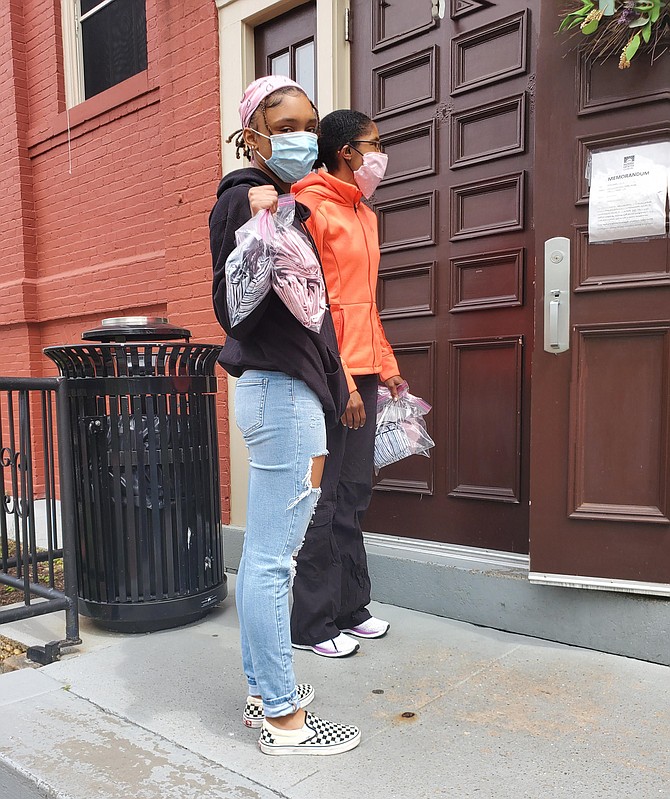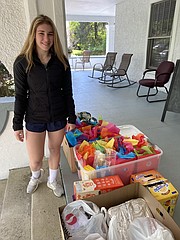 Students from Bullis School are continuing classes via distance learning while also doing what they can to help the community and those in need manage life with the changes brought about by the Covid-19 pandemic.
"I'm really proud to report that as soon as they stopped going to school, Bullis students began looking around for others they could help," Beth Crowley, Director of Communications at Bullis said.
She included this list compiled from information students supplied:
Clare Harvey '22 purchased supplies and made masks for the House of Ruth in Washington, D.C. The House of Ruth is a shelter for women and children who have suffered from domestic violence. Clare did the project through her own volition and concern for others. She went online, learned how to make the masks, made them, and dropped them off at the House of Ruth.
Kade Friedlander '21 is working with Peace First to ensure all students in Montgomery County and their families have the information and resources available that they need to access school meal sites while schools remain closed. He has also served with So What Else, a nonprofit co-founded by Bullis alumnus Dave Silbert '96 to provide after school and summer programs in communities of need.
Rhyan Goozh '23 has redoubled her efforts on behalf of those in need at the Stepping Stones shelter, which she began serving before COVID. She had been collecting meals, toys and supplies for residents of the Stepping Stones Shelter, a shelter in Rockville that provides support for homeless families with children. For Easter, she decided to do something extra special and delivered an Easter feast of ham, macaroni and cheese, casseroles, green bean casserole, drinks, and desserts. In addition, she got donations to make Easter baskets for each of the children at Stepping Stones, and teamed up with her grandmother to work on making masks out of old sheets for everyone at Stepping Stones.
Sloane Bernstein '21, co-founder and president of the Bullis Gives Back club, is hosting a donation drive in collaboration with So What Else. Donations of food, clothing, books, games, masks, diapers, and more are being collected to help families in need during the Covid-19 crisis. The donation drive will run through May 14. Please email officialbusinessgivesback@gmail.com for a drop-off address or make a direct donation on the So What Else website at www.sowhatelse.org.
Julia Vasco '21 is organizing a skirt drive to collect old Bullis skirts since the style has changed to the skort for next year. The Washington School for Girls in D.C. shares the same uniform and has girls in grades 3-8 who could use the skirts next year. Donated skirts would help their families to afford uniform skirts. This is a great opportunity to repurpose old Bullis skirts for an underserved community.
Carolyn Tang '22 teamed with students from Walt Whitman and Winston Churchill high schools, and Herbert Hoover and Crestview middle schools to come up with creative ways to make personal protective equipment (PPE). The team created easy ways to make face masks, protective gowns, and face shields by using simple household materials like plastic sheets, fabric, clear sheet protectors, a stapler, tape, rubber bands, yarn, and more. The team plans to donate the PPEs to local hospitals.
Adam Specht '23 is helping Masks for a Safer Community (MASC), a local effort to collect funds and new masks, mostly N-95 masks, for senior living communities. The initiative was started by Justin Huebl, a Winston Churchill 9th grader. MASC is collecting credit card donations through a GoFundMe page and offers ways to donate masks on its website mascinitiative.org.
Ethan Till '21, and Tyler Kuehl '21, asked Will Green '20 for help as they began producing masks in the Bullis Innovation and Technology Lab. Soon Ethan and Tyler began work with Bullis BIT lab Director Matt Zigler, improving on the design using faster production methods. Meanwhile, Mr. Zigler began making face shields in conjunction with a maker project based in Baltimore. Will is a student in the @BullisSTEM capstone program for seniors, and Ethan and Tyler have both taken multiple entrepreneurship electives.

"It makes us so proud to see them apply their skills to be a part of the solution to our common challenge," Crowley said.